Pellet grills are convenient and versatile choices for those who want an alternative to using propane canisters or bags of charcoal to fire up a BBQ. The Davy Crockett Grill is one of the best pellet grills on the market, as it generates good heat and smoke while being easy to use and sporting a quality build. This lightweight and compact grill comes complete with portable power options and is ready to smoke right outside of the box. Our Davy Crockett grill review covers all important points from the ease of use and fuel to surface cooking area and safety features.
Manufactured by Green Mountain Grills in California, the Davy Crockett Grill has been dubbed "the ultimate tailgate grill" and is easy to setup while remaining portable at the same time. Its overall performance has received lots of praise from users and reviewers, who liked the Davy Crockett grill for both small and large gatherings. This Davy Crockett grill review analyzes this heavy-duty smoker to see why it's considered one of the best options on the market in the pellet grills niche.
SPECIFICATIONS
| | |
| --- | --- |
| Primary function | Grill, smoker, tailgater |
| Surface cooking area | 219 sq in |
| Number of burners | 1 |
| Fuel | Wood pellets (9 lbs) |
| Grease tray | 13 gauge steel |
| Grease tray function | Open flame technology |
| Voltage | 110V or 12V with adaptors for 3 Power Options |
| Wattage | 60 avg |
| Auger motor RPM | 4.7~5.2 |
| Fan motor RPM | 0.45A; 4100 RPM |
| Dimensions (legs open) | 34 x 31.75 x 23 inches |
| Dimensions (legs closed) | 27.75 x 20.5 x 17.5 inches |
| Weight | 68 lbs |
| Warranty | 2-year limited |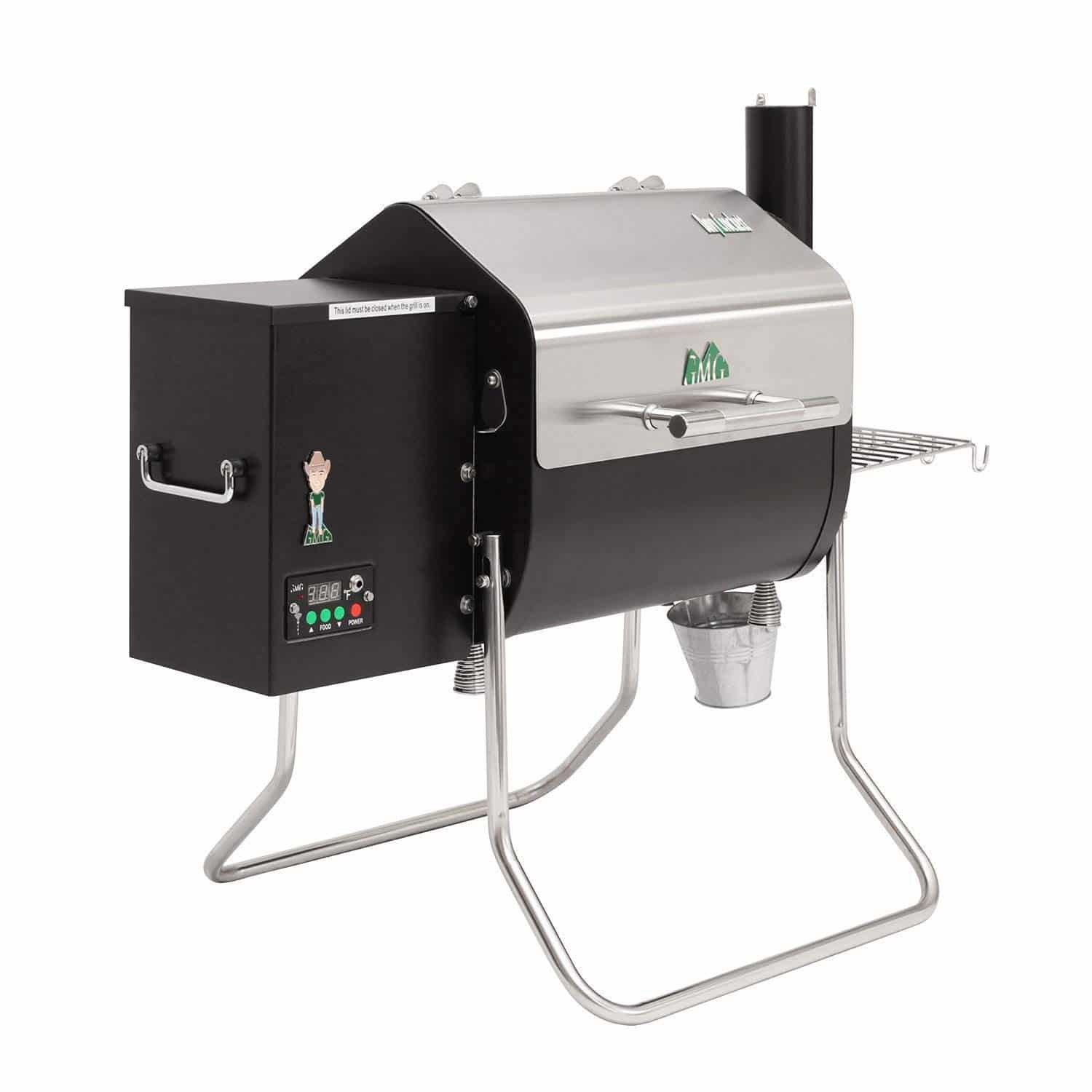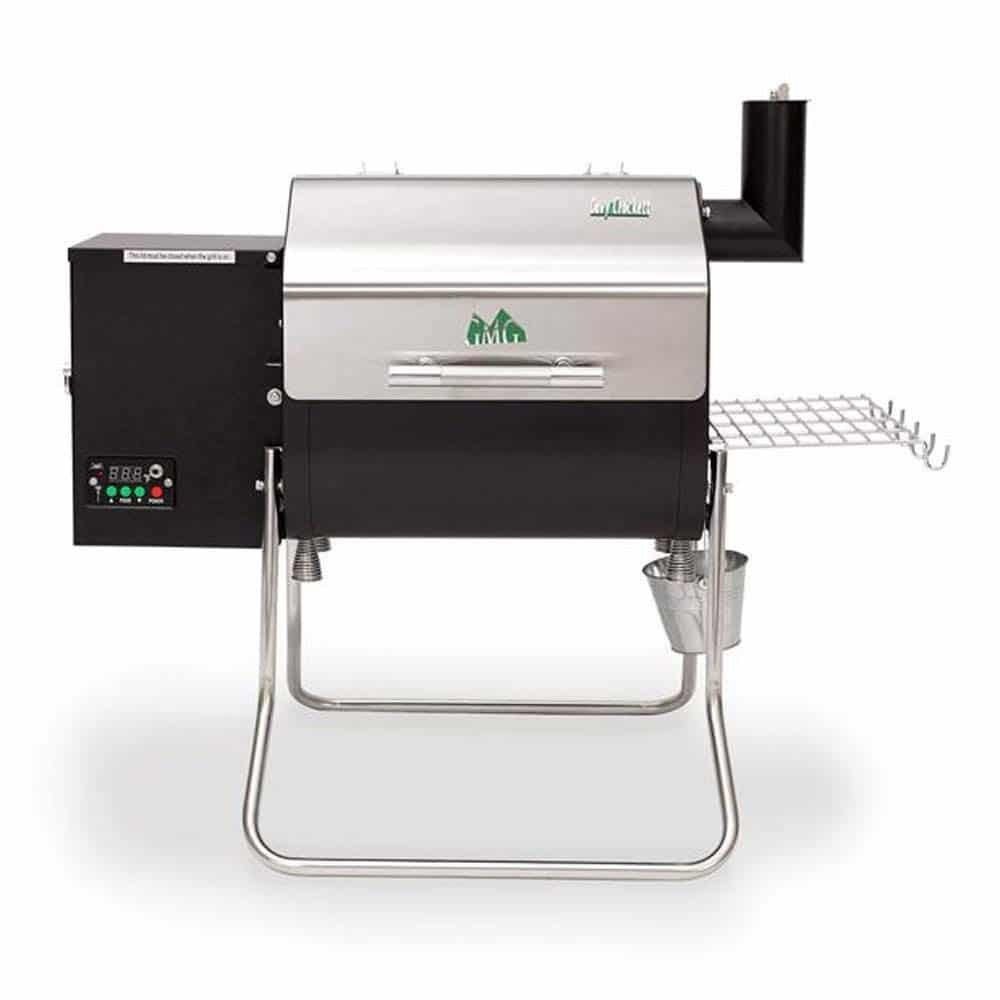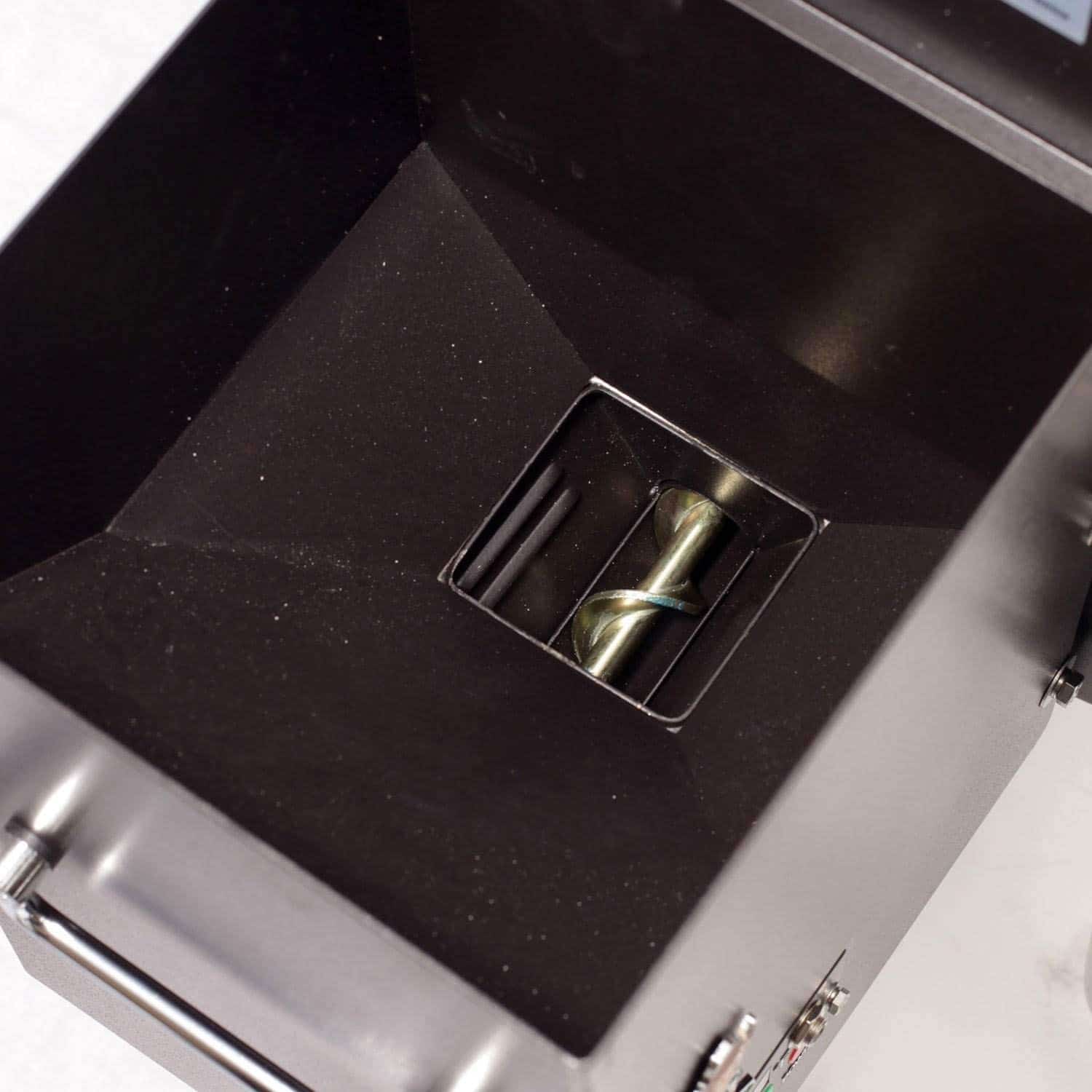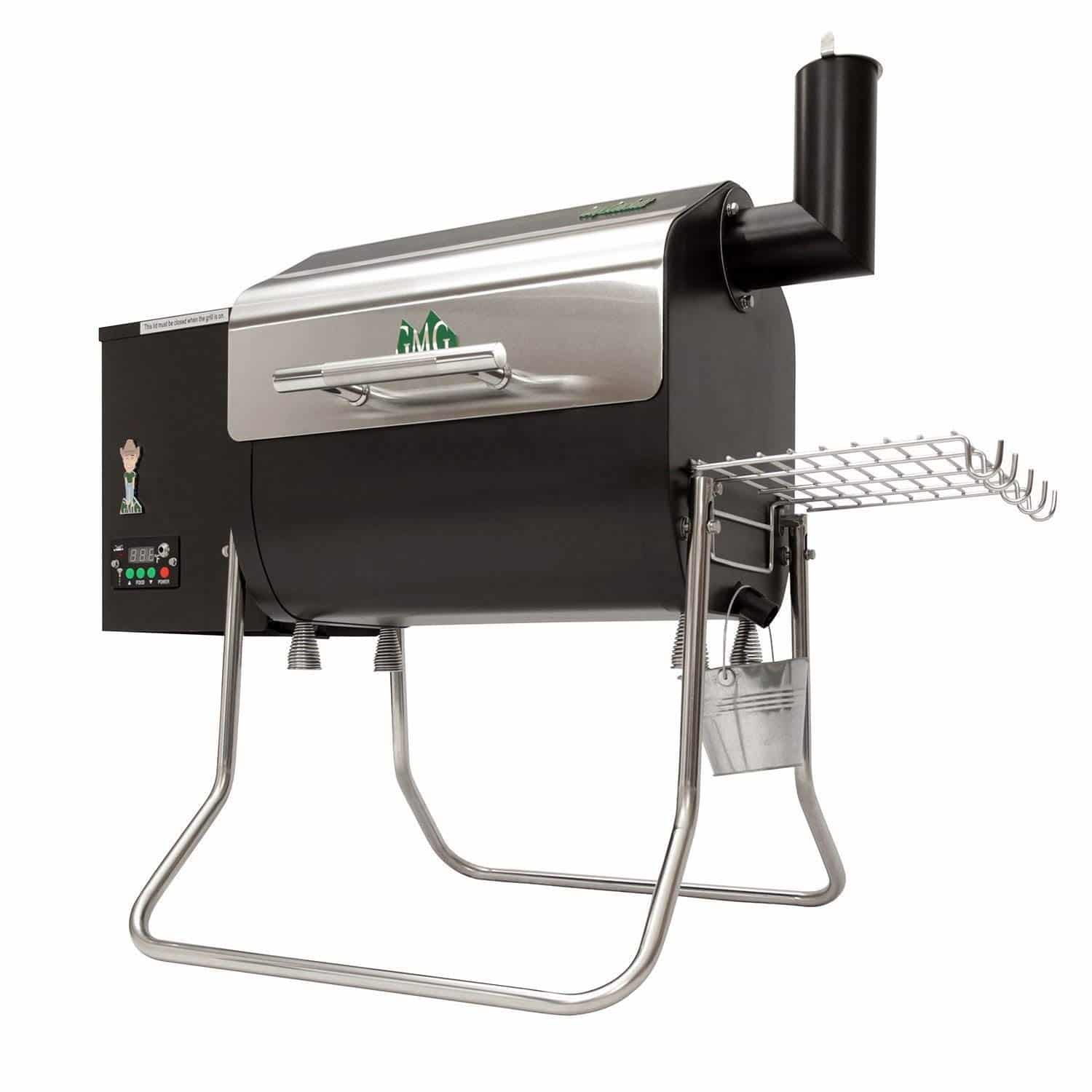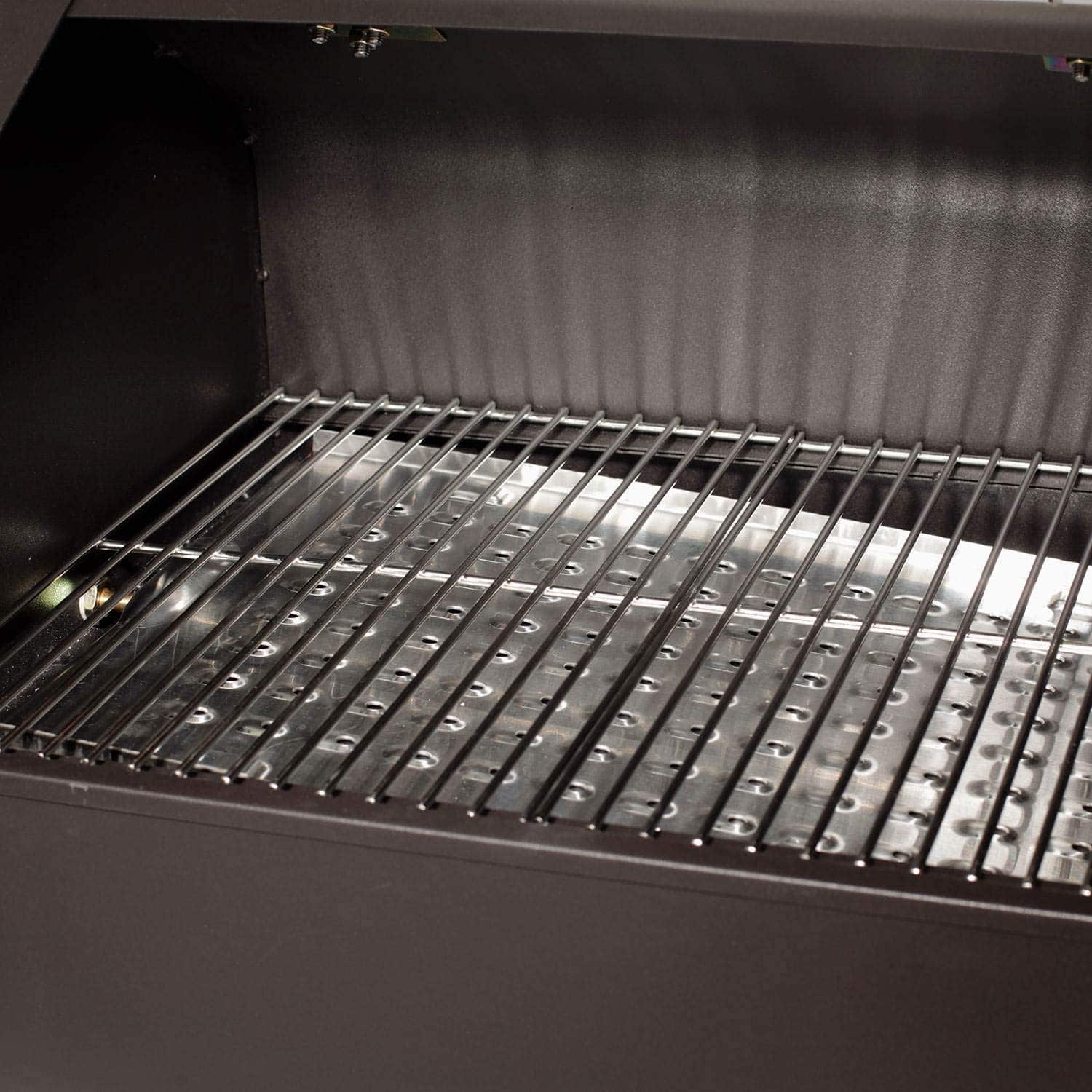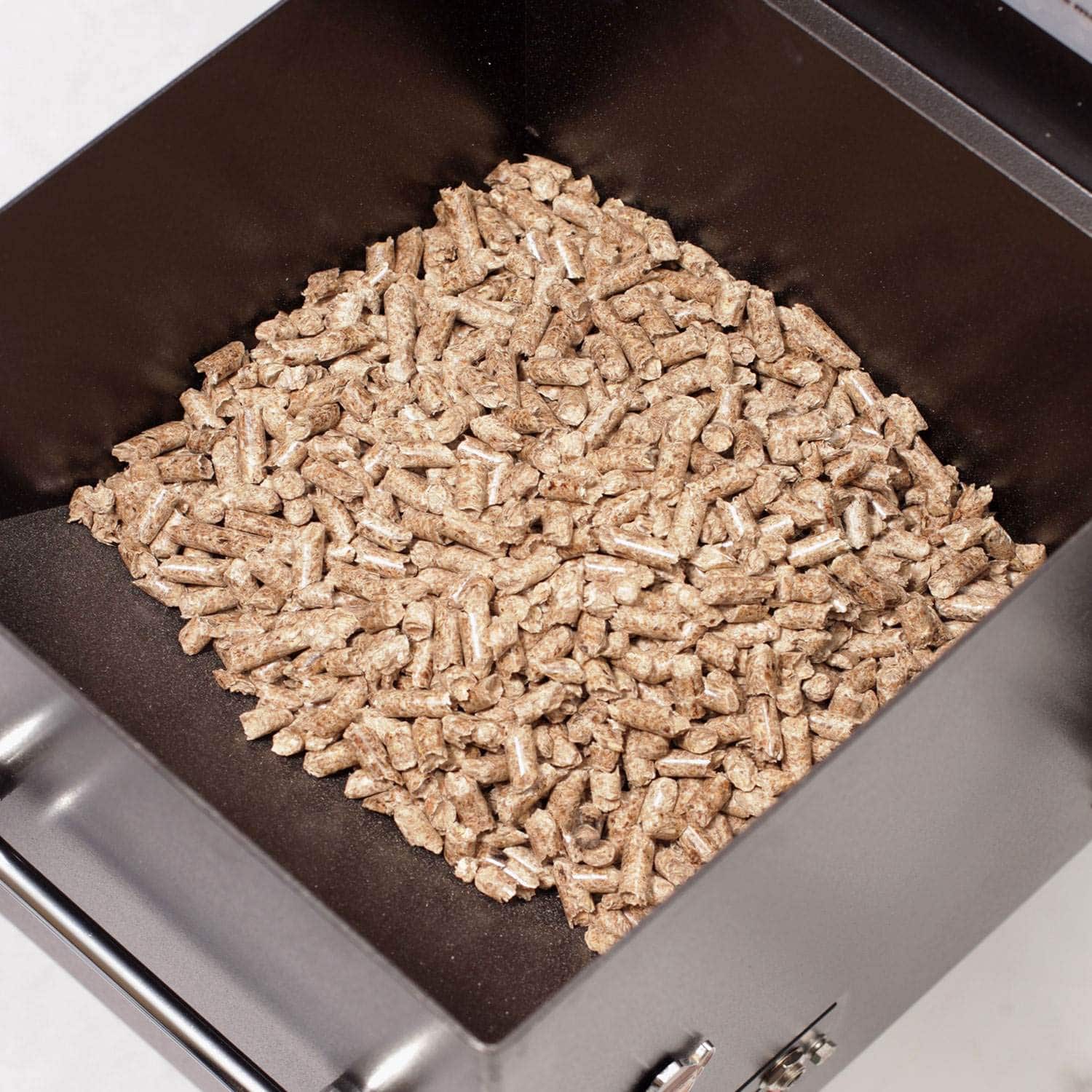 Davy Crockett Grill Review
The Davy Crockett Grill is a compact and lightweight pellet grill that is super easy to use and put away when not in use. It is, in fact, marketed as a tailgating pellet grill, but it works perfectly fine for small patio and backyard areas as well. The grill is highly versatile because it features multiple power options, including a regular electric outlet, a cigarette lighter, and even you cell phone charger. It also boasts a Wi-Fi-connected app that is very user-friendly. We found this grill perfect for those looking at alternatives to electric or gas grills.
Overall performance (Primary function)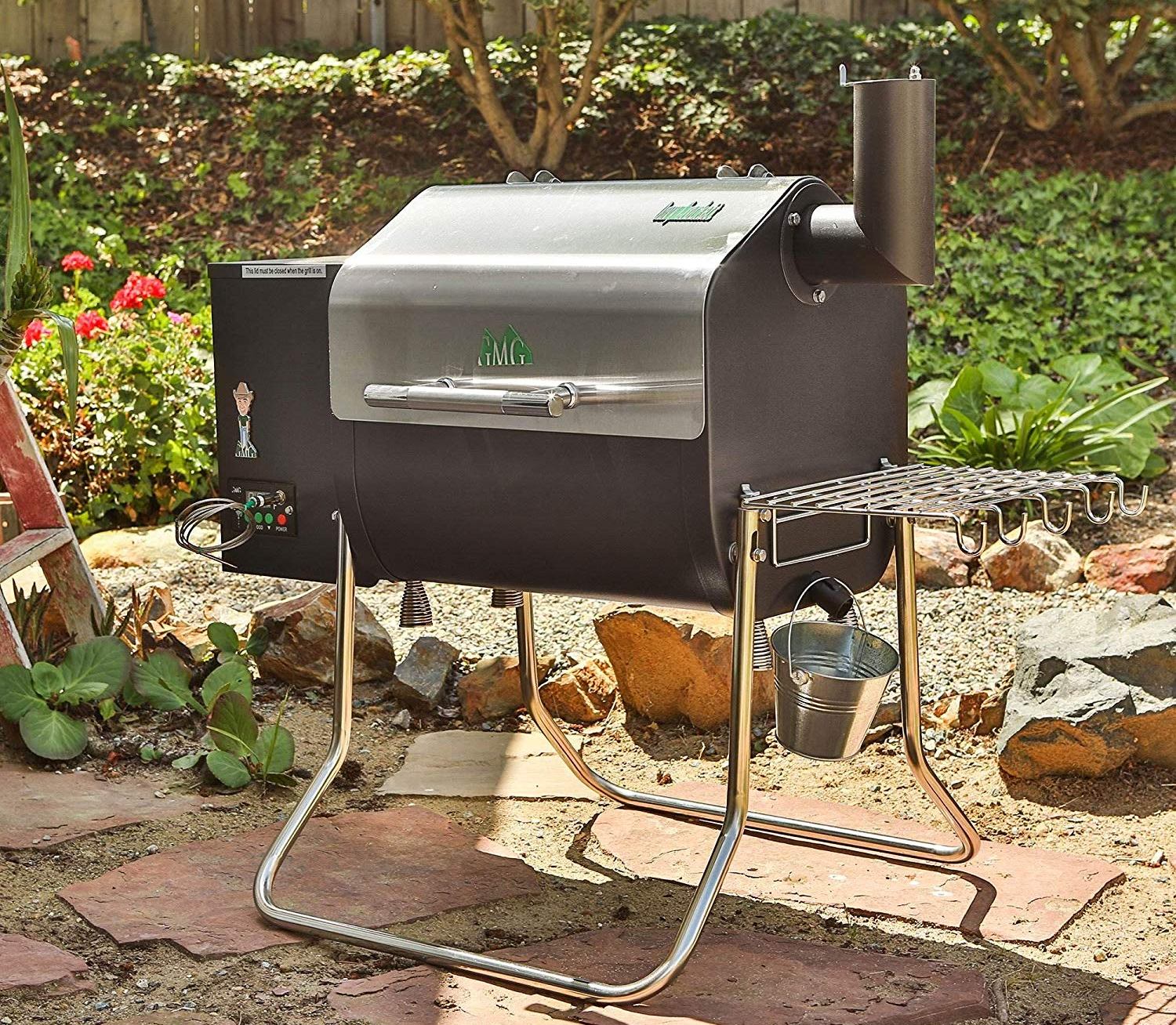 Any smoker enthusiasts will notice that the Davy Crockett Grill is very easy to set up, whether for tailgating or camping or for a quick backyard BBQ. The grill comes mainly assembled, and once you finish setting it up, with all the parts inside and the protective plastic removed, you can start the initial process of feeding pellets into the auger and firebox. It takes about five minutes for the grill to fire up, and you can then set up the Wi-Fi connected app.
If you're wondering what a Wi-Fi app can do for your grill, you'll find out that there are multiple advantages of controlling your smoker via your phone. Not only can you set time and temperatures accurately and get a notification when they are reached, but you can also eliminate the need to frequently check the progress of what you're cooking.
The Davy Crockett Grill is suitable for outdoor use and has good size for most people. It is a highly functional grill that performs well both at home and when you're on the move. This grill performs well and has a highly reliable temperature control, but you need to fiddle with it a bit before you learn how to do it right. While it may sometimes struggle with pellets not feeding properly, this grill doesn't require constant monitoring, and maintains the set temperature mostly reliably.
Surface cooking area
The surface cooking area of the Davy Crockett Grill is 12" x 18", which is more than enough for getting your grilled goodies done in one batch for a small family. The manufacturer managed to fit a decently sizes cooking surface into a compact package, and that feature received lots of praise from users.
Fuel
As mentioned above, the Davy Crockett Grill is a pellet grill which means that the fuel it's powered by is pellets. While it might sound a bit complicated to those who have never tried this type of grilling, pellets remove the need to transport propane tanks or bags of charcoal, while providing you with that yummy wood-smoked flavor. It is also a very efficient fuel, as you only need to burn approximately one pound of pellets per one hour of cooking time. The wood pellets capacity of the Davy Crockett Grill is 9 lbs.
Voltage
The grill has a voltage of 110V or 12V with adaptors for three power options for extra versatility and convenience. We liked that you don't need to purchase any additional connectors separately, because this grill comes complete with a 2v battery option as well as an auto (cigar lighter) plug, and a standard 110v AC plug option.
Wattage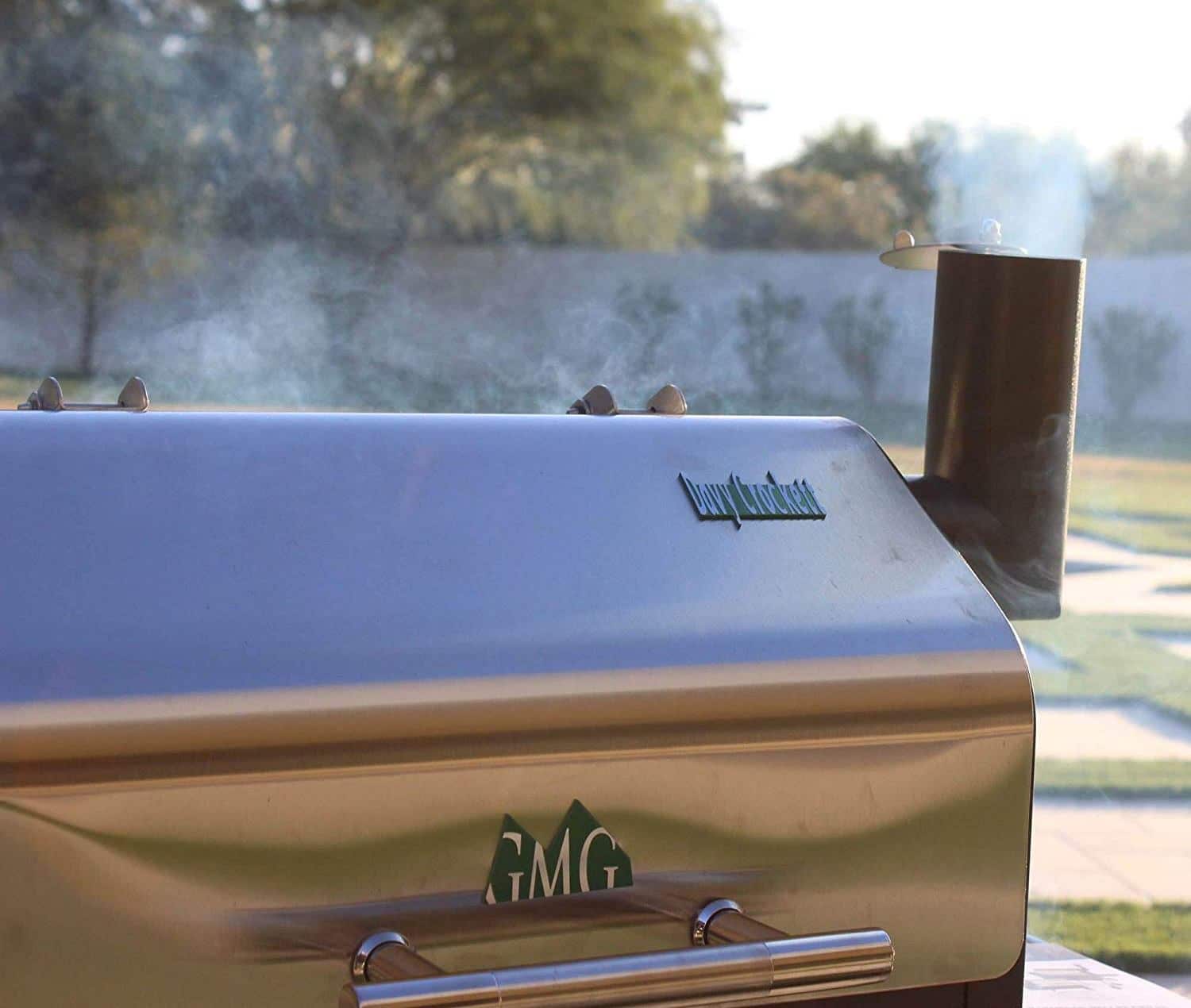 The grill has a   12 volt / 60-watt average power usage and it comes with a 12 volt / 100 watt igniter, so it suits most users.
Motors
The RPM of the auger motor ranges from 4.7 to 5.2, and the fan motor works at 0.45 A and 4100 RPM.
Ease of use
The Davy Crockett Grill is very easy to use, mostly because it features an automated wood pellet feeder, one-touch ignition, and remote control of the temperature, which means that just about everyone can use this grill without too much of an effort. In fact, many users believe that it is easier to get this type of grill starting than traditional electrical or charcoal ones.
You can plug this grill into a car battery, car cigarette lighter, or any other 110-volt outlet. It is of course, not recommended to use this grill inside your home. If you plan on using it as a portable smoker, you'll notice that it is very easy to use it that way because it only weighs about 60 pounds, which is quite light in the world of pellet grills. You can place the grill on any flat surface, such as a tailgate, and the legs that fold into handles make it very easy to carry.
Safety features
Besides featuring Wi-Fi technology that allows you to walk away from the grill while preventing fires on its own, the Davy Crockett Grill has multiple other features that increase in safety levels and make it a suitable choice for the entire family. Its overall design makes it rather difficult to trip the grill over, while the process of using pellets for grilling is very safe in itself. Make sure you follow the instructions of the manufacturer regarding shutdown, because you shouldn't unplug the grill without shutting it down correctly.
Portability (dimensions and weight)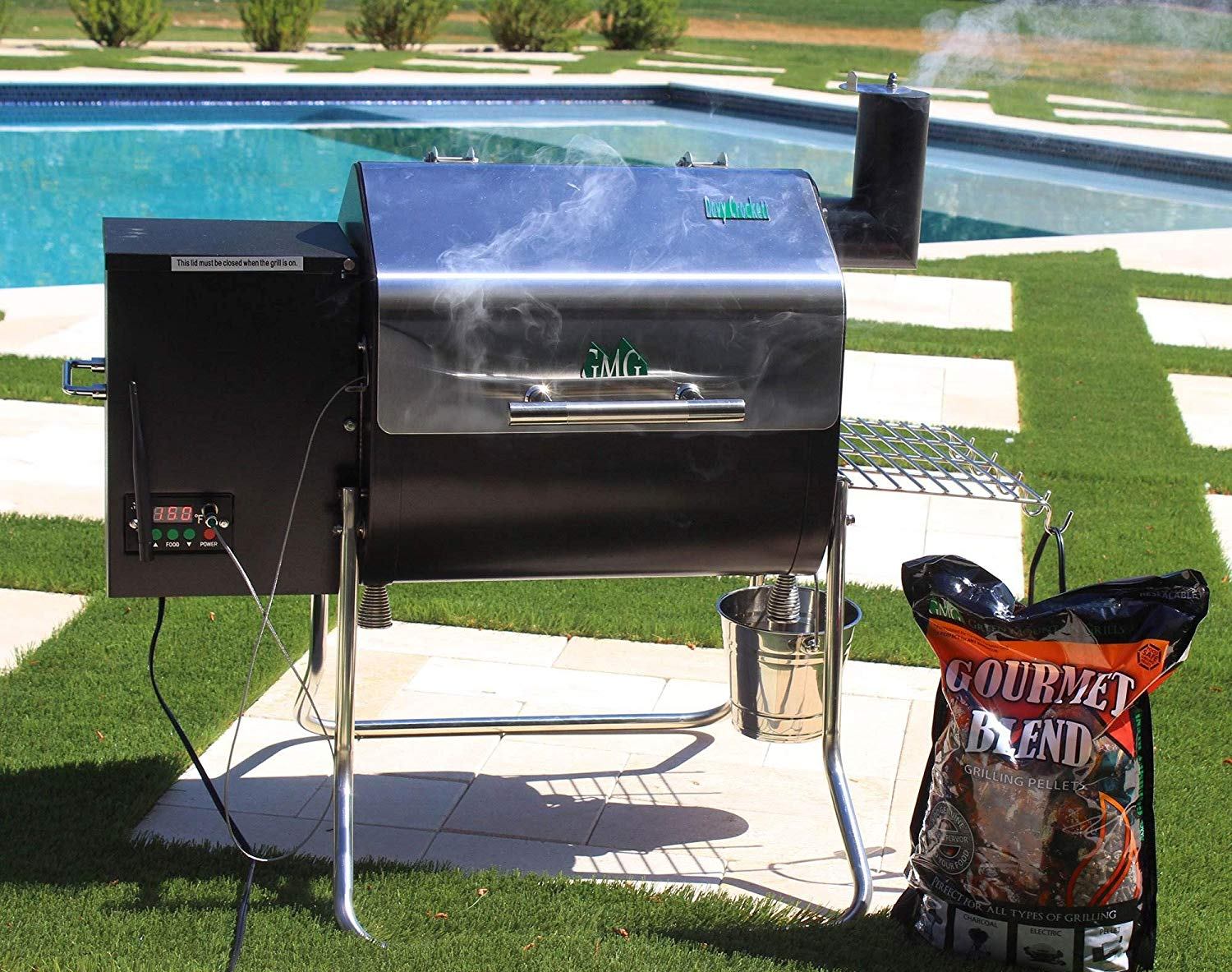 The portability of the Davy Crockett grill has received a lot of praise from users. This is a very compact and lightweight grill that only weighs 68 pounds and measures 34 x 31.75 x 23 inches with its legs open. The grill folds up easily, which comes in handy when you decide to take it tailgating or camping. It is light enough for one person to carry and because the legs convert to handles, you can easily grab it for easy transportation.
Maintenance and warranty
When it comes to cleaning, this model offers access to the ash resulted from the wood pellet fire and you can use a vacuum cleaner to clean the debris after using the grill. The grease is channeled to a bucket that features an angled drip pan, which eliminates buildup so you don't need to scrape or brush it frequently. The Davy Crockett grill comes with a two-year warranty for parts and labor.
Key features
Thermal sensor for regulating temperature
Wi-Fi controller and smartphone app for temperatures and times
110V or 12V power with adaptors for three power options
Foldable legs
Can fit in the trunk of any car
Two-piece drip pan
Comes fully assembled
PROS:
Comes with multiple adapters for powering up
Lightweight
Easy to use
Wi-Fi controller for temperatures and times
Foldable legs for portability
CONS:
May struggle to keep the temperature high
Auger is louder than in other pellet grills
Grease may sometimes build up and burn at the bottom
Instructions a bit vague
Conclusion
The Davy Crockett Grill offers everything you would expect from a portable pellet grill, not only when it comes to lightweight yet sturdy construction, but also general user-friendliness and budget-friendly price. If you are not looking to cook for many people or you're interested in a portable grill for tailgating or camping, the Davy Crockett Grill fits the bill. It is also a good choice for those interested in a secondary home grill and people who want to be able to control their grill via Wi-Fi technology.
Add your review  |  If you have already used this model, please, leave your review