The Pit Boss 700FB is a pellet grill that offers lots of space to cook on while sporting a quality build that will satisfy beginners and grilling enthusiasts at the same time. Boasting a grilling area of 700 square inches, this grill gives you a lot of freedom when it comes to the type of pellets you can use with it. This Pit Boss 700FB review will help you decide whether this pellet grill is a good option for your needs.
Featuring a digitally controlled burn system and 8-in-1 cooking capabilities, the Pit Boss 700FB is very simple to use, as all you need to do is fill up the hopper, set your preferred temperature, and let the grill do the rest of the work. This is a grill that doesn't require cooks to have a lot of experience, and it allows you to get great results without hovering for ages over the grill. It also features multiple safety features, which makes it a good choice for families.
We have found the temperature control to be rather foolproof, and while it is suitable for beginners, this grill also allows you to experiment with different types of food to enhance your skills. This comprehensive Pit Boss 700FB review showcases what this grill can do so you can decide if it works for you.
SPECIFICATIONS
| | |
| --- | --- |
| Primary function | Sear, braise, grill, smoke, BBQ, roast, bake |
| Surface cooking area | 700 sq. in |
| Cooking temperature | 180° to 500°F |
| Fuel | Wood pellets (20 lbs) |
| Grids | Porcelain coated, cast iron |
| BTUs | 40.000 |
| Dimensions | 41.29 x 43.77 x 26.65 inches |
| Weight | 134.48 lbs |
| Warranty | 1-year limited |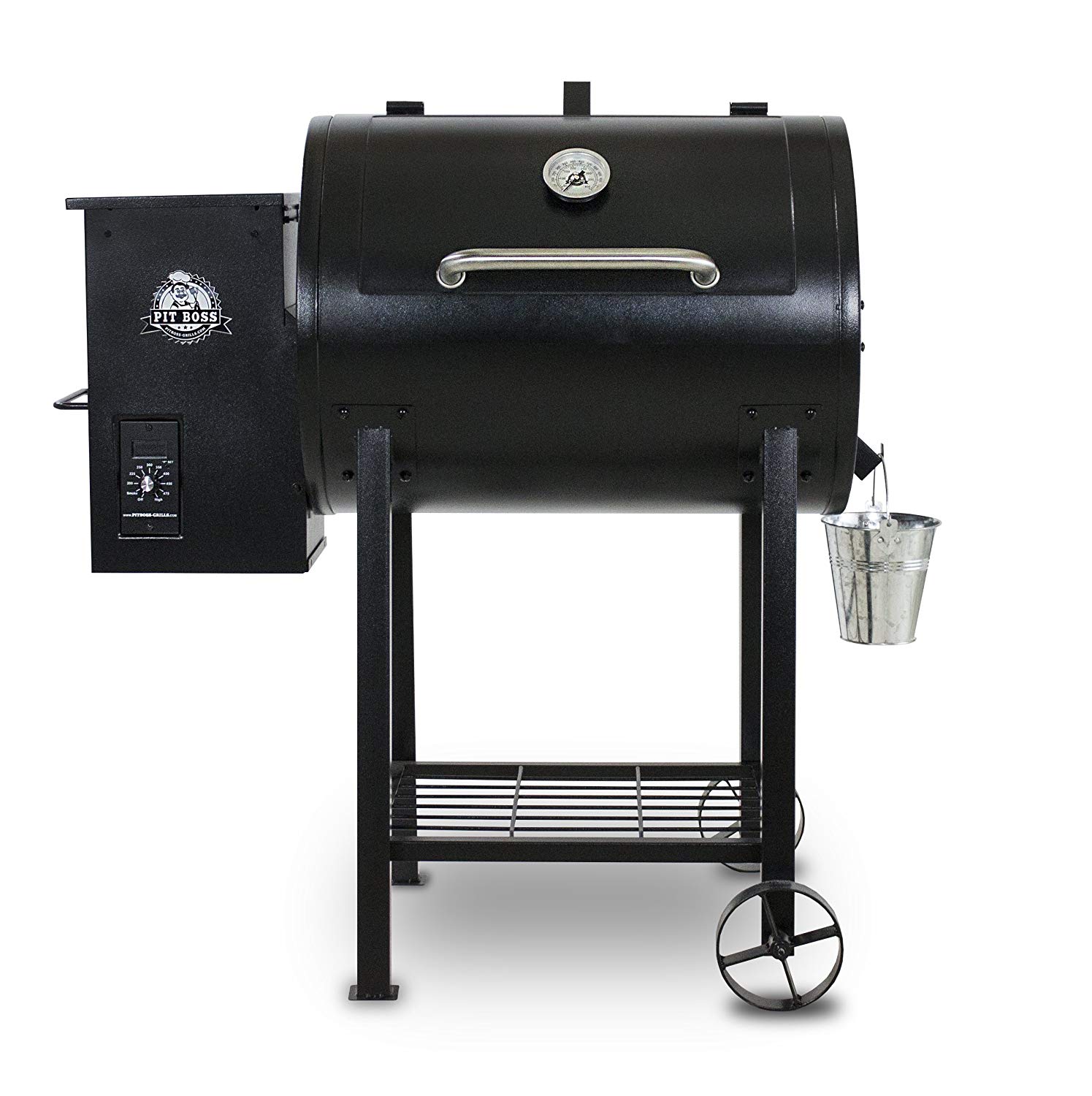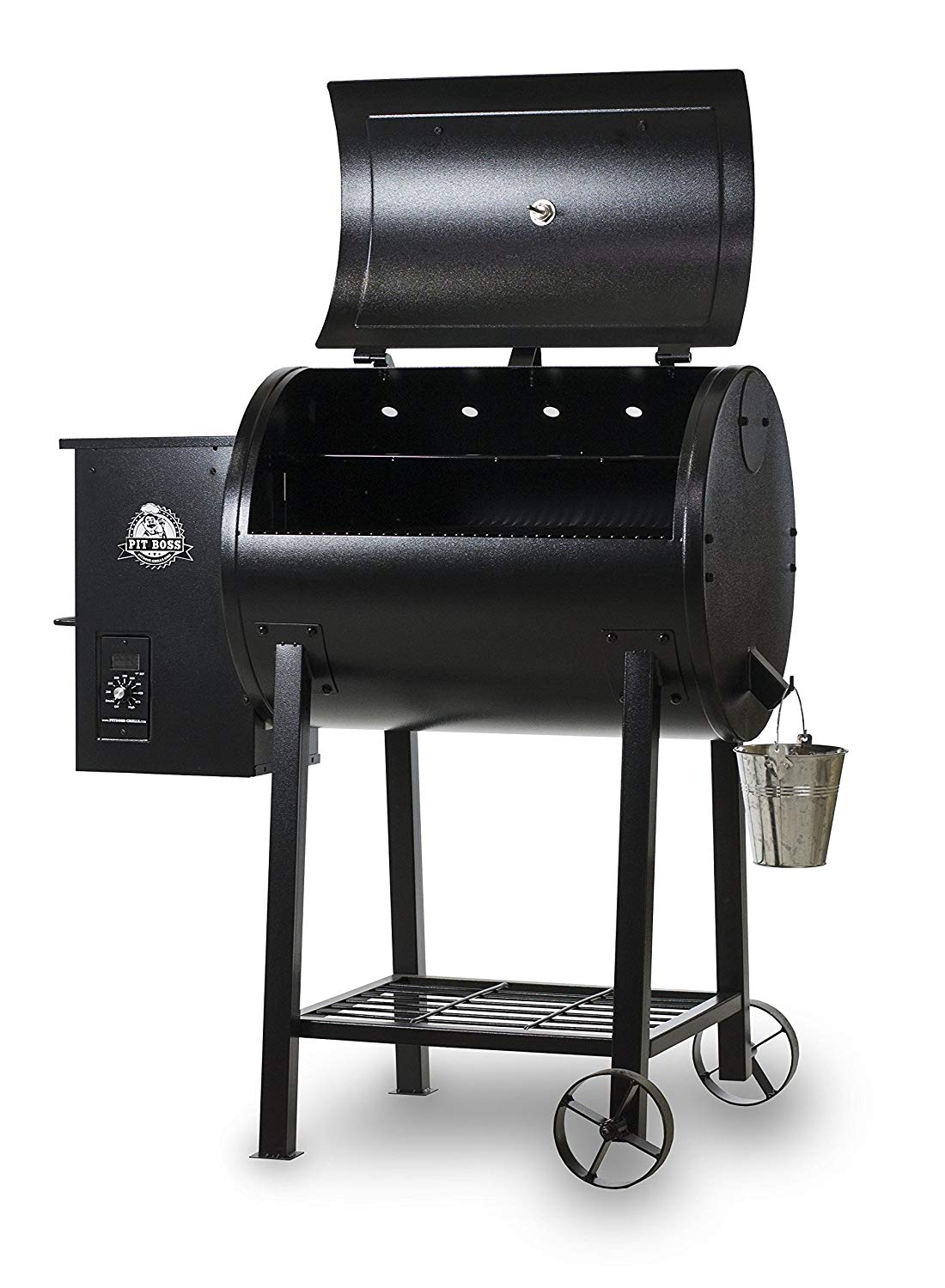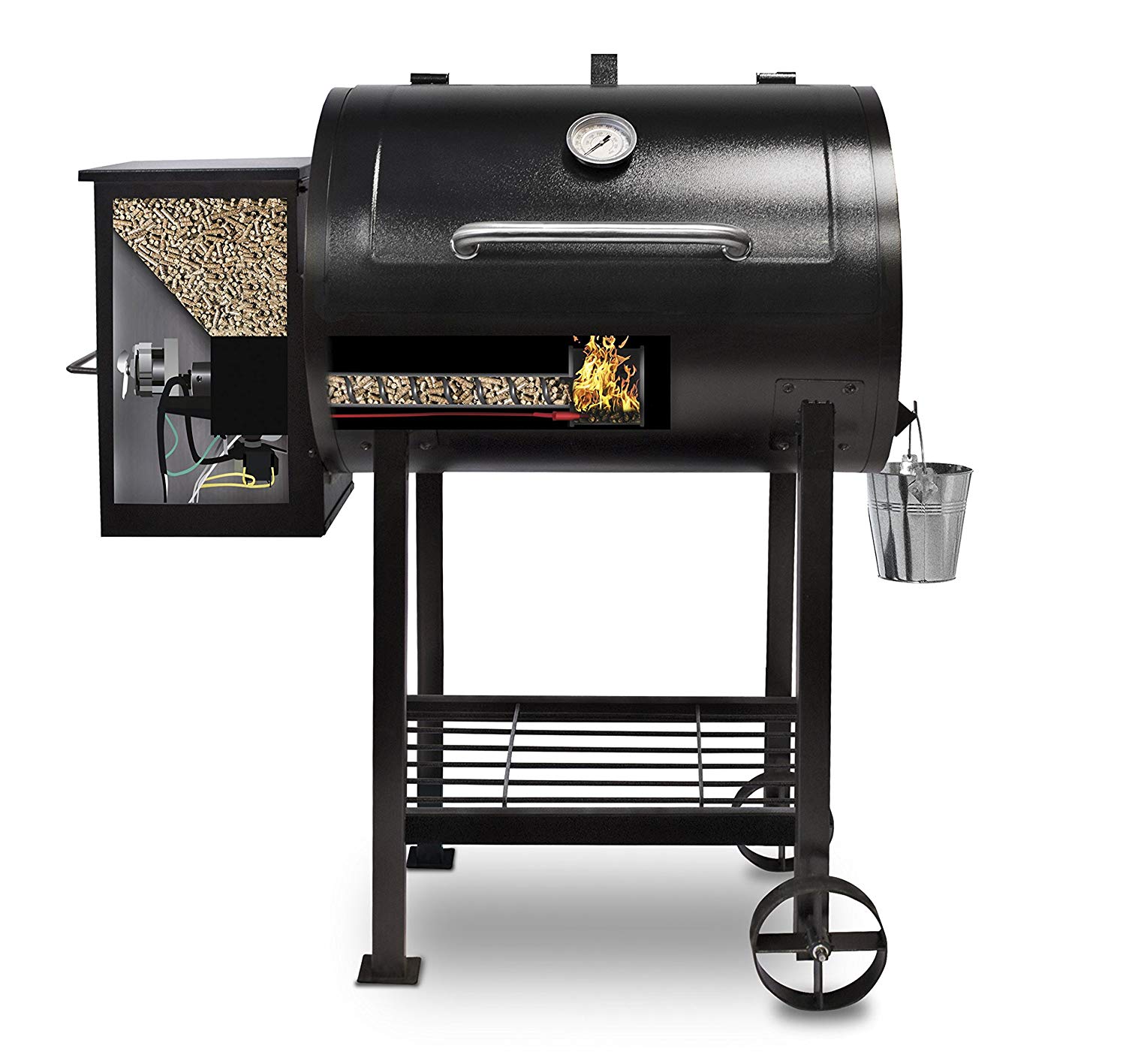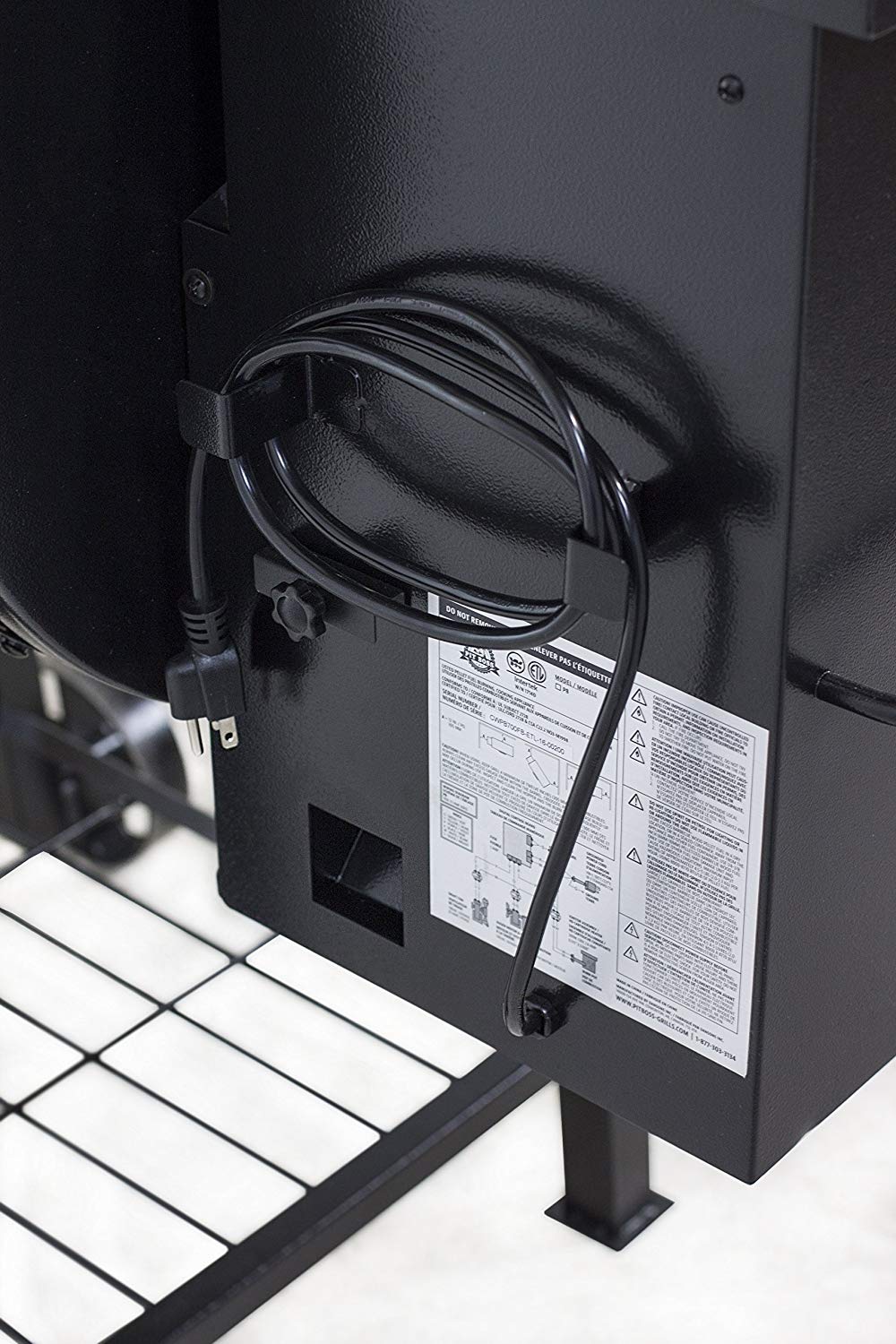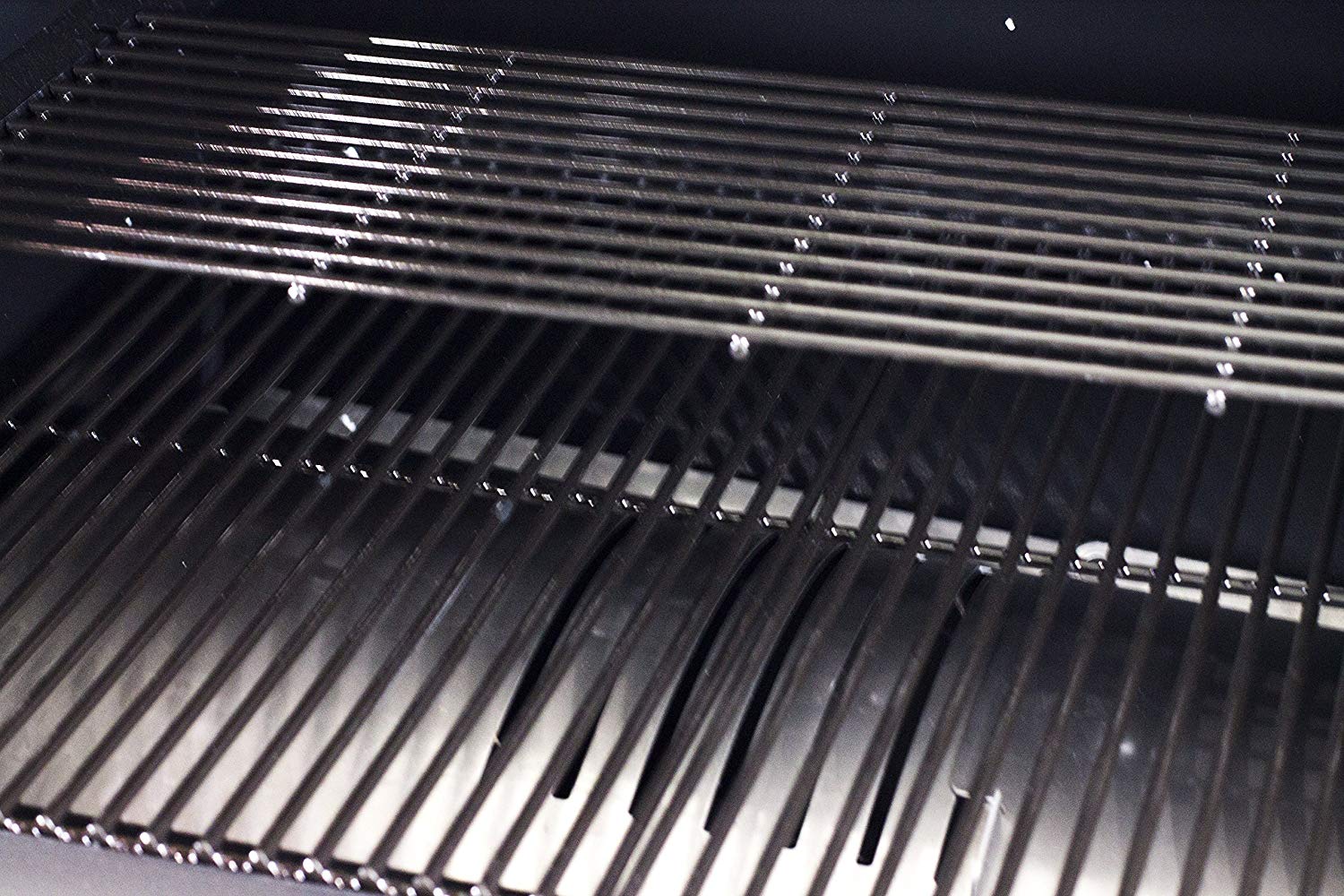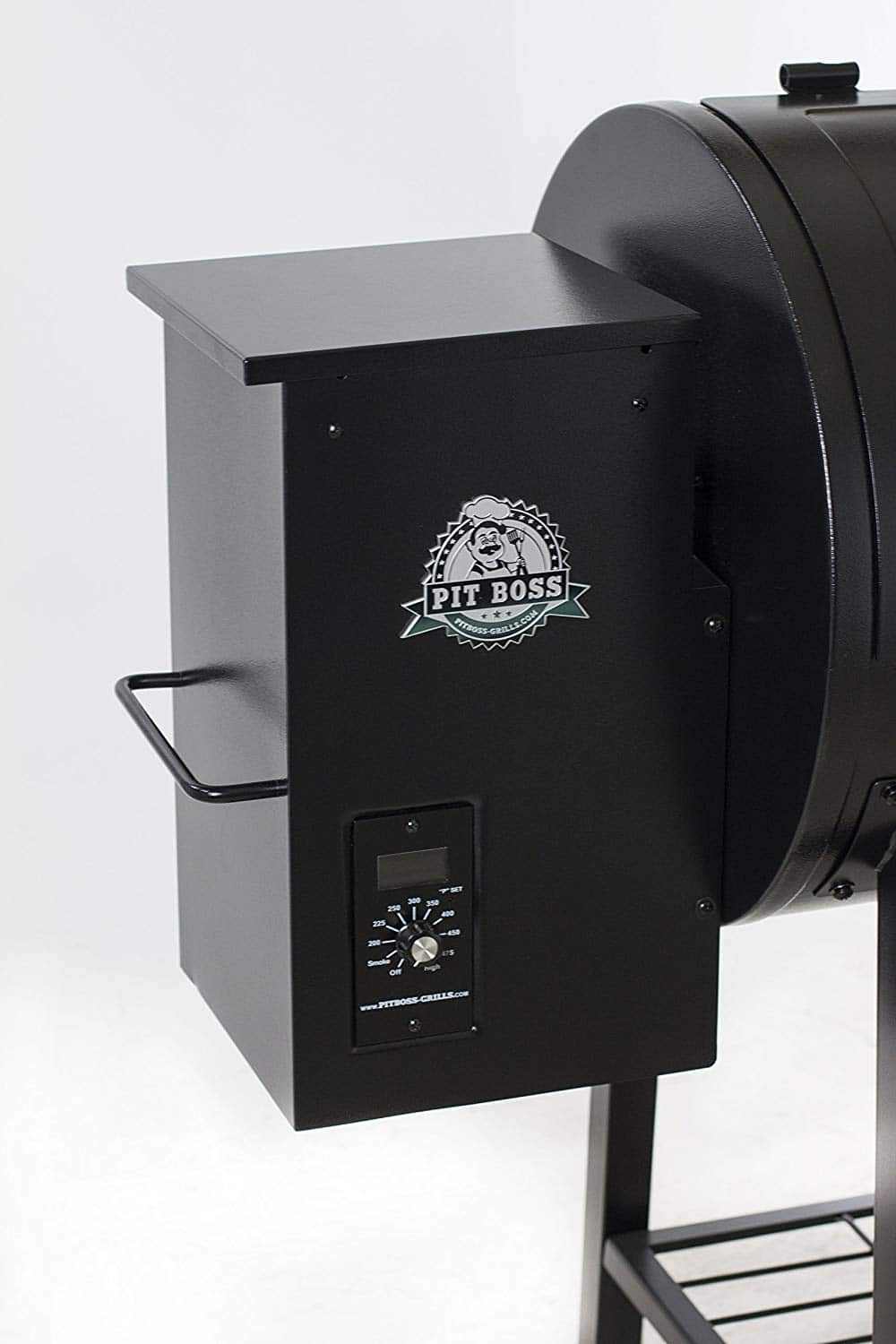 Pit Boss 700FB Review
Wood pellet grills have become popular in recent years because they allow you to get high-quality, tasty barbecue without the hassle of tending to a traditional charcoal model. The Pit Boss 700FB meets the needs of users who want to be able to obtain good results even if they don't have a lot of experience with grilling. Featuring excellent temperature controls and a standard flame broiler feature, this grill is easy to operate and comes with a large grilling area that gives you no less than 700 square inches of cooking surface.
Overall performance (Primary function)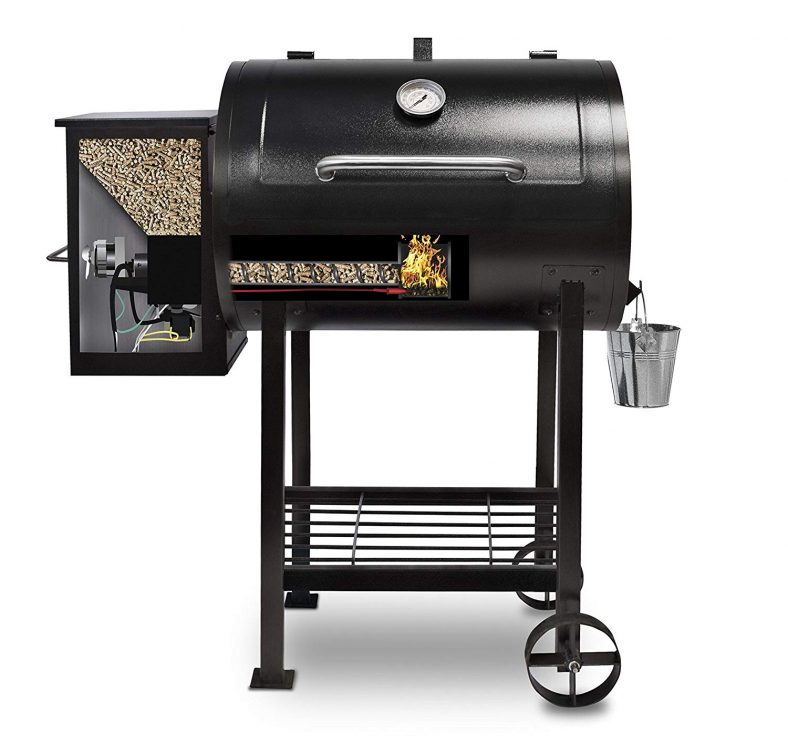 The Pit Boss 700FB can produce high-quality barbecue just as traditional model can, and because of its size, it can easily fit racks of ribs, several chickens and a full brisket. Moreover, the top rack pulls out easily, so you can even fit something like a turkey inside. Because it can reach temperatures of over 500 degrees, this grill is also a good solution for making pizza, simply by placing a pizza stone inside and letting it absorb heat.
Because it features a fan assisted convector, the Pit Boss 700FB provides even results no matter what you decide to cook in it. A flame broiler is available for open flame searing, and the built-in thermometer located on the hood of the smoker gives you quick information of where things are at. We liked that you can easily set up this grill and forget about it, as you can monitor the job it's doing from afar.
The integrated thermometer of this grill allows you to check the temperature easily, so you can get a good amount of precision when it comes to grilling different types of food. You can check the temperature without lifting the lid, so the cooking process doesn't get interrupted.
Surface cooking area and temperature
The surface cooking area of the Pit Boss 700FB offers an amazing 700 square inches, or 27-inches by 19-inches, which is one of the largest we have seen in a pellet grill. You can also use the upper rack as a secondary one or simply as a warming rack, which gives you extra space for those family gatherings. The rack also pulls out easily if you want to remove it altogether to make room for something large and tall, lie a turkey for example.
When it comes to temperatures, the Pit Boss 700FB offers a range that goes from 180 degrees to 500 degrees Fahrenheit. This makes it suitable for a large selection of foods, ranging from shrimp to pizza. You can also grill exactly the way you want thanks to the 8-in-1 grilling option.
Fuel
The Pit Boss 700FB uses wood pellets as fuel, which is the fuel of choice for most Pit Boss grills. A total of 20 lbs. of pellets fit inside the hopper, which is a considerable amount, which means that you don't have to refill it too often. You should, however, refrain from filling the hopper to the brim. You can use various types of pellets with this grill, with most of the brands available on the market being a good fit. If you want to use different types, you should first burn the pellets you loaded the hopper with first.
Grids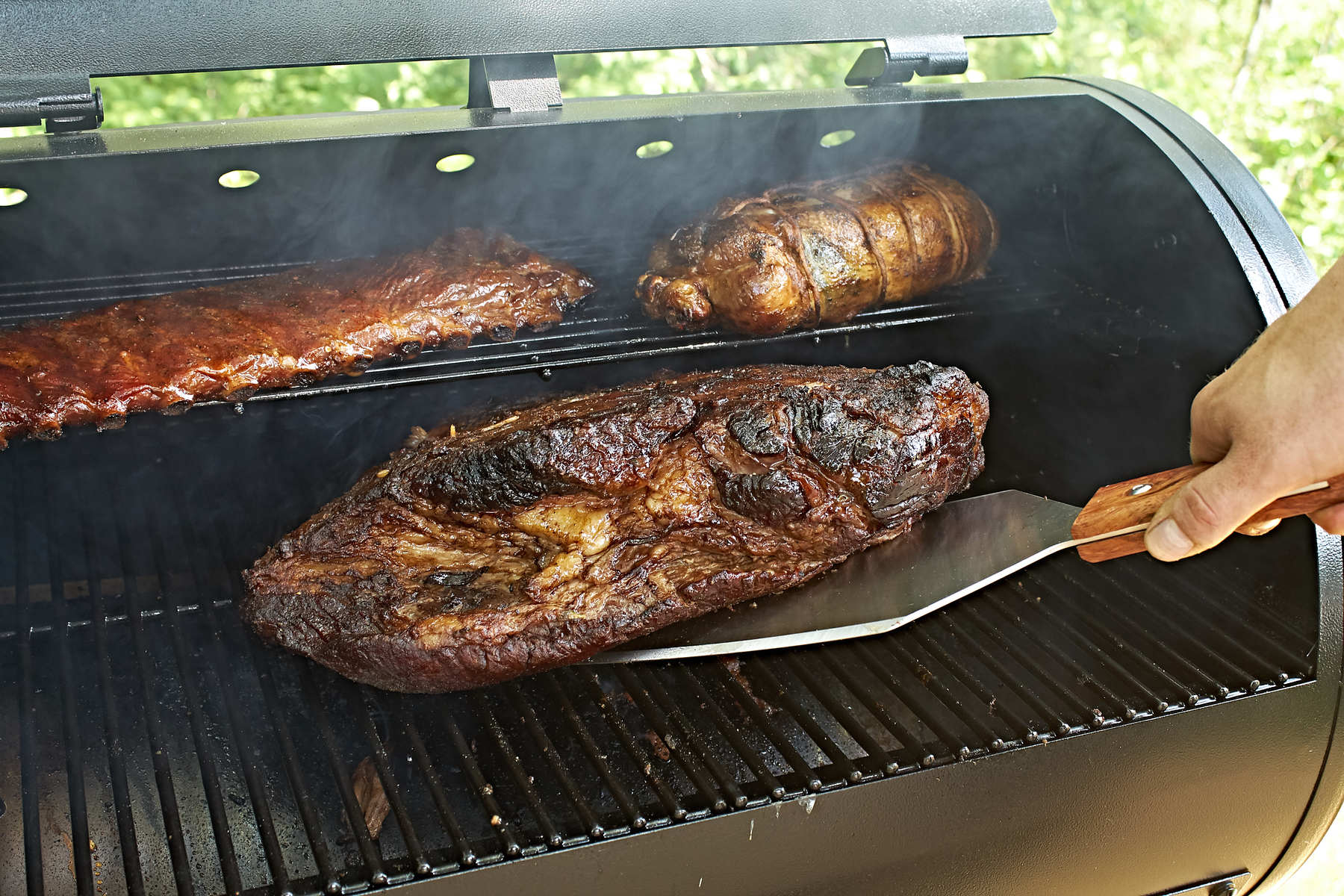 The cast-iron grids of the Pit Boss 700FB are porcelain-coated, which means that the heat is distributed more evenly as you cook the food. Moreover, the porcelain coating of the grids makes the surface long-lasting and highly resistant to rust. The grids are also very easy to clean once you are done cooking.
BTUs
The 40,000 BTU of the Pit Boss 700FB are more than enough to provide lots of power to cook large quantities of food at the same time. The BTU is higher than that of cheaper models, and it makes the grill highly efficient when you also factor in the large surface area.
Ease of use
This grill is easy to assemble and set up for first use, being intuitive even for those who have never used a pellet grill before. Once the grill is fully assembled according to the instructions provided, you need to fill the hopper with pellets and turn on the temperature, adjusting it to the desired level. Because you can set the controls on a timer, you can forget about the grill, as it will do all your work for you. Many users compare it to a slow-cooker because you set it up and forget about it until it's mealtime. You don't need to hover the grill, which makes it exceptionally easy to use for all cooks.
Safety features
The grill comes complete with an electric ignition fire starter so you can easily ignite the fire without having to use any external source. Thanks to the digital control center, you don't have to worry about fiddling with the temperature during the cooling process, and the grill cools down on its own safely once you're done cooking. Thanks to the automatic flare protection feature, there is an almost inexistent risk of accidental burning.
Portability (dimensions and weight)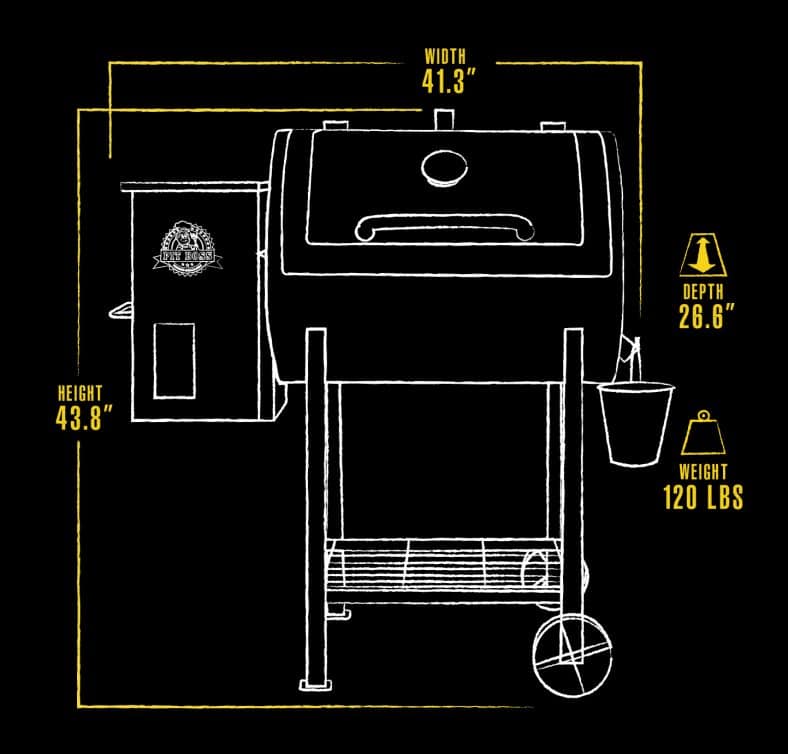 This grill weighs 134.48 lbs., which doesn't make it the most portable pellets grill available out there. While its lack of mobility is softened by the existence of two wheels that make it easy to move from one place to another, they do not swivel or pivot, which decreases its level of portability. The dimensions of the grill are 41.29 x 43.77 x 26.65 inches, making it suitable for just about any backyard.
Maintenance and warranty
The grill is very easy to clean, in part thanks to the reusable drippings cup that you can easily pour out. You also need to scrape down the grates, but this is very easy too, because of the porcelain coating. Don't forget to pay attention to the slide plate of the broiler, which also requires cleaning. The Pit Boss 700FB comes with a 1-year limited warranty, which covers defects on the components as well as the electrical system. Keep in mind that the gaskets, probes, grill cover, burn pot, and paint are not covered by warranty.
Key features
20 lbs. hopper capacity
Temperature ranges from 170℉ – 500℉
Porcelain-coated cooking grids
A total of 700 sq. inches of cooking space
Digital temperature control for extra precision
Natural pellet heating element for extra flavor
Direct heat grilling
Uses 100% natural wood pellets as fuel
PROS:
Solid design and well-built construction
Easy to use even by beginners
LCD control panel
Automatic temperature control
8-in-1grill option
Flame broiler
Large surface for cooking
CONS:
More expensive than other pellets grills
Some users find it too noisy
Pellets may sometimes clog the system
Conclusion
If you are looking for a high-quality pellet grill that you can use for smoking and baking, the Pit Boss 700FB does all that and more, such as direct heat grilling for example. This is one of the few pellet grills on the market that comes with a broiler feature. Suitable for lovers of natural smoking and those looking for a versatile grill that is bound to last for years, the Pit Boss 700FB is a joy to use and very easy to clean and maintain.
Add your review  |  If you have already used this model, please, leave your review