A pellet grill with superior digital controls, the Traeger Junior Elite is a very easy-to-use barbecue that is well-built and has several advantages over its gas counterparts. This Traeger Junior Elite review shows while this grill has gained a lot of popularity in recent years. Manufactured by Traeger, one of the pioneers of pellet smoking grills, this barbecue is an upgraded version of the compact Junior Pellet Smoker, enhanced with multiple features such as a digital temperature control that allows you to maintain an even temperature inside the cooking chamber.
Besides being a durable and high-performant grill, the Traeger Junior Elite is also one of the most portable pellet grills currently available in the market, which is another reason we decided to do a Traeger Junior Elite review. Because of this feature, this is not only a great grill to use at home for producing flavorful meats, but also an excellent choice for those who are looking for a grill they can use for tailgating. Read on to discover the features of the Traeger Junior Elite.
SPECIFICATIONS
| | |
| --- | --- |
| Primary function | Grill, smoke, bake, roast |
| Surface cooking area | 300 sq in |
| Cooking temperature | Up to 150°F |
| Fuel | Wood pellets (8 lbs) |
| Grids | Porcelain |
| BTUs | 19.500 |
| Ignition type | Electrical |
| Dimensions | 36 x 37 x 18 inches |
| Weight | 60 lbs |
| Warranty | 3-year limited |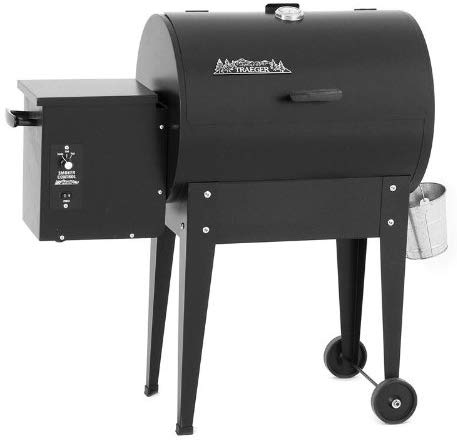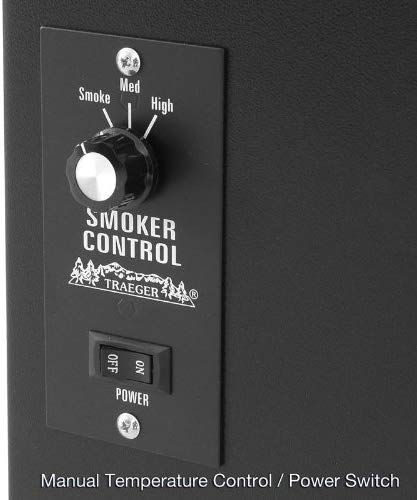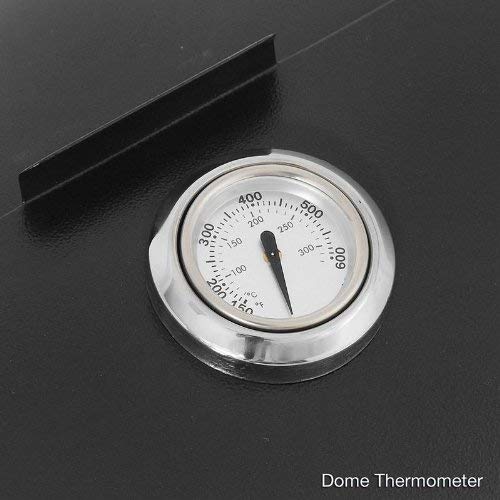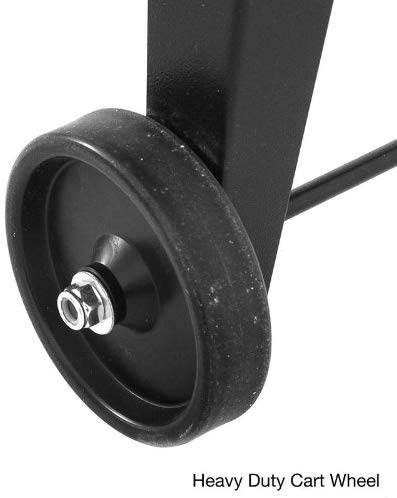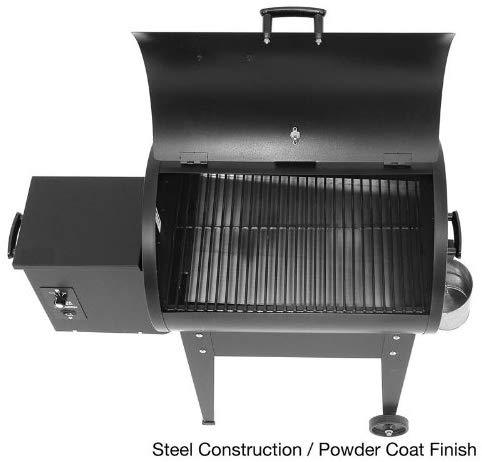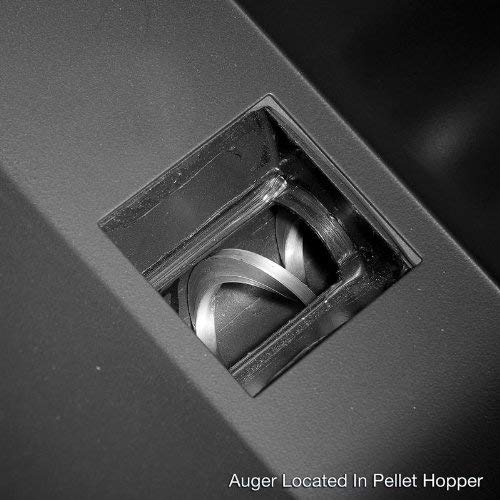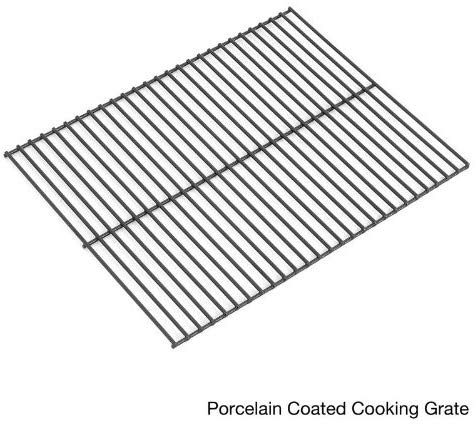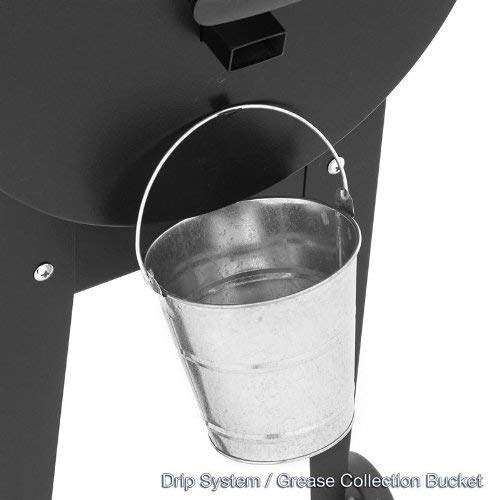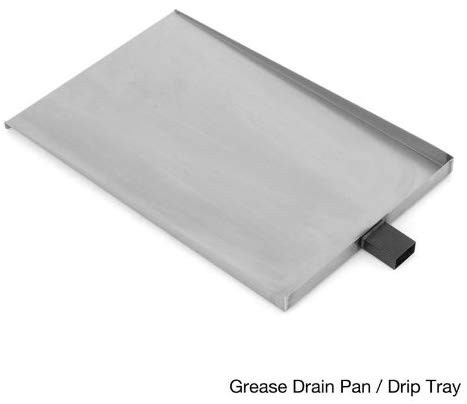 Traeger Junior Elite Review
Approximately 85% of pellet grills in the US are made by Traeger, which says a lot about the quality of the products this company delivers. The Traeger Junior Elite is no exception to the rule and while it is not the cheapest pellet grill you can find; it is packed full of features that will provide you with a superior grilling experience that is very difficult to achieve with a cheaper barbecue.
Besides producing excellent smoky foods, this grill is also highly portable and only weighs in at around 60 pounds, which is a lot lighter than many of the other models currently available on the market in the same price range. It is also smaller, which is that it sacrifices a bit of the grilling space, but it still leaves you with enough room to cook food for small family. The grill offers you complete control over the cooking temperatures and even though some users noticed that the grill may have temperature fluctuations especially in cold weather, the overall cooking experience is an even one.
Some of the features that make the Traeger Junior Elite an excellent choice include the digital thermostat that is built in so you can see cooking temperatures in real time, as well as the highly portable design that makes it easy to transport from one place to another and also very convenient to store when not in use.
Overall performance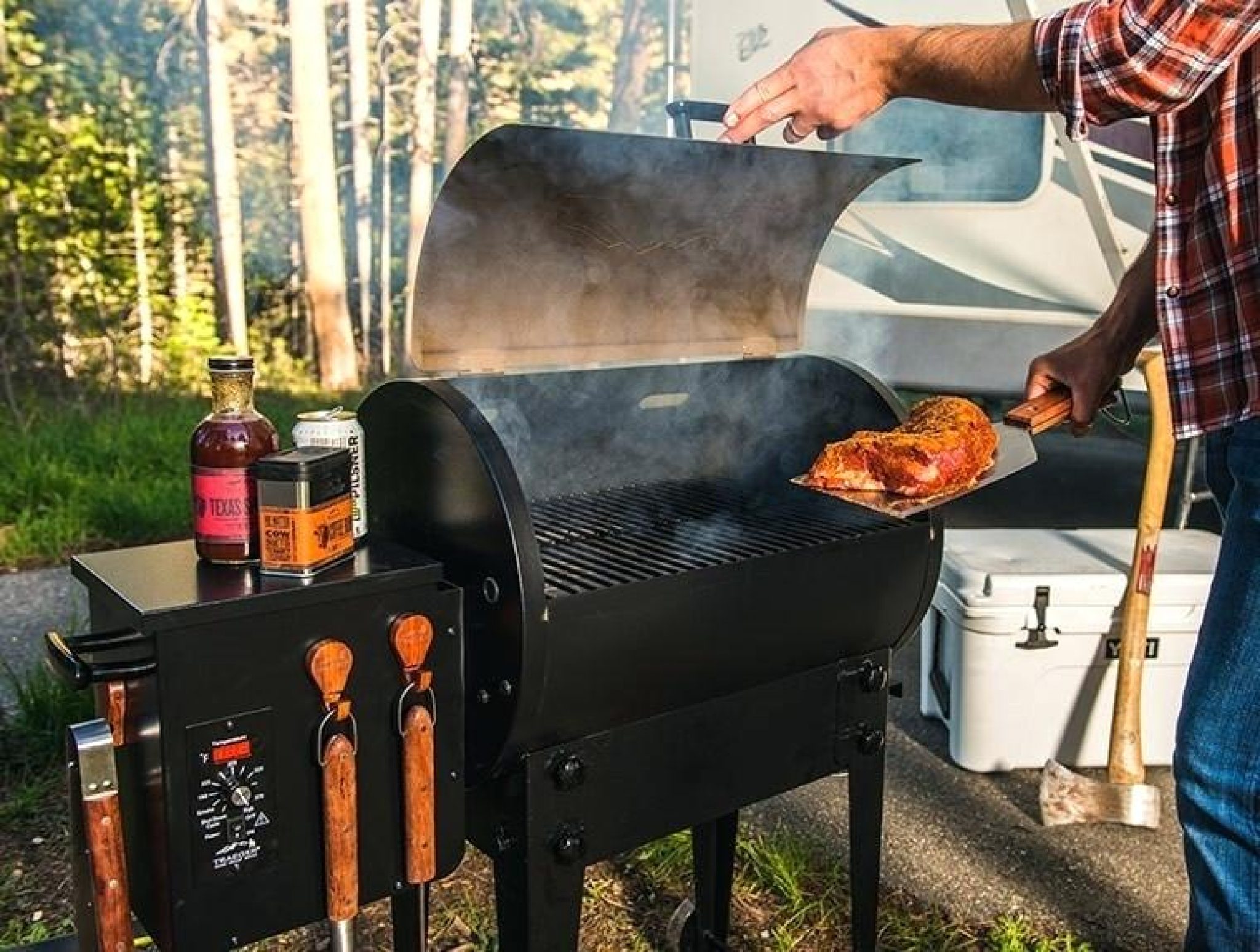 The Traeger Junior Elite is made of heavy duty steel and has a fairly good construction that is bound last for years without a hiccup. This is a durable grill that can withstand the elements and will not get damaged if you leave it out in the rain for a couple of days. It features a 20-inch x 15-inch porcelain cooking grate, which provides you with a decent cooking area that is large enough to accommodate up to 12 hamburger patties at the same time.
The real cancel with an auger at the bottom the spark ignition process, and only have to do is plug it in and let the pellets burn, as the auger leads to hot rot that sets blaze to the pallets when you ignite the grill. This makes the grill very easy to use even if you have never used a pellet grill before.
Surface cooking area and temperature
The 20-inch x 15-inch cooking area is small enough for a small family, and can even accommodate guests. You can place about 12 hamburger patties on the grill at the same time. The grill reaches a temperature of 150°F and it comes with a digital thermostat so you can easily see the cooking temperature in real-time. Some of the users who tested and reviewed this grill mentioned that it might have difficulties in obtaining an accurate temperature, especially in cold weather. The temperature may tend to decrease as pellets burn away, but in the vast majority of cases this does not have a negative impact on the cooking process.
Fuel and ignition type
This grill is fueled by wood pallets, which grill and smoke at the same time. An electronic control panel allows you to automatically feed field pallets to the fire and maintain an even cooking temperature. The Traeger Junior Elite is very easy to ignite thanks to the auger located at the bottom, which sets each wood pellet on fire when you ignite the grill. The ignition is electrical, so all you need to do is push a button and the grill will be ready for use in a couple of minutes.
Grids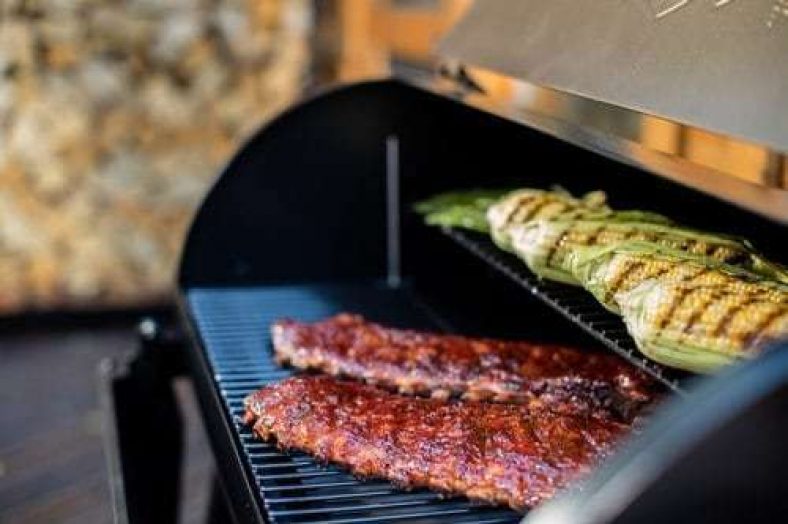 The grill is equipped with a 15-inch x 20-inch grate that offers a 300 sq. inches of cooking surface. The grids are made from porcelain, with a cast iron core. The main benefit of these grades is the fact that they are easy to clean, but you need to keep in mind that you will have to clean them after each use. Porcelain grids do a good job at maintaining a consistent cooking temperature.
BTUs
The Traeger Junior Elite has a total BTU of 19,500, which is powerful enough for the needs of a small family. We found that the grill is up quickly and maintains a consistent heat, with the occasional hiccup when you use it in cold temperatures. The BTU refers to the amount of heat a grill can produce and while this grill doesn't deliver as much as other bigger pellets on the market, which can go upwards of 30,000 BTU, the heat it produces is more than enough for regular use.
Ease of use
The Traeger Junior Elite is very intuitive and easy to use even if you have never grilled on a pallet smoker before. The initial assembly only takes about one hour and 1/2 to put together, and since the grill is very lightweight, it doesn't require the help of a second person. The grill comes with a comprehensive instruction manual with all the information you need to put everything together, and there are also video resources available if you get stuck.
After you set up the grill, you will find that it is very simple to use. You will need to plug it in into a 110 V electrical outlet, which will power the heat up so the hot rod starts to function. In fact, only need to do is to turn on the thermostat that is built-in on the grill. As utilities, you will ignite a fire by starting to feed wood pellets into the auger. The thermostat has multiple pre-set functions and you can choose between multiple temperatures.
Safety features
The control of the grill comes with two safety features that will protect you during use while also giving the grill operating as it should. A low temperature alarm is one of these features, which means that if the grill remains below 125° for a period of 10 minutes, the power will be shut off to the internal components and remain like that until you ignite the grill. A high temperature alarm is the second safety feature present on the Traeger Junior Elite. This is triggered once the grill obtains an internal temperature rating of 550°. If this happens, the grill will be turned off automatically and all the internal components will be shut off.
Portability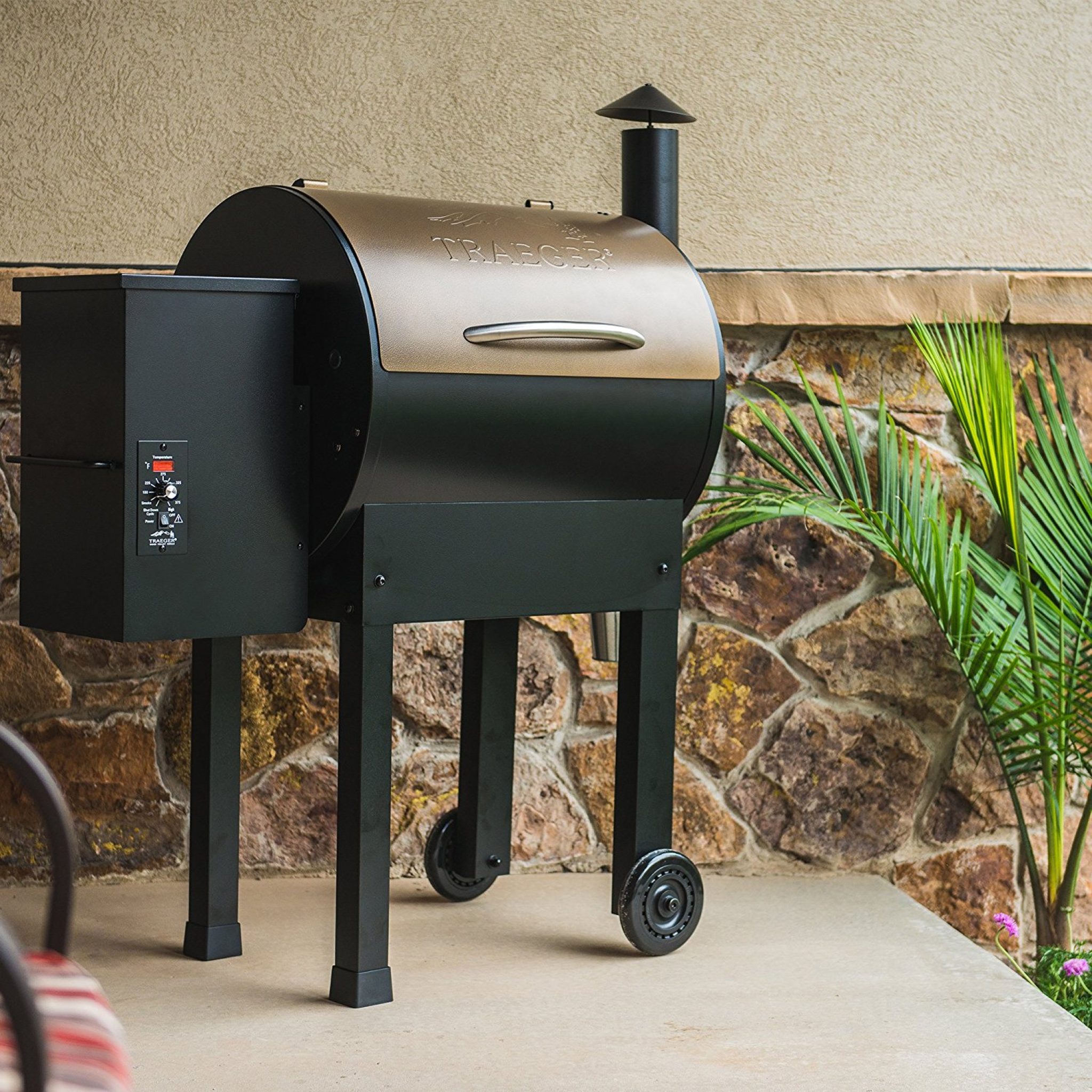 Portability is one of the main selling points of the Traeger Junior Elite, is the grill only weighs 60 pounds and its dimensions are 36 x 37 x 18 inches. The grill has a set of two wheels on the back legs that make it very easy to move from one place to another, which comes in very handy when you want to move it by yourself. The overall dimensions and portability of this grill make it an excellent choice for tailgating or camping. Overall, this grill is much lighter than other pellet smokers available in the market.
Maintenance and warranty
The grill is easy to maintain and you only need to clean the grates after each use. There is not much to do in terms of maintenance, but make sure you store the grill in a place where it is protected from the elements if you don't intend to use it for a prolonged period of time. Traeger recommends the use of pellets manufactured by their company, but other pellets work just fine.
The Traeger Junior Elite comes with a three-year warranty that protects your barbecue against any defects in workmanship and materials, but excludes problems caused any wear and tear and misuse. You will need to have proof of purchase to make a warranty claim, in the form of an invoice, receipt, or a sales slip.
Key features
15″ x 20″ cooking area that comes to a total of 300 square inches
Built-in thermostat
Easy drain clean-up system
Convection blower for food to be cooked evenly
Porcelain coated grill grates
Two wheels make it easy to move around
Steel construction for durability
Plugs into a standard 110v outlet
PROS:
Highly portable design – the real only weighs 60 pounds and measures 36 inches x 18 inches x 37 inches, being very lightweight for a pellet grill
Built-in digital thermostat for highly accurate temperature readings in real time
Three-year warranty that covers all aspects of the grill and most of the parts
CONS:
May be prone to temperature fluctuations, especially if you're cooking in cold weather
Expensive for a pellet grill
Conclusion
The Traeger Junior Elite is a small pallet smoker that is lightweight on construction but big on taste. It is a popular choice for those who are looking for their first pellet grill but also for people that are interested in a lightweight and portable grill that is suitable for tailgating. We found that the grill takes on boxes that you might expect from a pellet grill in this price range, including a digital thermostat and convection blower, as well as enough space to cook meat for a small family all at once.
Add your review  |  If you have already used this model, please, leave your review