Grilling is a favorite way to cook food for many, and most enthusiasts are looking for unique flavors and an easy process for their preferred foods. The Traeger Lil Tex Elite is a grill that makes even the simplest of foods delicious thanks to that special charred taste. This Traeger Lil Tex Elite review focuses on the features of this pellets grill manufactured by popular brand Traeger, to help you decide whether it's a suitable choice for your home.
Cooing with wood has become very popular in the recent years, replacing the hassle that comes with using charcoal for grilling. This wood-pellet grilling allows you to obtain that unmistakable wood-fired taste, while offering you the freedom to navigate through several grilling modes so you can cook your food to perfection. Sporting a large cooking capacity that can accommodate up to 24 burgers or four chickens, this is a grill suitable for those who like to entertain and for larger families. Read the following Traeger Lil Tex Elite review to see if this could be your next grill.
SPECIFICATIONS
| | |
| --- | --- |
| Primary function | Grill, smoke, bake, roast, braise, and BBQ |
| Surface cooking area | 418 sq in |
| Cooking temperature | Up to 450°F |
| Fuel | Wood pellets (18 lbs) |
| Grids | Porcelain |
| BTUs | 20.000 |
| Ignition type | Electrical |
| Dimensions | 49 x 42 x 22 inches |
| Weight | 98 lbs |
| Warranty | 3-year limited |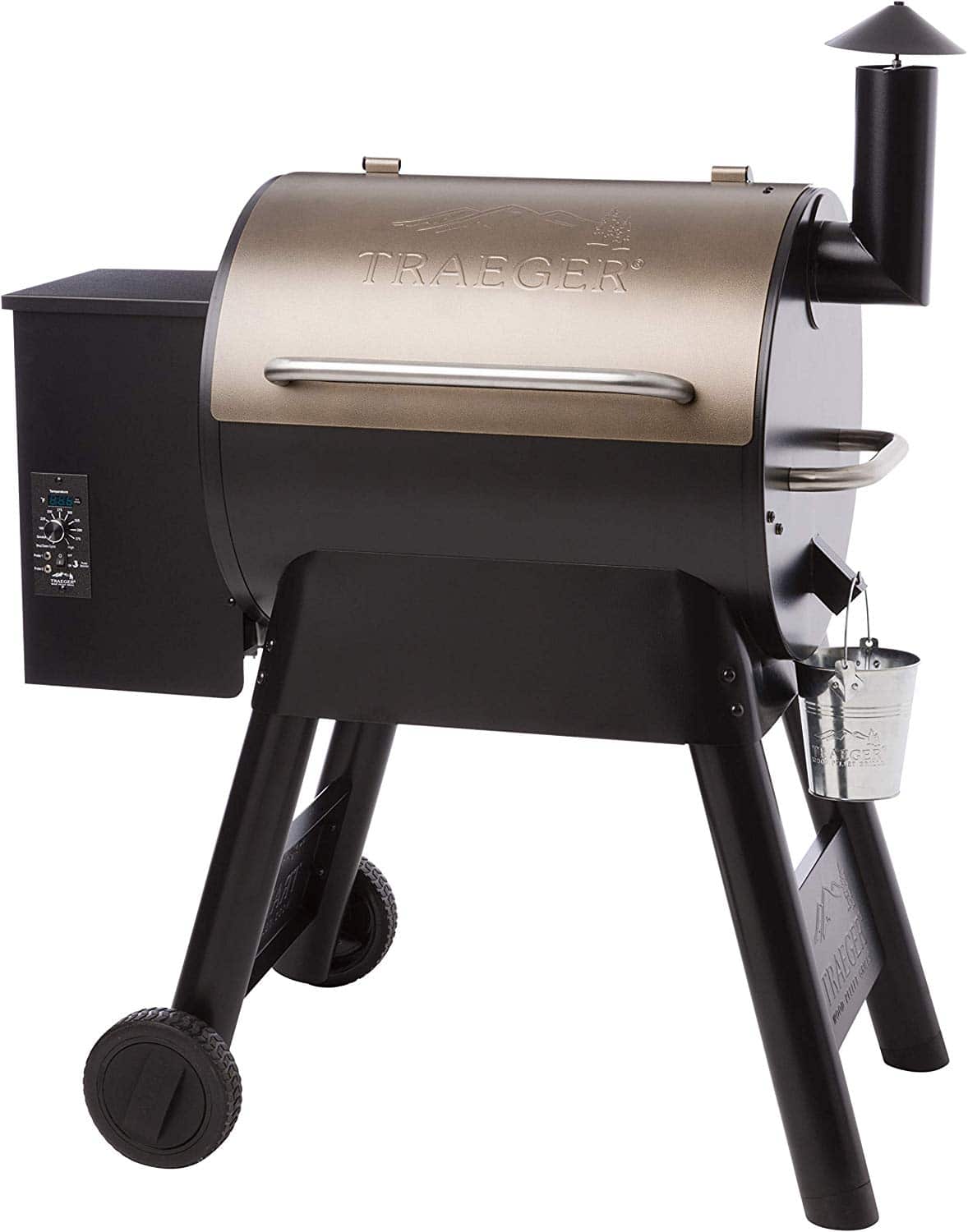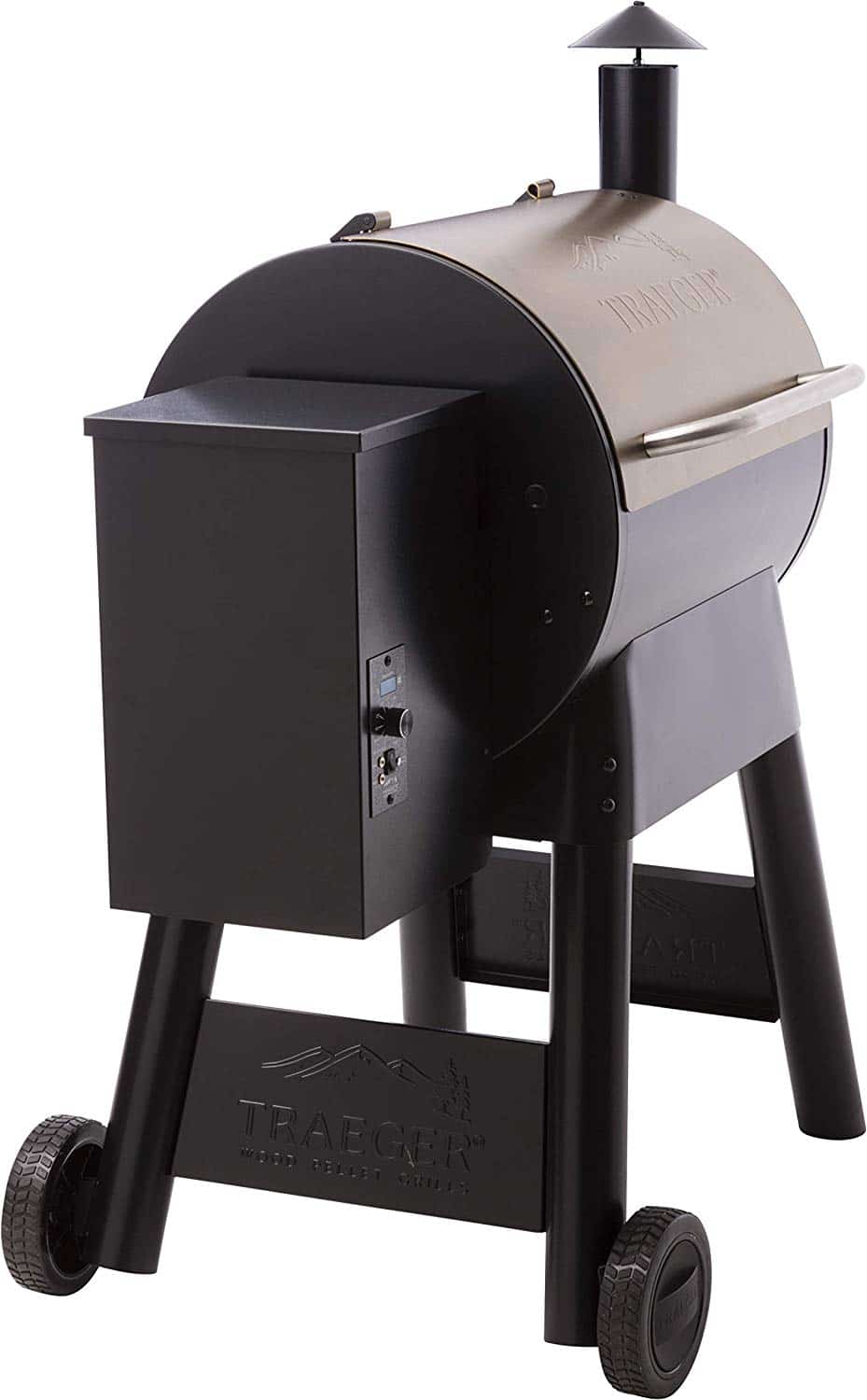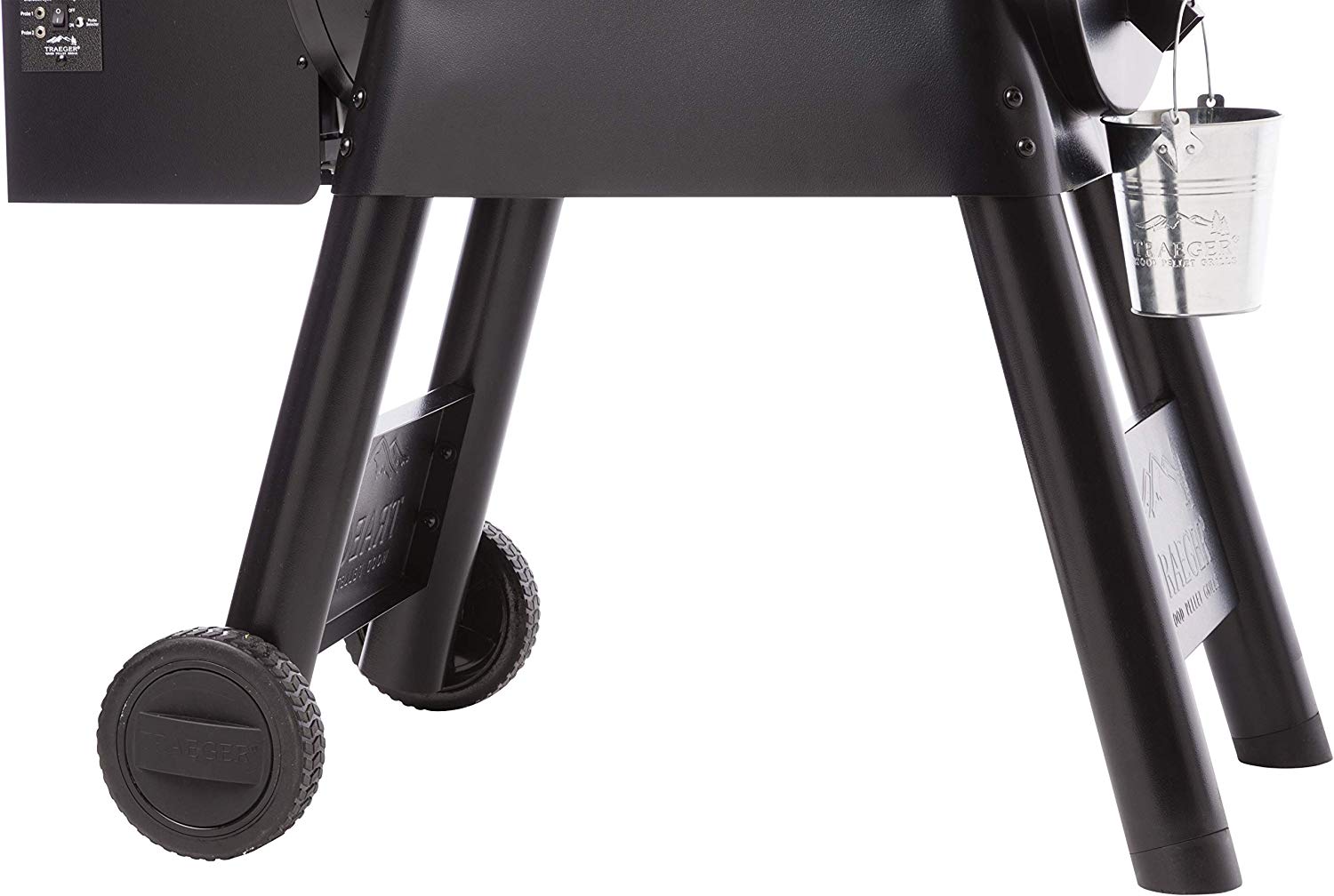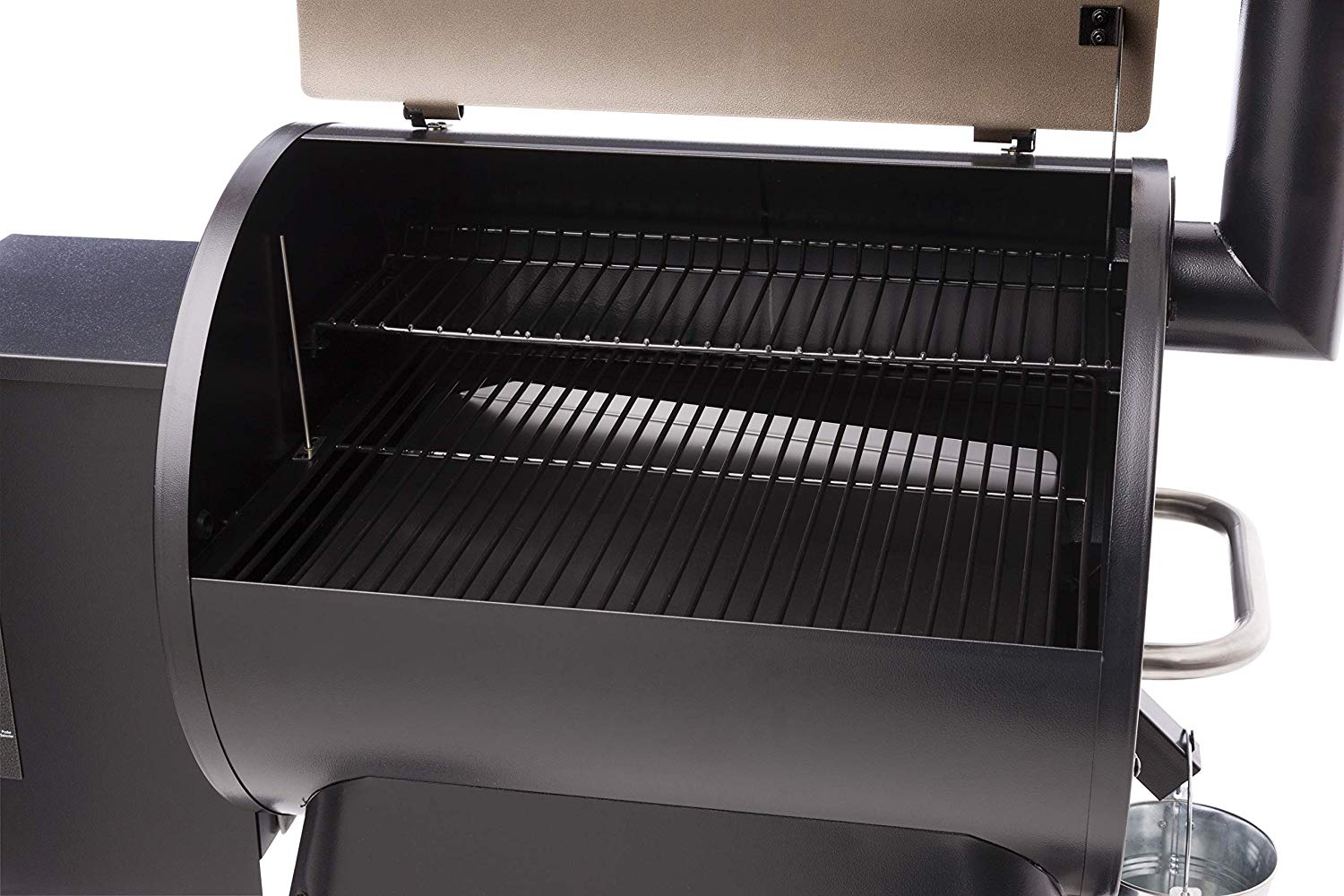 Traeger Lil Tex Elite Review
Most BBQ aficionados like the idea of a grill that is easy to use, easy to clean, and delivers juicy, delicious results. The Traeger Lil Tex Elite meets all these criteria and more, as it can also roast, braise, or bake. It also provides precise temperature controls so you can get the exact results you want for a wide variety of foods. The grill works well with all types of wood and is versatile enough to suit the needs of the most experienced cooks, while being user-friendly enough for beginners as well.
Overall performance (Primary function)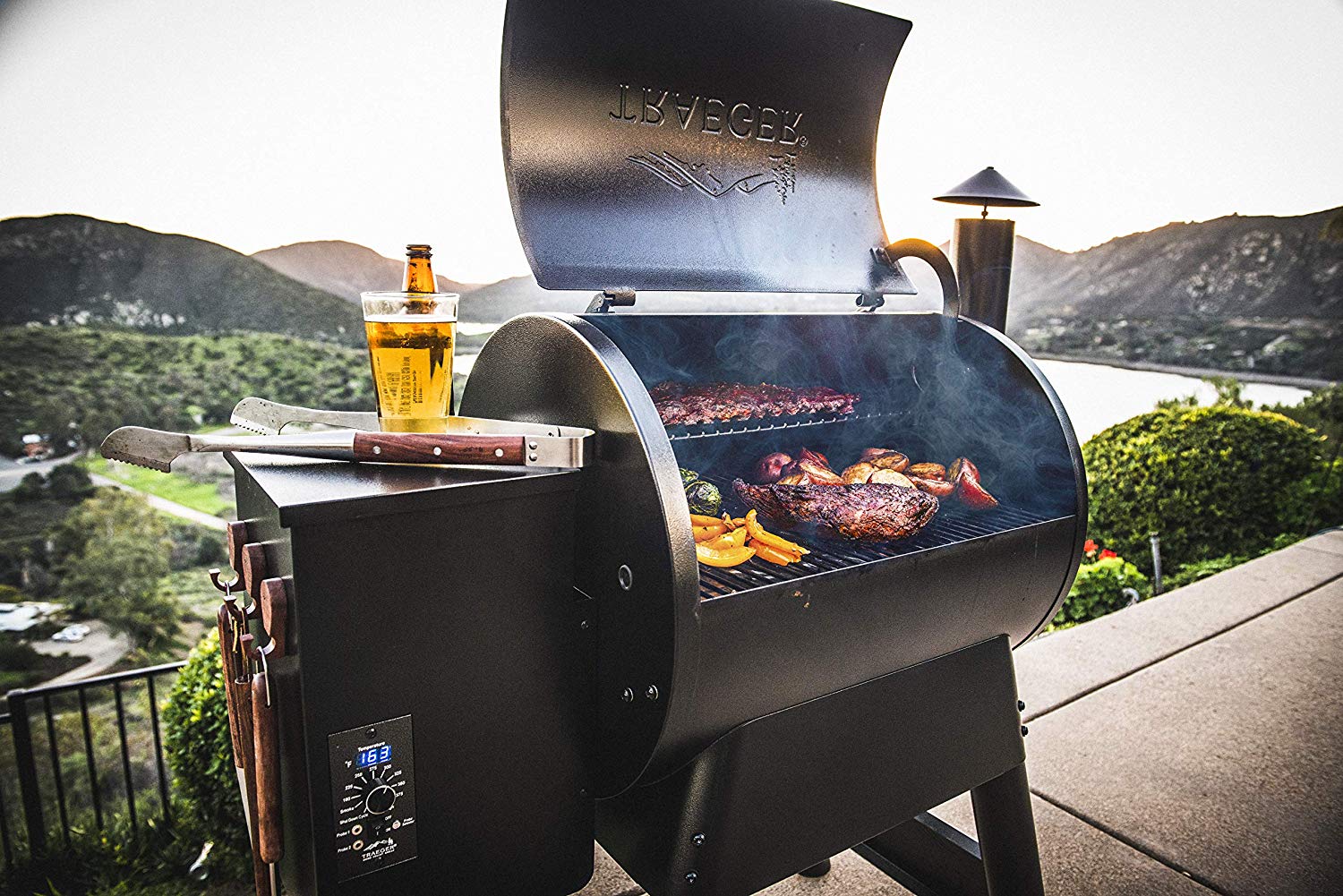 The Traeger Lil Tex Elite is a versatile wood pellet grill that can grill, roast, smoke, braise, barbecue and bake, transforming it into an all-in-one machine to suit all your cooking needs. Featuring 418 square inches of coking space, this grill can cook up to five racks of ribs at the same time, which is rather difficult to find in a grill in this class.
The precision temperature control maintains a constant temperature when grilling, and it also helps cooks choose the optimum temperature for the specific type of food they are preparing. The autostart ignition system fitted on this grill makes your life easier because you can turn it on and off with a simple push of a button.
We liked the sturdy and durable steel construction of the Traeger Lil Tex Elite and the way the grill grates are easy to clean thanks to the porcelain coating. The grill is relatively easy to move from one place to another despite its weight thanks to the all-terrain wheels.
Just like many other pellet grills on the market, the Traeger Lil Tex Elite doubles as a convection oven. Due to the airflow inside, this grill allows for gentle, gradual cooing. This means that you can easily bake a pizza inside, without even having to turn it because of the way the heat provides even results.
Surface cooking area and temperature
The total surface area of the Traeger Lil Tex Elite is 418 sq. in., which is not a lot for those who are looking for a grill for parties or entertaining with lots of guests. It does, however, meet the needs of most families. The grill can maintain temperatures ranging between 180º – 450º + Fahrenheit, so you can easily cook various types of food ranging from shrimp to ribs. The Lil Tex's Digital Elite controller makes it easy to control the temperatures, and you can see the numbers at a glance thanks to the bright orange LED screen conveniently located on the side.
Fuel and ignition type
The Traeger Lil Tex Elite only works with Traeger pellets, which should not be a problem because they are readily available in all major stores. However, this might not be a good choice for users who want to be able to use various types of pellets in their grill. The ignition is automated, so you don't need to use any external sources to get the fire started. The Electric Auto-Start ignition only requires the push of a button, so there is no need of fire starters, chimney starters or lighters with this grill.
Grids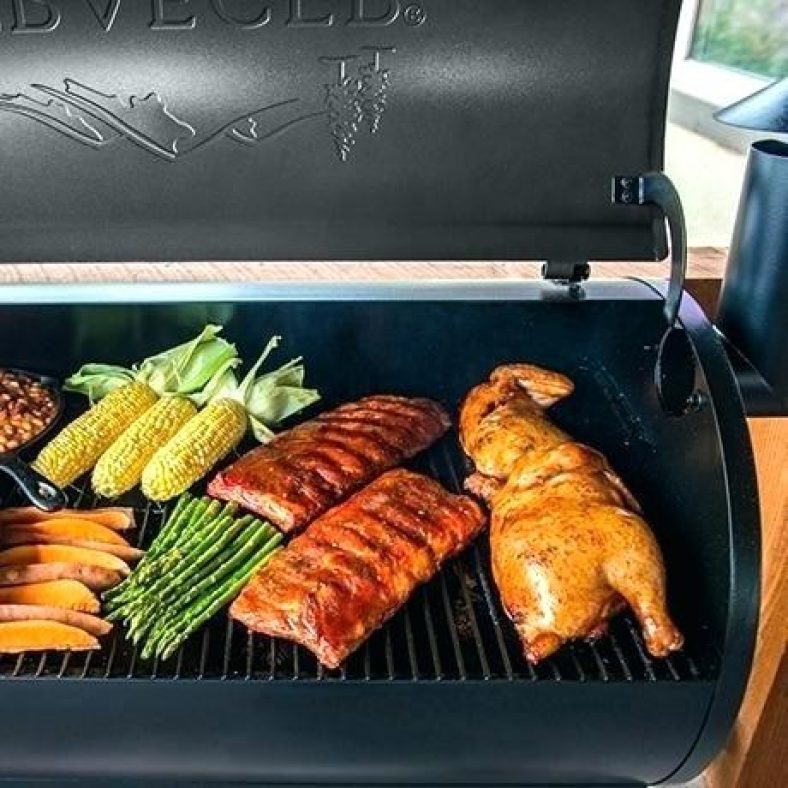 The porcelain-coated grill grates make clean-up a breeze. Because their surface is non-stick, you don't have to spend too much time scrubbing the grates, leaving you with more time to enjoy your food and time with family.
BTUs
The grill has 20,000 BTUs, which gives it enough power to handle just about anything you throw its way. Even though this might be lower than what you can find in other models that are similarly priced, many users found that it is quite enough for most types of foods to be cooked properly while maintaining fuel efficiency.
Ease of use
Multiple factors contribute to the ease of use of the Traeger Lil Tex Elite, including the auto-ignition and simple temperatures control. The grill is very easy to setup because it comes almost fully assembled. All you need to do is feed the hopper and push a button, so you can use it straight out of the box. The igniter rods gets activated instantly, so you don't have to worry about it after pushing the button.
Safety features
Just like many other pellet grills, the Traeger Lil Tex Elite should not be used in the rain and you should always make sure the pellets you use are dry. The grill has a cool-off function so it reduces the temperature automatically when you finish cooking and the position of the lid makes it almost impossible to get accidental burns. A built-in feature prevents fire to start by itself.
Portability (dimensions and weight)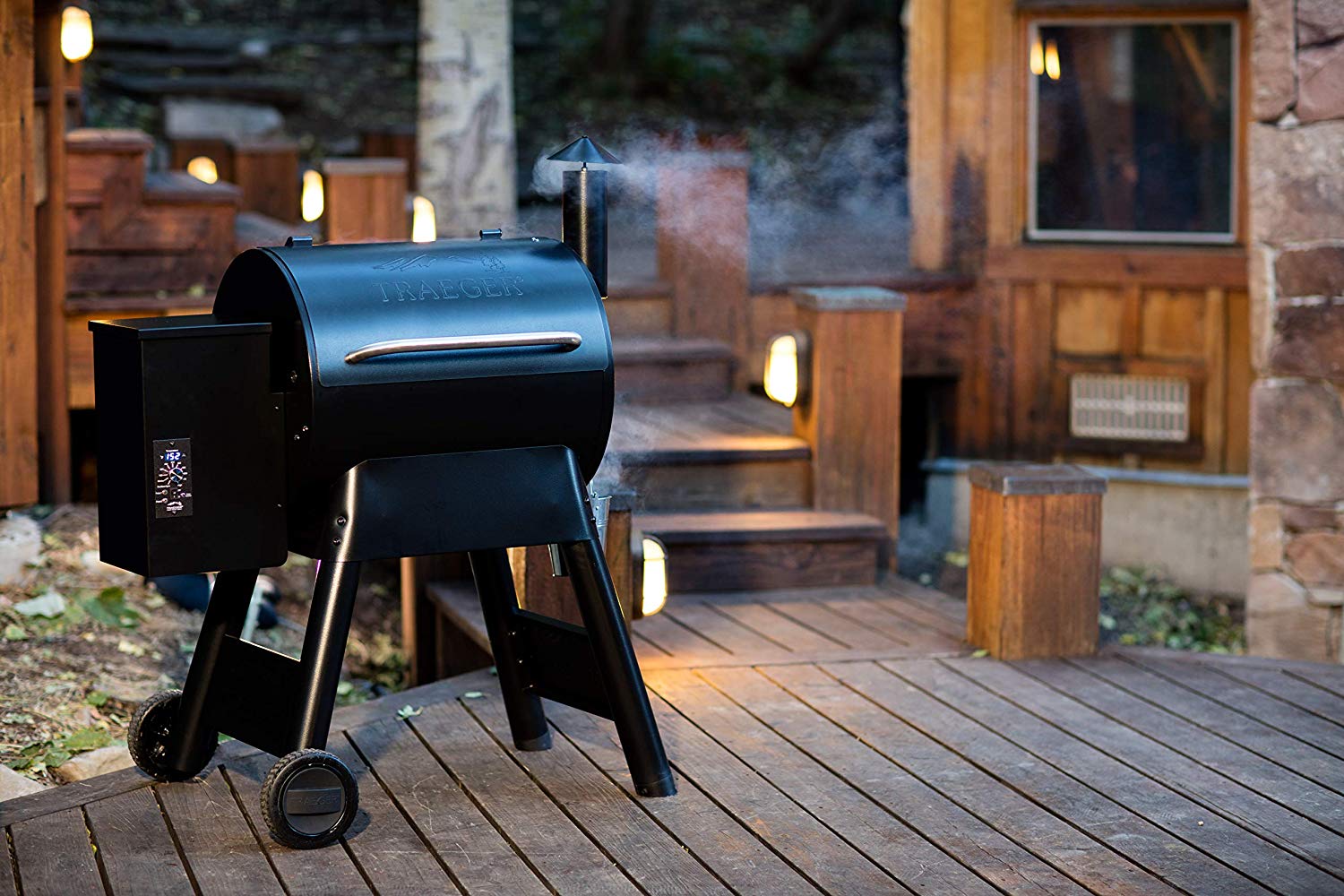 The Traeger Lil Tex Elite sports a lightweight design which allows you to move it easily from one place to another. The wheels make transportation easier, but because the frill only weighs 98 lbs., you can simply handle it without them as well. The dimensions of the grill are 49 x 42 x 22 inches, which means that the appliance is easy to store when not in use, as it doesn't take up much space. The size of the grill makes it great for all backyard sizes, even smaller ones.
Maintenance and warranty
The grill is easy to maintain thanks to the porcelain-coated grates that don't require almost any scrubbing at all. You don't have to do much in terms of maintenance, but you should remember to always use the cover and avoid leaving the appliance in the rain. The auger and the hopper also require cleaning from time to time. A grease management system is available for getting rid of the grease quickly, and it comes in the form of a draining system that ends with a bucket on the side of the grill.
The Traeger Lil Tex Elite comes with a three-year limited warranty, which is more than that you can find on many of the competitor models on the market. The warranty offers protection against any defects in the workmanship or material. Defective parts are also covered, but you need to pay for shipping if you require any parts to be replaced. Most users praise the stellar customer service provided by Traeger when it comes to dealing with warranty issues.
Key features
Self-feeding 20,000 BTU burner system
Electric ignition system
Wheels for easy moving
Six-way cooking to use for grilling, baking, broiling, and smoking
Precision Digital Elite thermostat control
Stainless steel door handle
418 square inches of cooking surface
Textured, bronze powder coat finish
Cold rolled powder coated steel construction
Bright LED display panel
E-Z drain grease management system
18 lb hopper capacity
Temp Range: 180º – 450º + Fahrenheit
PROS:
Electronic auto-star ignition
Cooked food tastes like wood-fired grills
Temperature is easy to regulate
Durable construction
Six ways to cook meat and vegetables
Porcelain grill grates for easy cleaning
CONS:
Small grilling area for those who entertain
Only works with Traeger wood pellets
No extra room for storage utensils or condiments
Conclusion
The Traeger Lil Tex Elite is a solid grill that is versatile enough to suit the needs of just about any cook, be it a beginner or an enthusiast. While it does require a specific type of fuel, this grill provides efficient fuel consumption, easy clean-up and excellent grease management. Making it easy to "set it and forget it," this grill offers results that are a step above the standard gas grill. The design and technology that comes built-in in this grill makes it one of the best pellet grill currently available on the market.
Add your review  |  If you have already used this model, please, leave your review