The company Weber Smokey Mountain has a deep history and this review will help you to see why the WSM smokers are one of the best you can spend your money on. Weber Smokey Mountain has been in existence for close to 40 years. Since 1981 when it first entered the mountain, it has grown from strength to strength with the company adding new features and making improvements to the product. Some of the things added or improved on include the materials used in making it. These materials prevent rust and make it more durable. The plastic handles have been swapped with wood; a thermometer has been added, as well as other features. Despite all the improvements, the core design and the drive to make the best smoker remains. You might have read a Smokey Mountain review before, but we are pretty sure you haven't read one quite like this. In this review, we will discuss the features, the pros and cons, the different models and their differences, and more, all in a bid to find the best Weber Smokey Mountain smoker for you!
MODELS OFFERED
Please keep in mind that Weber offers 3 sizes of smokers to fit all of your needs: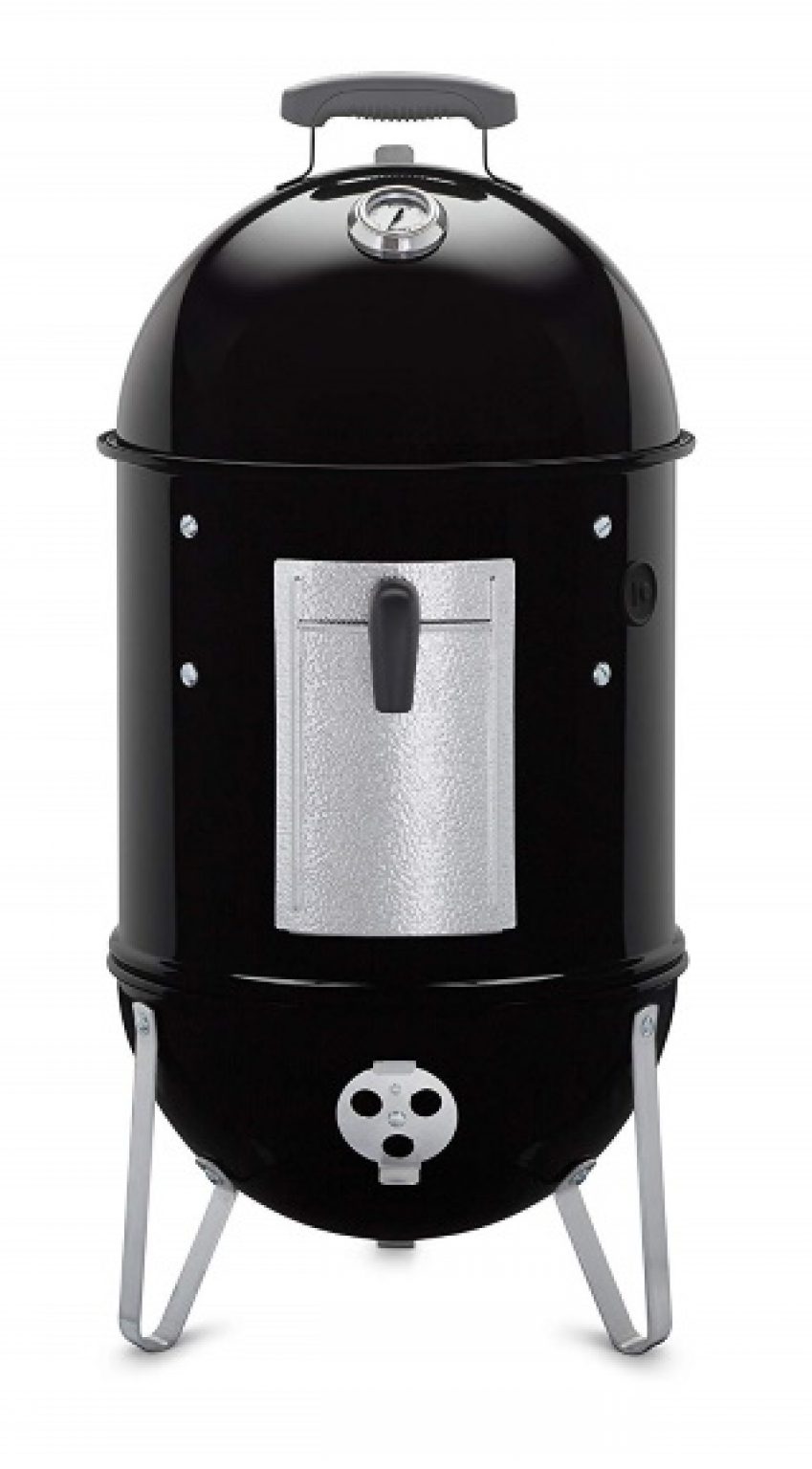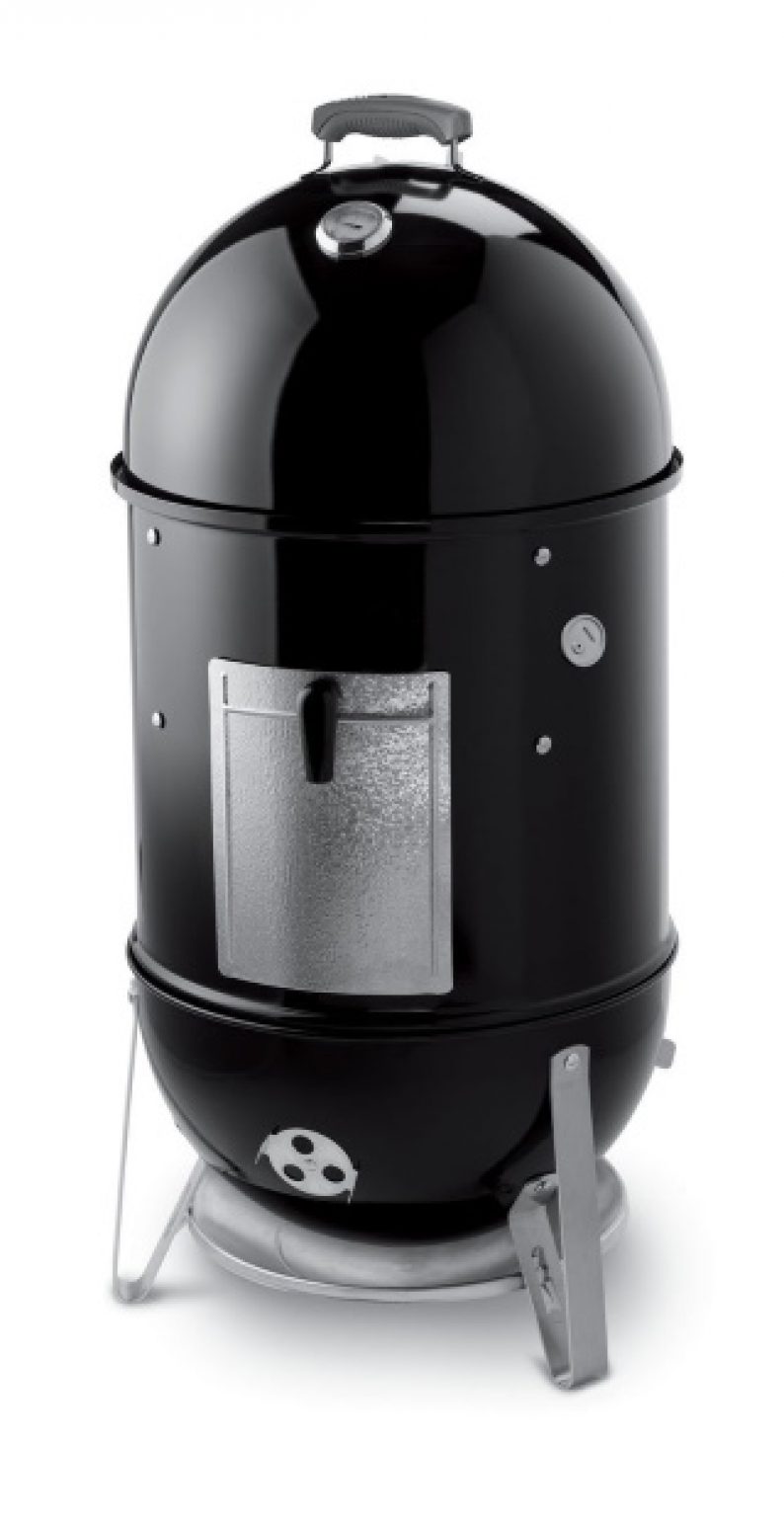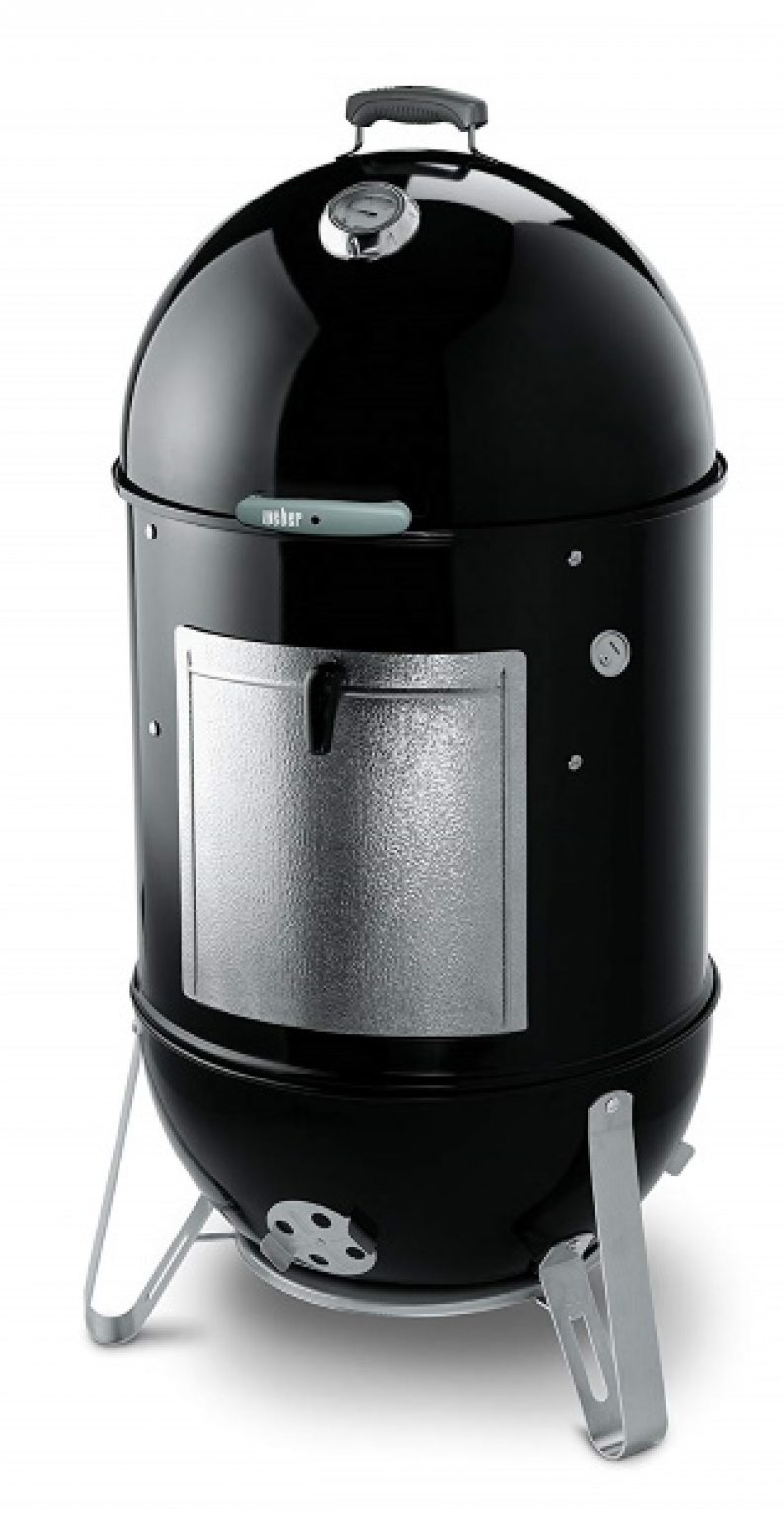 SPECIFICATIONS
| | |
| --- | --- |
| Primary function | Smoker |
| Diameter | 14/ 18/ 22 in |
| Primary cooking area | 286/ 481/ 726 sq in |
| Number of grates | 2 |
| Temperature | Min 275°F |
| Fuel | Charcoal |
| Grids | Plated steel |
| Thermometer | Built-in lid |
| Dimensions | 31.4 x 14.7 x 14.7/ 41 x 19 x 21/ 48.5 x 23 x 24 inches |
| Weight | 22/ 37/ 52 lbs |
| Warranty | 10 yr/ 5yr/ 2 yr limited |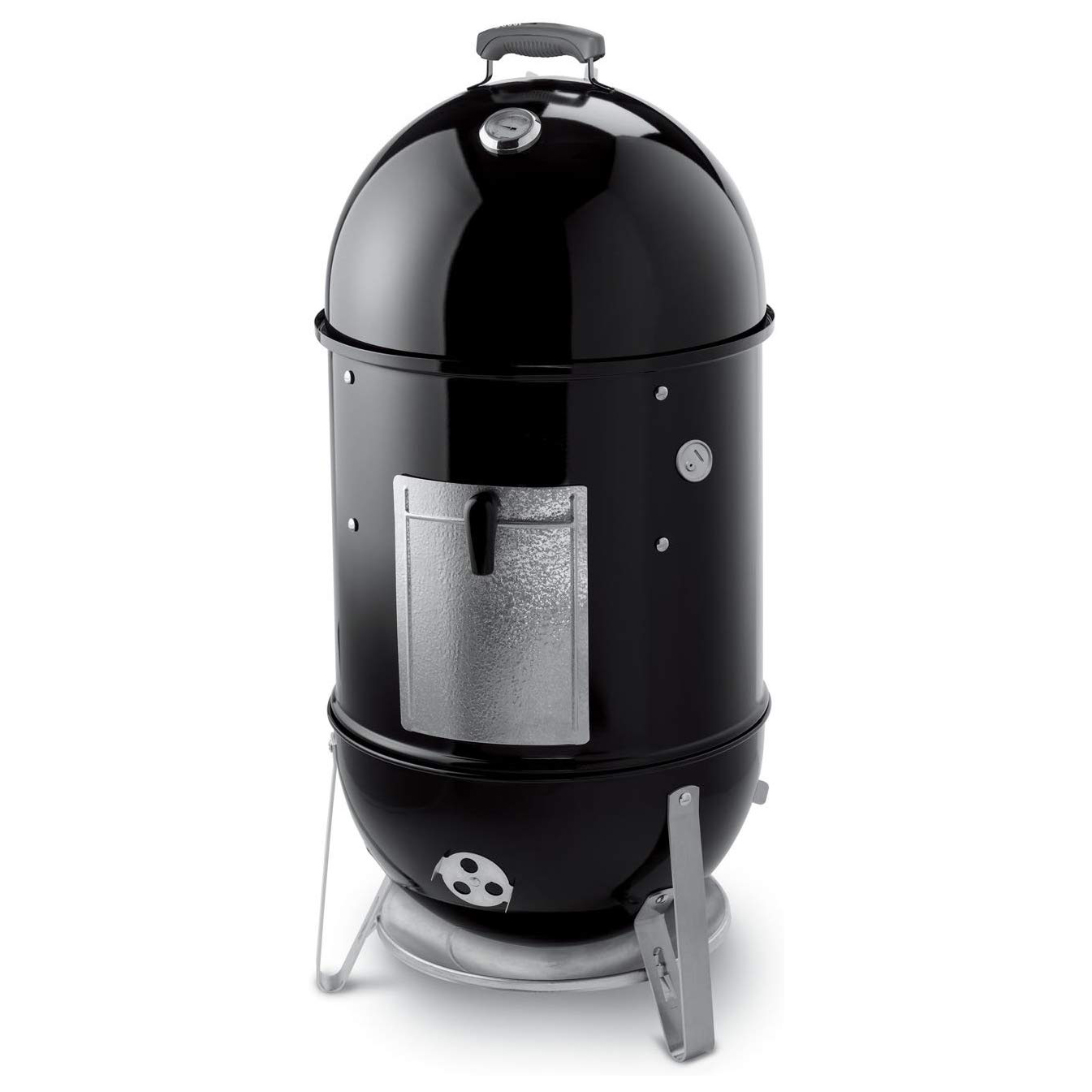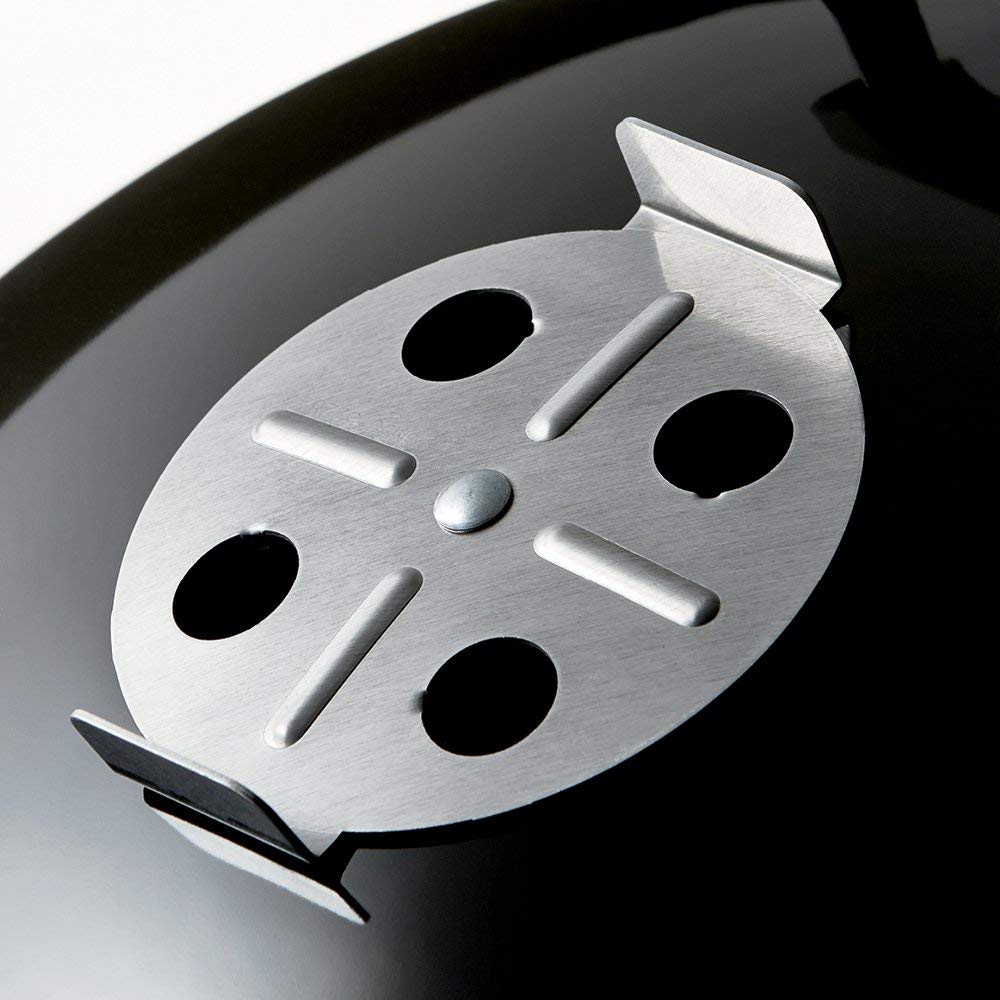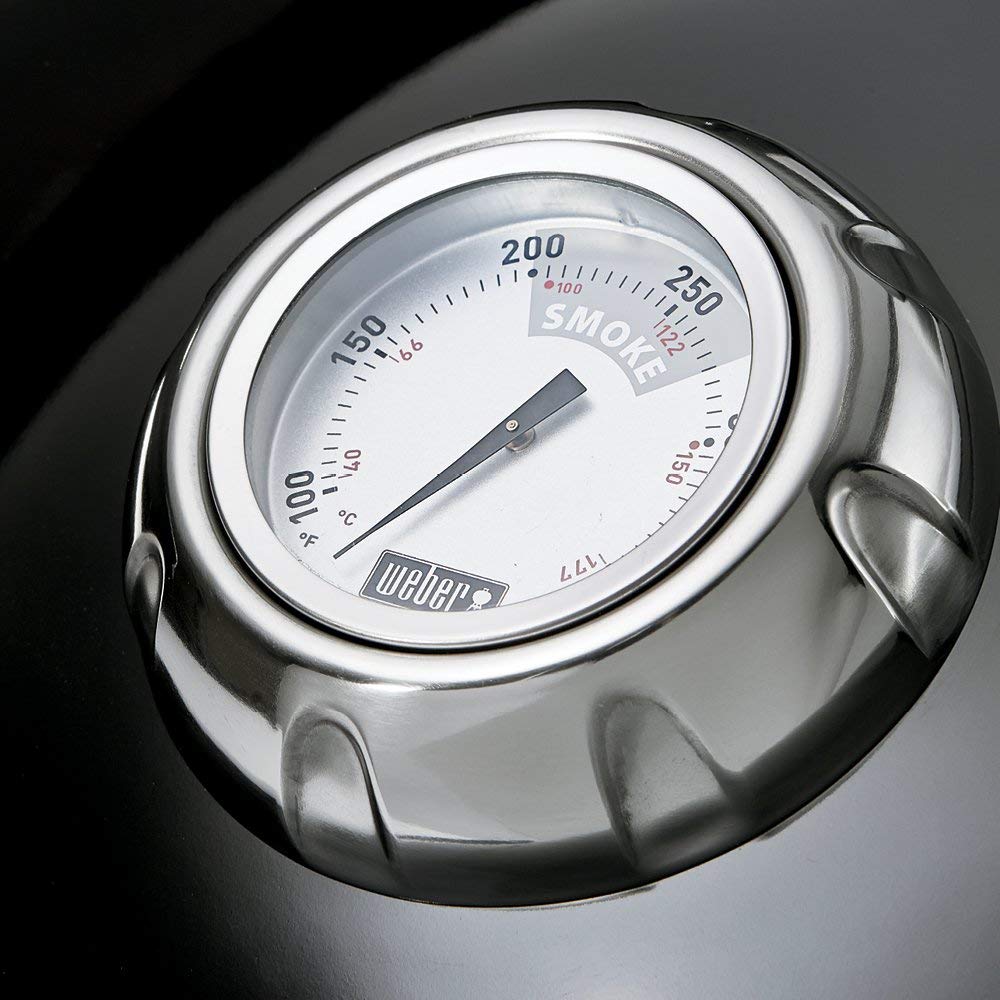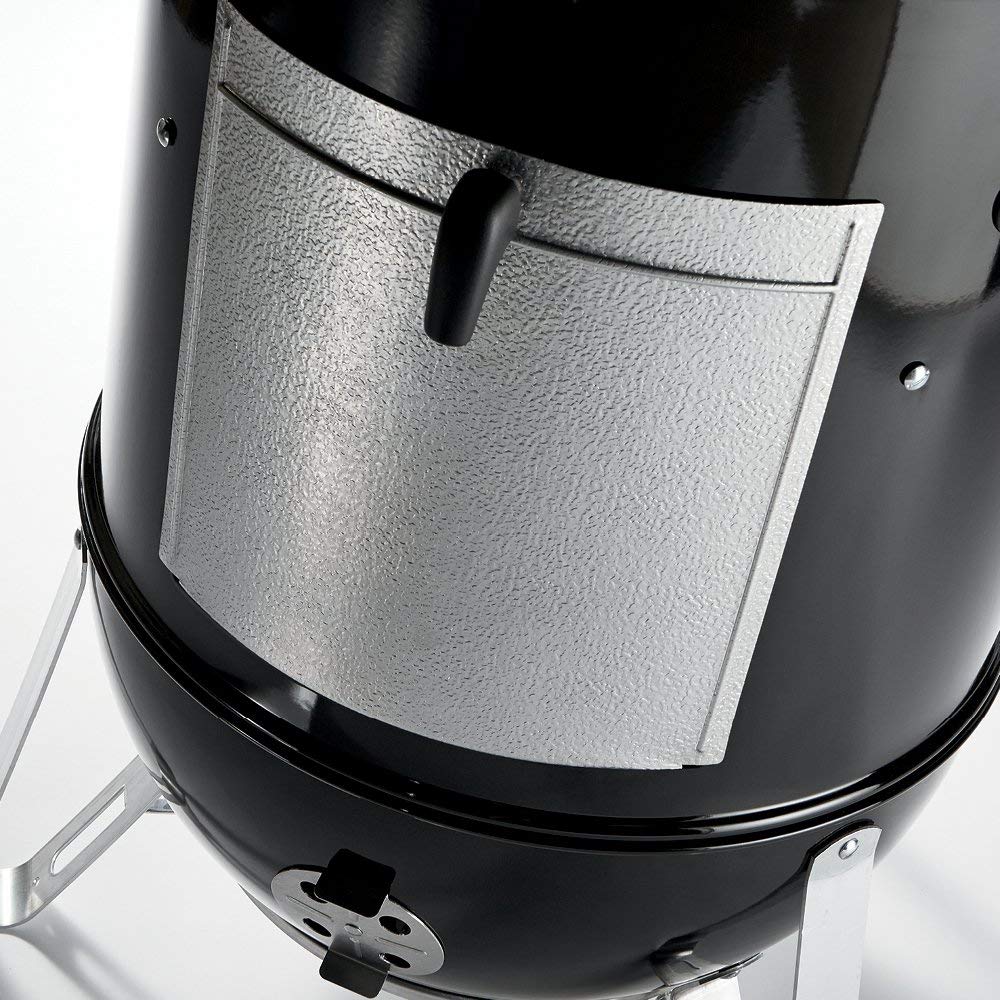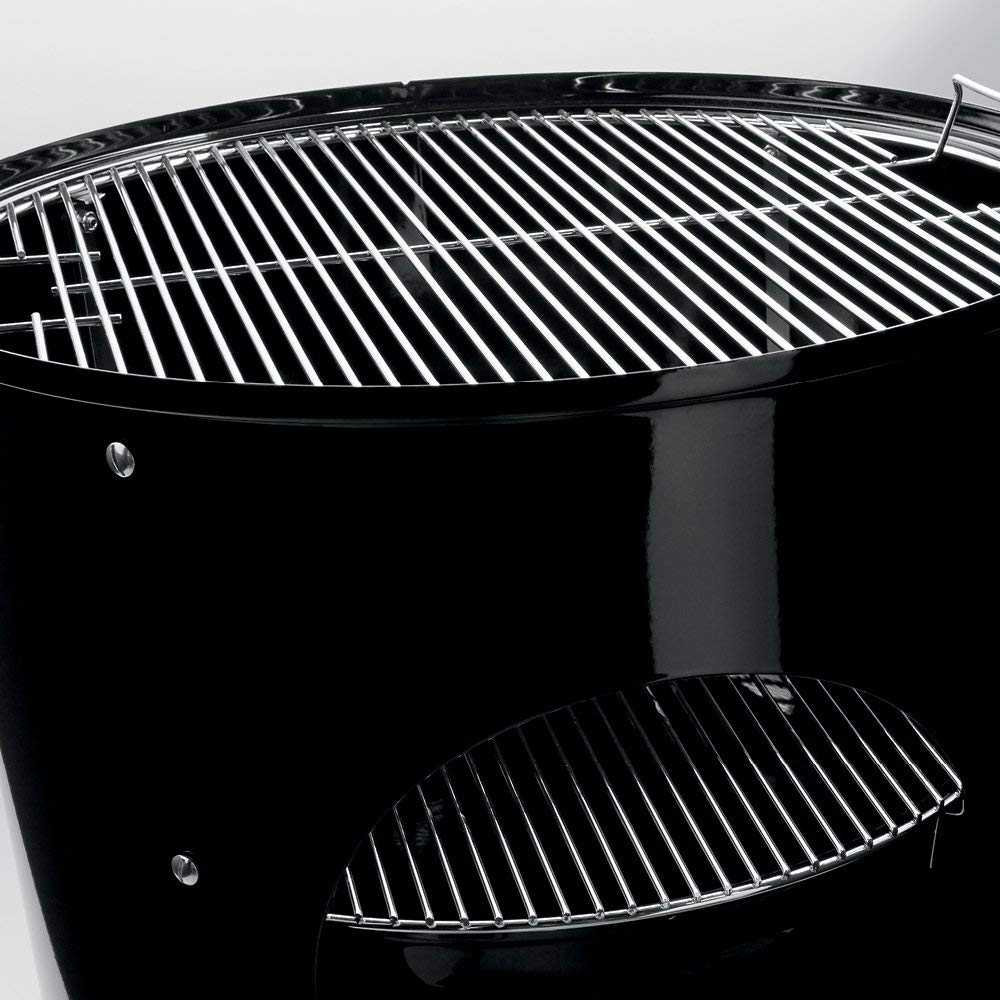 What is the Weber Smokey Mountain smoker?
The Weber Smokey Mountain or WSM, is a multi-level smokehouse that has the smoke spread evenly around grills and cooking foods. This smoker comes with a larger than usual opening that allows you to refuel it as it works. Thus, you run zero risk of running out of smoke during operation. You can continually add as much wood as you like. This feature exists in all models and makes it easy to use.
14" Weber Smokey Mountain Review
To start of the review, let's start with a review of the smallest member of the WSM family.
Overall performance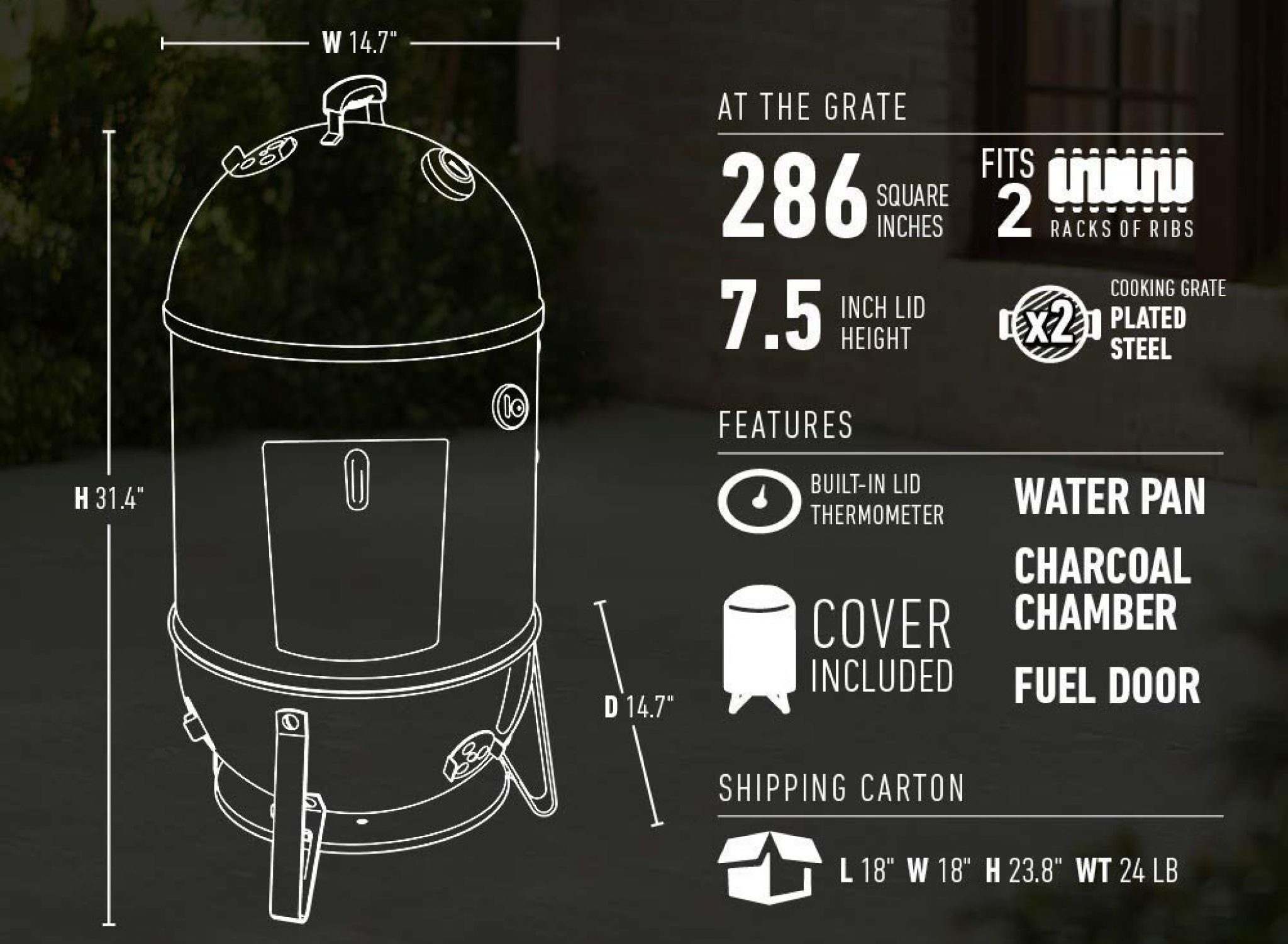 The 14" Smokey Mountain is a versatile cooker that can be used for several cooking techniques. However, the most common use for it is as a smoker. If you are using it as a smoker you might be astonished at the incredible results you will get. For one, it has a wide temperature range; far more than what you might expect.
If you watch the airflow and regulate it properly, and if you use soaked wood chunks instead of wood chips, you can vary the temperature from 200 degrees to 180 degrees. However, if you decide to go all out and use it to the maximum, you can achieve even greater temperatures. Open everything up and build a strong coal bed to achieve temperatures of up to 400 degrees!
At first glance, it appears that the 14" Smokey Mountain is not designed to be used for direct heat grilling. However, you can still use it for direct heat grilling. How? If you remove the water pan and build a typical charcoal fire at the base, you will be able to sear the meat over live fire. This feature makes it quite the grill to have when in a pinch.
Surface cooking area and temperature
When smoking, the importance of maintaining the right temperature cannot be understated. It is arguably the most vital factor that affects how good or bad your smoked food turns out. Maintaining temperature is essential for proper cooking of the food and for producing the right amount of smoke.
The Weber Smokey Mountain is like the other smokers on the market in that it comes with vents that control how the air flows and the temperature. However, during our testing, we discovered that it has a nice trick that makes it even more efficient. The trick? A large water pan right above the coals! How does this help. Well the water that sits in the pan acts like a heat sink. Thus as the heat rises from the coals, the water absorbs the heat and slowly releases it. With this trick, the temperature remains stable.
Removing the heat sink allows you to apply live heat to the food. With the removal, you can achieve temperatures of close to 400 degrees.
The surface cooking area on the 14" model is the smallest in the family of smokers from Weber. It offers the user with around 286 square inches of cooking space. If you are looking to cook a complete rack of ribs at a time, you might not be able to do it on this model. The only way to do this successfully is by cutting the ribs into small portions. However, if you are smoking chickens, you can smoke a pair of butterflied chickens comfortably on this model.
Fuel and ignition type
The Weber Somkey Mountain doesn't have an ignition system. Instead, it is powered by fuels. The most popular type is charcoal.
For the WSM, the most popular types of fuel used are charcoal briquettes and lump charcoal. Both fuels when used have their advantages and disadvantages.
Charcoal briquettes are made from charcoal. To create them, leftovers from wood and paper manufacturing like bark, sawdust, and branches are chopped into a uniform size before being heated in ovens at temperatures of up to 1800 degree Fahrenheit. The char that results is mixed with different ingredients before it is molded into what we all know as the briquette shape.
In testing the WSM, we observed that briquettes are very convenient and cheap source of fuel. They burn for a longer period and burn more consistently than lump charcoal. The downside when used as a source of fuel in the Weber Smoky Mountain is that they don't burn as hot.
As briquettes are engineered, they are very consistent in shape and performance.
As a fuel, briquettes usually leave behind a high level of ash residue. Fortunately, we observed that the WSM can easily accommodate ash build-up.
Lump charcoal, sometimes called charwood or natural charcoal, is made from pieces of wood that have been burned down into charcoal using the same oxygen-controlled environments described above for briquettes. However, at the end of the process, the charcoal chunks are bagged and sold as-is. There are no "other ingredients" in lump charcoal.
Three types of wood are used to make lump charcoal: sawmill scraps (e.g. chunks of wood leftover from processing trees into lumber), kiln-dried lumber scraps (e.g. leftover end cuts, defective pieces, or wood flooring scraps), and tree limbs. As pointed out earlier, lump charcoal tends to burn hotter than briquettes, but not as long or as consistently. Some lack of consistency is to be expected, given that the content and piece size varies within an individual bag and between bags.
Some folks have noticed others using spit logs or wood chunks in the Weber Smokey Mountain and have attempted to try it.  Well, you can try doing this, but it would neither be easy or cheap. Wood must be burned down to hot coals before cooking can begin and then more wood added throughout the cooking process, causing wide fluctuations in cooker temperature. Also, wood is expensive while charcoal is cheap. We thus recommend using briquettes or lump charcoals instead of spit logs or wood chunks.
Design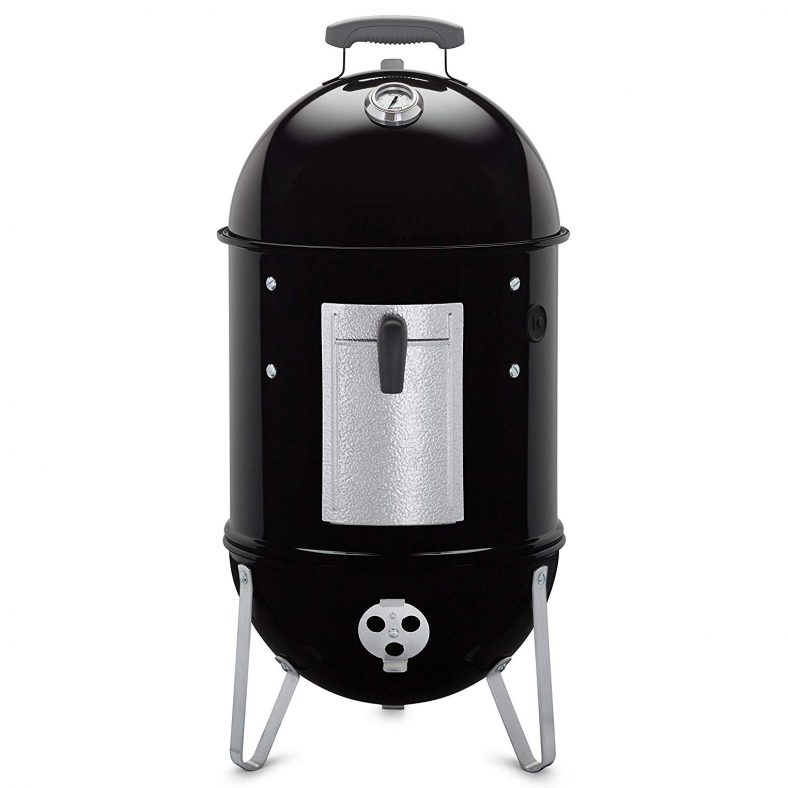 The Weber Smokey Mountain is designed with the job in mind. It comes with a nice design that vastly improves its function.
The design of the Weber Smokey Mountain is one of the best you will ever find today. The product as existed for close to four decades, yet, the original design has remained. It works superbly and is easy to use.
There is an aluminium bowl-shaped attachment that lies below the smoker. The function of this is to protect the deck from heat-related damage. It also comes with a thermometer port that protects the probe wires from direct contact with the hot metal. Additionally, the design ensures that heat is trapped and optimized to smoke your food as well as possible.
The port has a little hole cut out to hold the probe that monitors the internal temperature of the smoker. Aside from that, there is another hole that is designed to hold several probes wires at a time to monitor the temperature of the food.
The WSM is obviously designed to be a smoker, but we found it interesting that it can be converted to a standard grill. Earlier, we mentioned a water pan. This component creates a moist cooking environment and serves as a tray for catching fats and juices that would otherwise cause flare-ups. You could also use the water bowl to add flavor to the food you're cooking, such as by adding apple cider when cooking pork. The only downside to the bowl configuration was that it wasn't easy to see the water level during cooking. However, we found that with the bowl filled to capacity, there was still plenty of water left after 10 hours of smoking.
Construction
The Weber Smokey Mountain has a body made from powder-coated steel. As a result, it can withstand heat and inclement weather. As for the legs, vents, legs, and the internal brackets, these are made from aluminium. Thus, they are also highly durable.
To ensure that you don't get burned while smoking, the top handle and the door handle on the smoker are made of plastic. The plastic is a poor conductor of heat; hence, these parts stay cool during cooking.
The grates are coated with chrome. Therefore, there is no chance of dangerous or toxic elements seeping into your food. Additionally, we found them very easy to clean.
Ease of use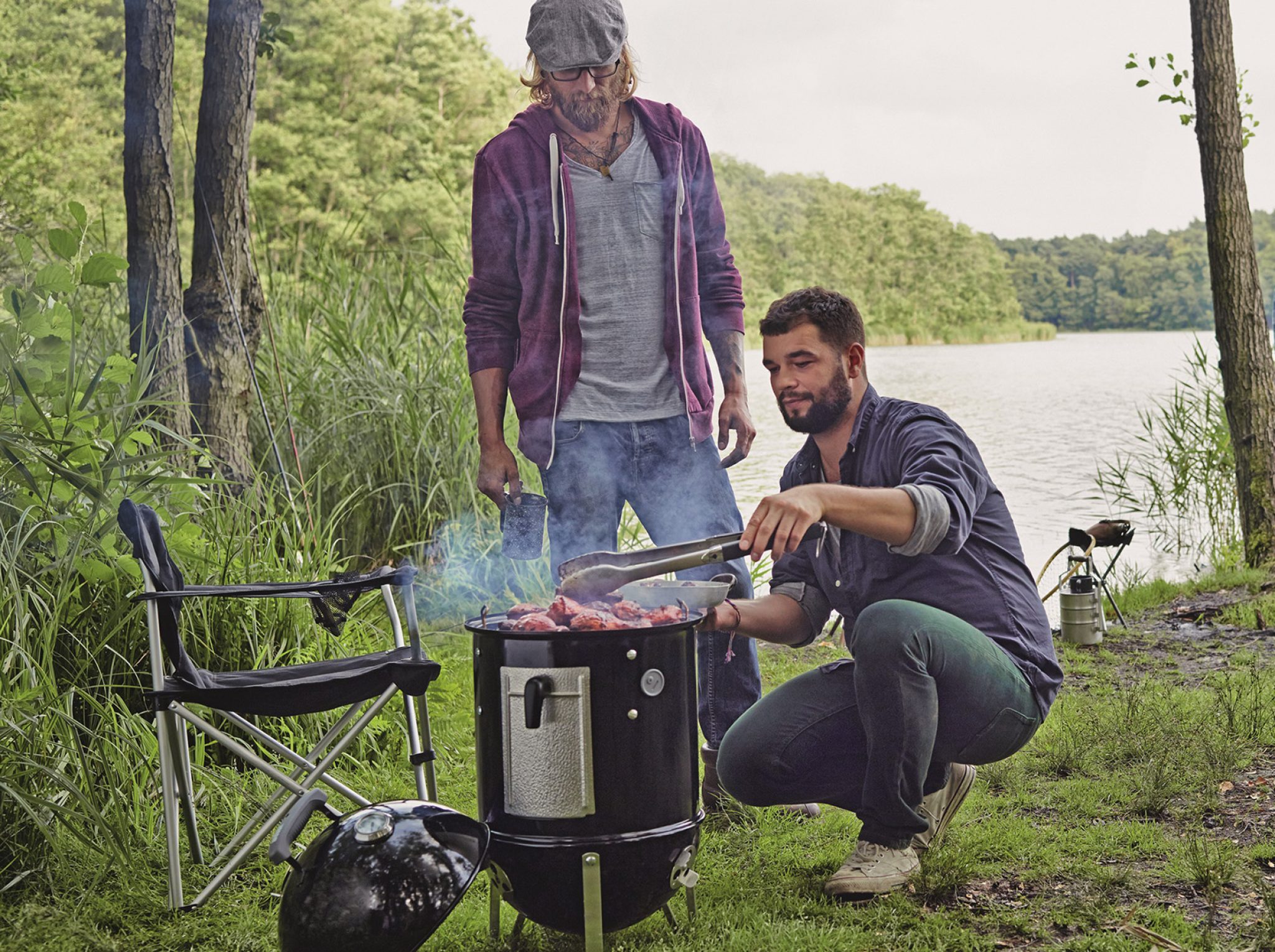 This product is famous for several reasons. Aside from its famous design, it is also known for the ease of use. If you are a beginner smoker, you will find it highly user-friendly and will not hesitate recommending it to others. Throw a temperature controller into the mix and you have yourself one of the easiest to use smokers you will ever buy.
Some of the reasons why we love this smoker is that its charcoal door and silicone grommet are easy to use and are super-practical. For example, the charcoal door lets you to easily add more charcoal even as the smoker is working. You do not have to stop operation before you can add more charcoal to it. The silicone grommet on the other hand allows you to insert a temperature probe into the smoker; and you don't have to drill any holes or hold the probe wire using the lid.
These features might not seem like much, but its little things like this that make the WSM such an excellent choice.
Accessories
The Weber has been around for a fairly long time, hence, it is not surprising that there are several accessories that can be used with it.
For example, there is an automatic temperature controller. This controller allows you to set your smoker and leave it without fretting about adjusting the temperature. The device works by controlling airflow and thermometers to ensure that the ideal temperature is maintained throughout the smoking process.
Aside from that, you also have the expandable smoking rack from Weber that grants you the opportunity to hang food in your smoker. Hence, if you will be smoking fish, sausages or even beef jerky.
You also get a rib rack that allows you to hold up to 5 racks of ribs on one grate. If you feel the water pan is not sufficient, you can get the water pan cover. The cover will keep the drippings from falling into the water pan.
18" Weber Smokey Mountain Smoker Review
When Weber produces a grill or smoker, they make sure that it always exceeds their customers' expectations, and the Weber Smokey Mountain Cooker 18 inch model continues this tradition of excellence.
The Smokey Mountain Cooker makes it easy for people to smoke juicy and savory cuts of meat in their backyard; it's a reliable unit that gives people the chance to get authentic barbecue flavor without the hard work that goes into properly maintaining other smokers.
Dimensions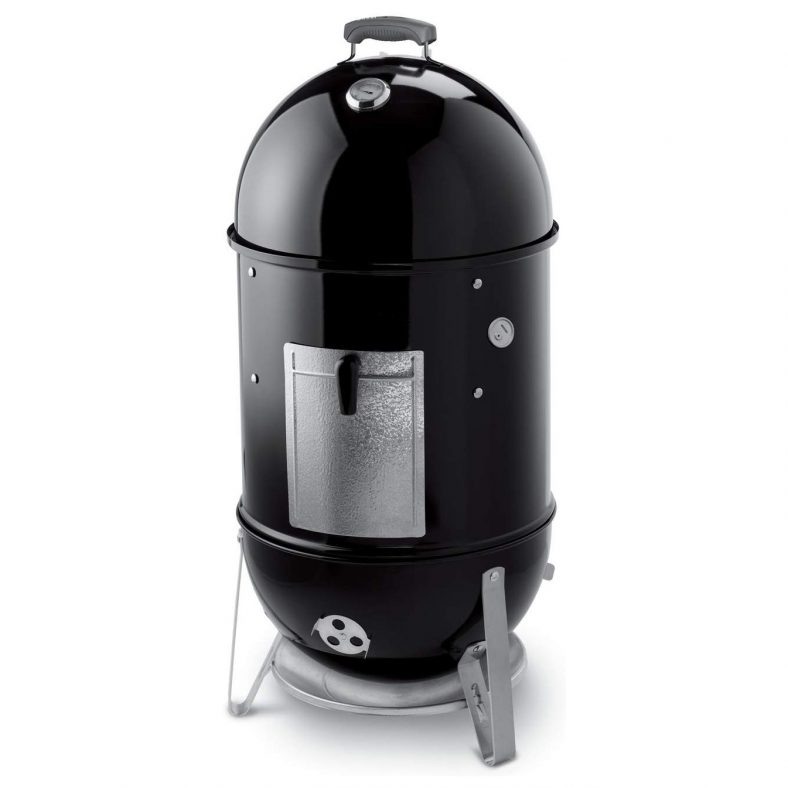 The Weber 18 inch model comes with two nickel-plated grates, and it offers users a whole 481 square inches of cooking space. The unit uses a water pan, built-in thermometer, built-in air vents and heat-resistant handles to make your cooking experience easier and more productive. The outside of the unit is made of porcelain-enameled steel, and its 10-year warranty shows that the manufacturer stands behind the unit.
The portable unit measures 21" x 19" x 41", so users aren't limited to one area when they want to cook up meat with authentic smoky barbecue flavors. Weber grills and smokers define what the backyard grilling experience should be like, and the Smokey Mountain Cooker was designed to give you the best performance at an affordable price.
Unique features of the 18" WSM
This design change came along when Weber realized that people were having a hard time getting charcoal and flavoring chips in an out of their older units. They widened the doors on the unit, so you'll never have a hard time stocking your unit with charcoal. Older units made it hard to put wood chips on the charcoal when cooking, but the wide doors on the Smokey Mountain Cooker give you easy and unobstructed access.
Older Weber models had doors that needed to be closed by the user, and this sometimes lead to people not closing them properly; when this happened, the unit lost heat and smoke, and this lowered the quality of the cooking process. The Smokey Mountain Cooker solves this problem with a spring-loaded latch; it automatically closes, so you never have to worry about the integrity of the unit's seal.
The included thermometer gives you an exact reading of the cooking chamber's temperature. If you can keep the temperature inside of the cooking chamber steady, then your food always comes out juicy, tender and flavorful. Other units on the market don't have a thermometer included, and this means that the user has to buy one separately; they can easily run you 50 dollars or more, so a built-in thermometer saves you money right off the bat.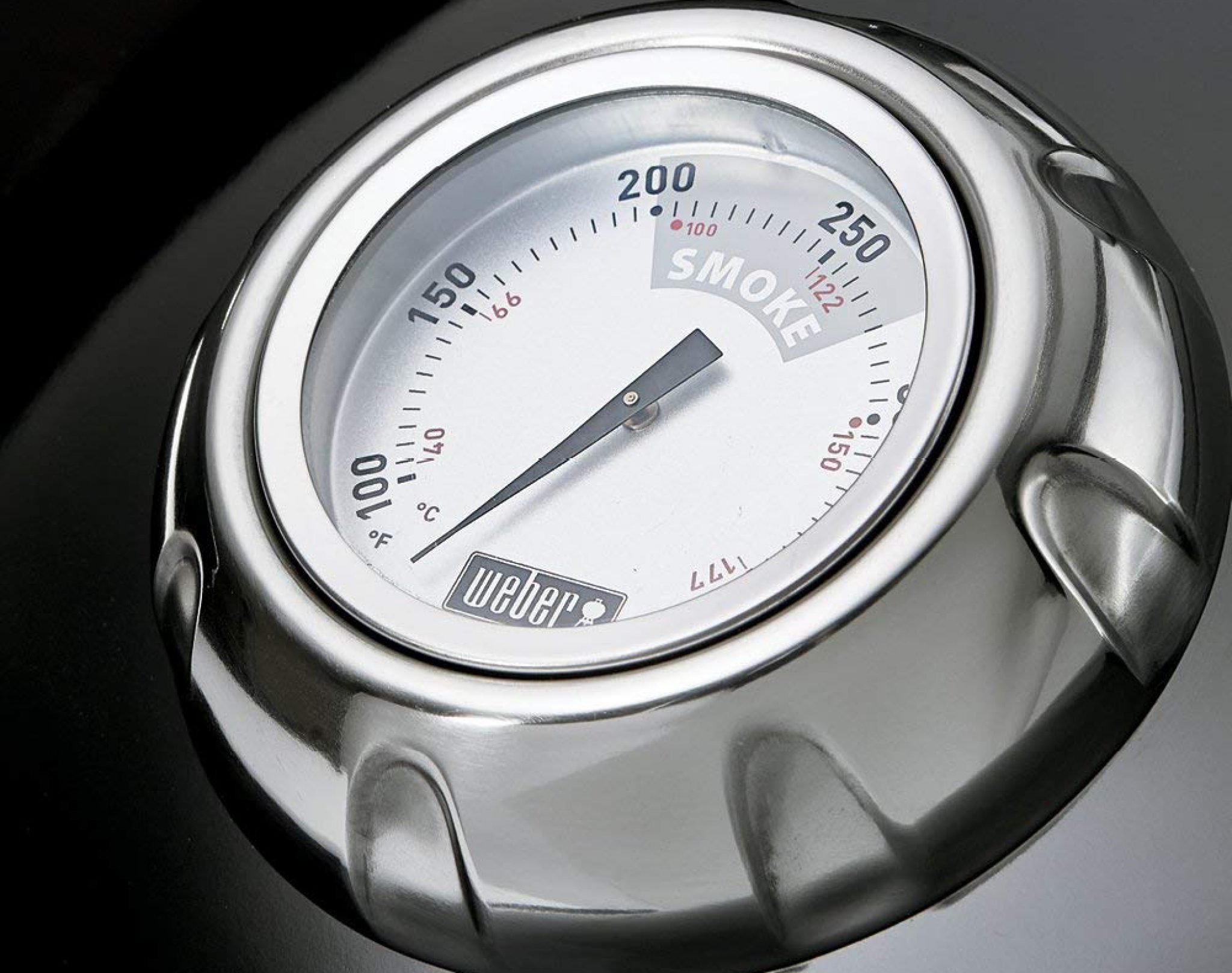 The unit includes a catch pan for your charcoal ashes; this makes cleanup a cinch. Instead of sweeping up ashes, users can simply remove the pan and empty it into their garbage. Other units that don't have this ability make smokers hard to clean, but Weber included a pan to make it easy.
People love how durable this little unit is. You can pack it in your trunk without worrying about little dings and bumps hurting the unit; the porcelain-enamel coated steel is hard to damage, and you can leave the unit outside without having to worry about rust. The heavy gauge steel can take a lot of abuse, and this allows you to use the unit for years without much maintenance. It comes with a 10-year warranty, so you know that Weber stands behind their product.
The unit takes about 15 minutes to assemble; it comes with clear instructions that let you know exactly what you need to do. There's only a couple of pieces, so it shouldn't take you very long to snap them together. After you assemble the unit, make sure to rinse it out and give it a burn through to season the inside of the smoker; once you do, you are ready to start smoking some delicious food.
Once you get the unit at the proper temperature, you can walk away for hours while being confident that there won't be any temperature fluctuations. It takes some fiddling with the air vents to get the proper temperature, but once you do, you don't have to worry about it again.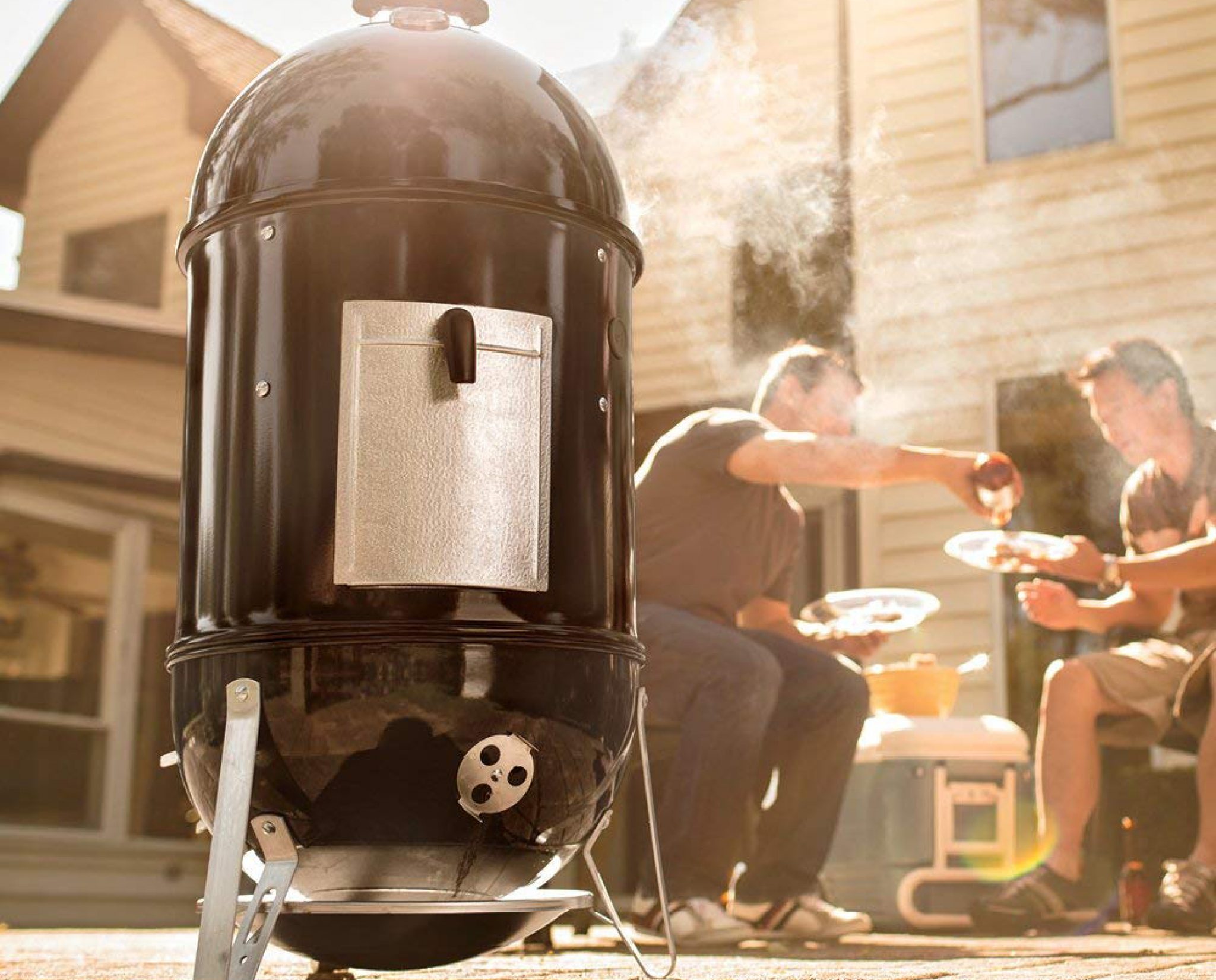 22" Weber Smoky Mountain Review
Given the immense popularity of the Weber Smokey Mountain (WSM) Smoker, Weber has stepped up with this super-sized version. With 726 square inches of cooking area, this unit is perfect for the competition cook or anyone who wants to be able to turn out up to 60 pounds of barbecue. This unit works just as well as its smaller predecessor with the excellent temperature control, long unassisted cooking times and easy use. Added this year to the WSM is a lid mounted thermometer (a must) and a bottom mounted heat shield to protect any surface under the smoker. This is a serious smoker that's easy to use. Food culture has broadened throughout the world, and as a result, the demand for smoked meat continues to rise. Weber provides an elegant solution to this via the 22" Smokey Mountain Smoker. Let's consider some of its features.
Unique features of the 22" WSM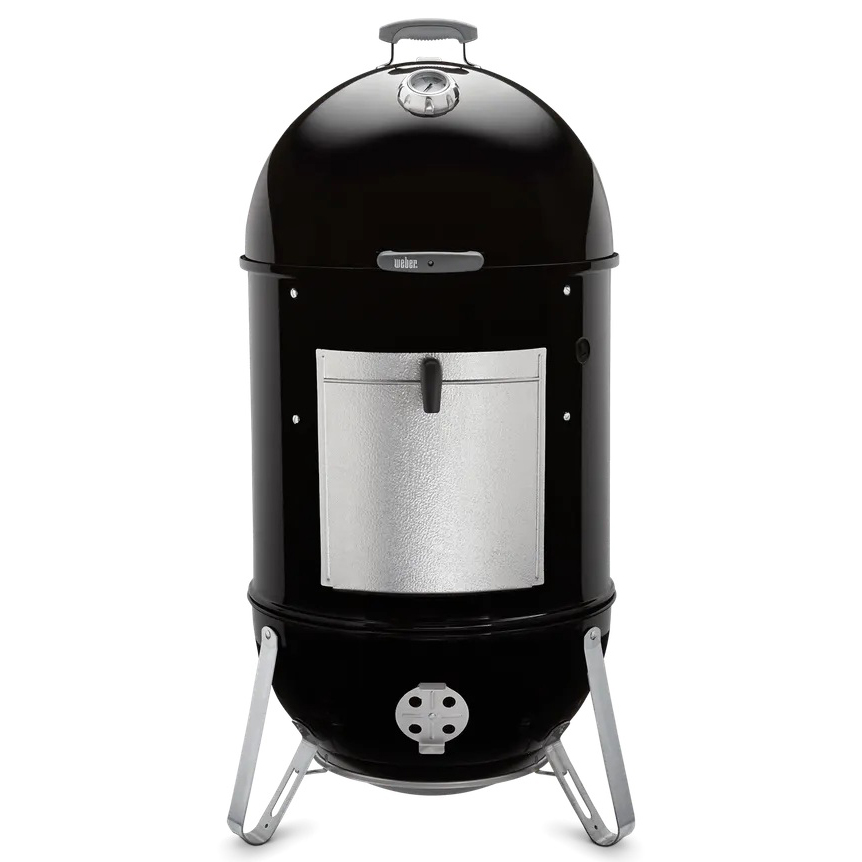 The largest and most versatile amongst the Weber models is the 22-inch. It features two sets of grill grates that are staged overtop of a water pan. Below that is the fire bowl which is capable of holding a large number of charcoal briquettes along with accent smoking woods. The top and bottom dampers allow you to carefully control the airflow into the fire bowl, as well as the smoke and heat that is allowed to escape out the top. The lid has a specially contoured lip that allows it to seat firmly onto the body. Just keep an eye out for soot build-up on the lip that might develop after a dozen or so uses, which could affect heat retention.
The Weber Smokey Mountain Cooker also has a special silicone port built into the sidewall. It allows you to insert the lead from a probe thermometer in the meat being cooked. When coupled with the built-in thermometer in the lid you can get a better understanding of the relationship between the heat of the smoke and the heat of the meat.
The bowl also includes an access door. It allows you to add fresh charcoal, wood chips, or wood chunks for a, particularly long smoking session. However, the water pan can sometimes get in the way.
Construction and assembly
Weber is known for the high quality of its product, and this model is no exception. The company uses high quality materials for all their grills. During our use of the Weber, we were pleased by the decent construction. However, we did not like the flimsy feel and appearance of the side access door. Aside from this, the construction is solid and will last for a long time.
Putting the Weber together is very easy and straightforward. You do not have to be an expert before you can assemble the smoker and start using it right away!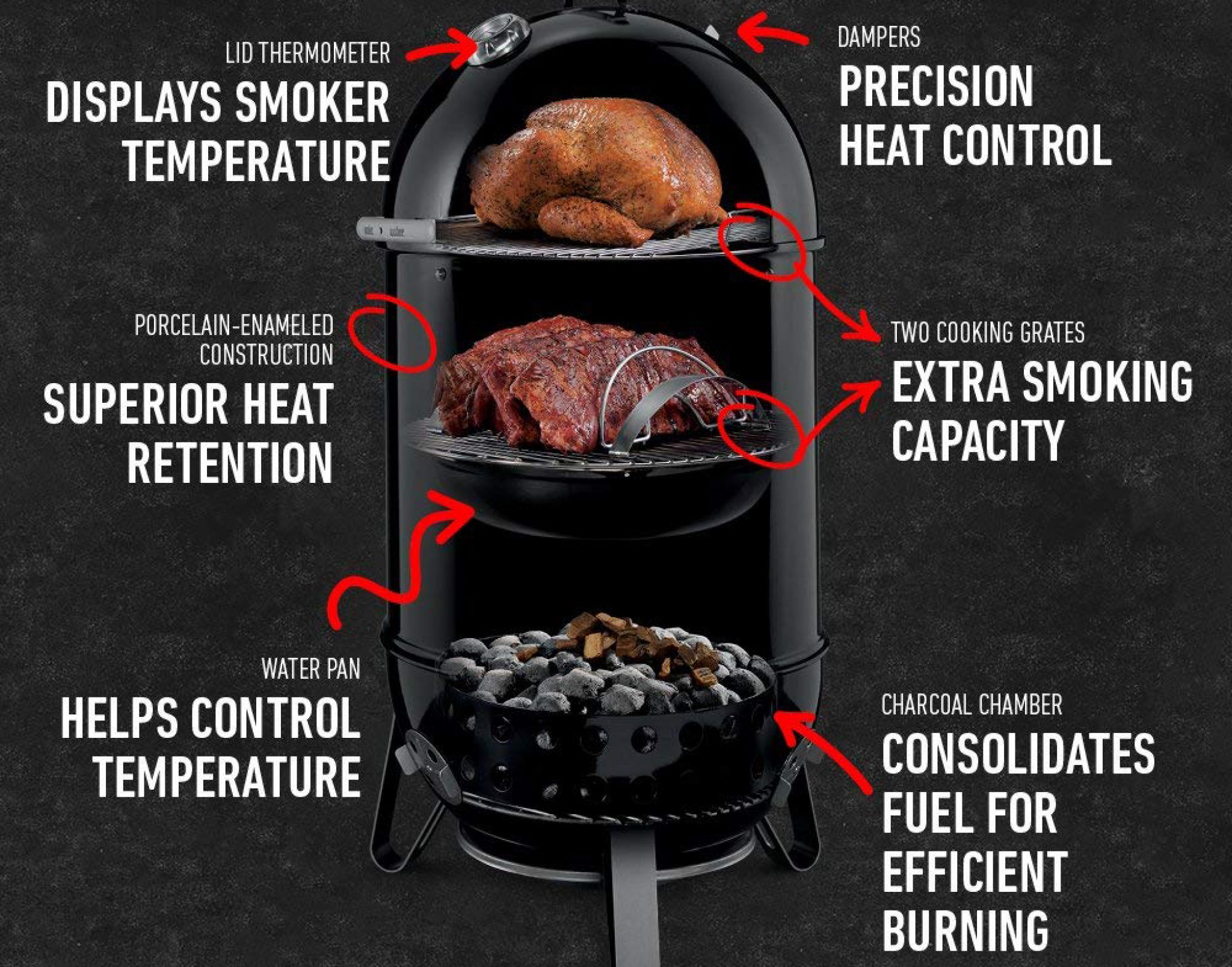 The performance is the main attraction of the Weber Smokey Mountain. Are you thinking of cooking competition level BBQ? Then look no further than this bad boy. It comes with several features that make it one of the best-performing smokers on the market today.
For example, the water pan is a nice feature. It acts as a heat deflector that prevents direct heat from burning or searing the exterior of the meat. At the same time, it also introduces steam into the equation, for increased meat moisture. Now, this might not seem like a big deal if you are making a sweaty, fat piece of meat like a pork shoulder. Yet for thin and lean cuts of meat, it can make a huge difference! Take for example a trimmed down rack of pork spare ribs. On a fully dry smoking session, with a type of strong smoky wood, you might start to get an acrid flavor and thinner parts of the meat might dry out. A similar issue might occur if you are smoking a spatchcocked, or butterflied chicken.
Size might also be a factor when it comes to choosing a Weber Smokey Mountain Cooker. The 22-inch might be a little on the large side if you just want to smoke meat for a family of three on the weekend. It's really meant more for doing multiple racks of ribs, a bevy of pork butts, or a full load of chicken. A brisket or three wouldn't go amiss with its two 22-inch stacked grill grates.
One thing that makes the 22-inch appealing is the fact that it uses the same grill grates that you find in the top-of-the-line products from Weber. This means if you are a fan of the Weber line you can reuse other grill grates. If you are really industrious, you could smoke something like chicken leg quarters on the 22-inch Smokey Mountain.
Each of the 22-inch diameter grates provides you with 380 square inches of cooking space. This is enough to handle four large pork shoulders, at least two flat briskets, or an enormous number of racks of ribs.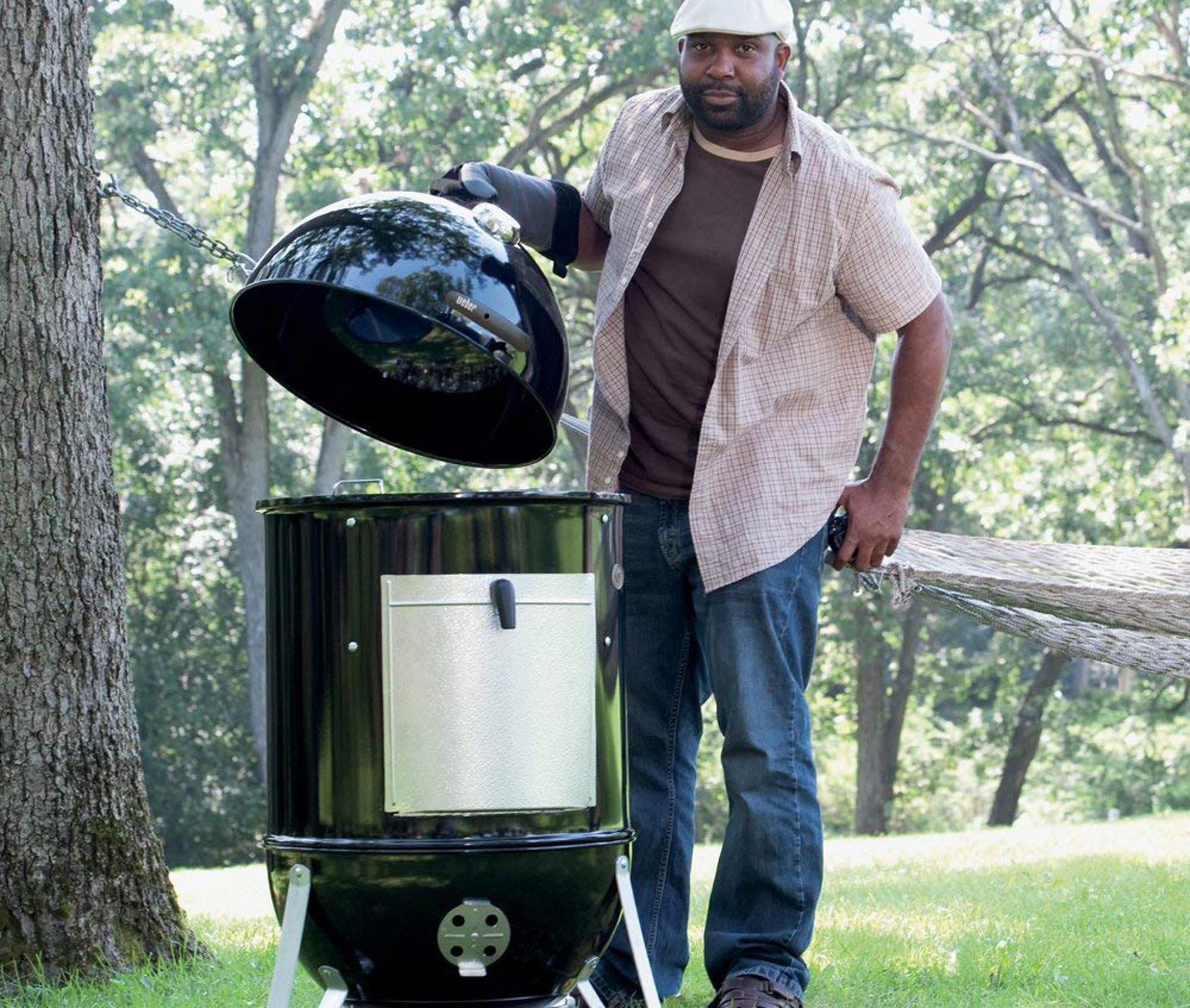 The silicone side port with its small slit designed to accommodate the lead from a probe thermometer isn't something that should go overlooked. Being able to read the internal temperature of the meat without having to lift the top helps with consistent temperature control. At the same time poking a piece of meat over-and-over again with an instant-read probe thermometer tends to let out juices.
The included water pan is also a nice feature, as it allows you to introduce steam. Some smokers sold at the retail level don't include a water pan, leaving you to improvise one for yourself. If you were in a pinch and you wanted to use the Weber Smokey Mountain as a grill, you could leave the water pan out and it will handle most of the basic grilling you want to have, you'll just have to reach down in to flip your hamburgers awkwardly.
Charcoal smokers are always more work to clean up than gas smokers and even charcoal grills. This holds true with the Smokey Mountain. While some ash and spent coals can be taken out through the bottom, you will most likely have to scoop some out of the side access door.
The grill grates can be scraped with a wire brush. Double check the lip of the lid every so often for soot. Every dozen or so uses, you might want to gently scrape the lid down to release any potentially loose sooty material.
Comparison of the 14", 18" and 22" WSM

Weber Smokey Mountain 14″
The 14" Weber Smokey Mountain is the smallest of the 3 smokers, and it costs less than the other sizes. If you live alone, have a small cooking area, or if you plan on cooking for a small number of people, you will love this model.
The 14" and 18" are very similar in many ways; however, there are also differences. For one, although the time taken to cook food doesn't change, the 14" is more economical as it uses less fuel. Additionally, the smaller dimensions make it easy to carry around and makes it excellent to use in small spaces.
The 14' WSM, however doesn't have as much space as the 18". If you plan on smoking a whole turkey at a go, the 14" smoker will not be big enough.
Key features
Affordable price
Portable: 22 lbs
286 sq in cooking area
Compact: 31.4" x 14.7" x 14.7"
Designed for tight cooking spaces
Excellent for small number of people
PROS:
It is very affordable when compared with the other models
Small dimensions make it easy to transport
Excellent for tight cooking areas
Weber Smokey Mountain 18″
The 18" is arguably the ideal size for most folks. It is excellent for a small party as well as a large family. It comes with a cooking surface of 481 square inches, which is enough to attend to the needs of a relatively big crowd of friends. With this model, you can cook up to 7 whole chickens, 6 ribs, an 8 pound brisket, and still have leftover space to smoke a 20-pound turkey.
When you compare it with the 14" model, it looks absolutely massive.
It is relatively cheap as well and doesn't consume plenty of fuel. The only gripe with it is that there is a bigger model that offers a larger cooking surface.
Key features
481 square inch cooking area; large enough to cook a whole turkey and ham all at once
Air vents for maintaining temperature
Two 18 inch cooking grates
Built-in thermometer for easy temperature monitoring
Heat resistant handles
Comes with a protective full size cover
Portable; measures in at 21" x 19" x 41"
Limited 10-year warranty
PROS:
Allows you to cook different foods at the same time
Relatively cheap
Great for small parties and a large family
Weber Smokey Mountain 22″
If you are looking for a smoker that is excellent for large crowd or parties, then look no further than the Weber Smokey Mountain 22". Many folks that bought the 18" have moved to the 22" because of the bigger space.
Key features
Charcoal fuel
700 square inches cooking area
48" height
23" width
52 pounds of weight
PROS:
Large cooking space
Excellent for cooking for a large number of people
Affordable
Which size Weber Smokey Mountain Cooker should you buy?
After considering the different models of the Weber Smokey Mountain Cooker above, you might wonder which of the models to get.
Our advice is that you first understand the features, specification, and capacity of the three sizes. Fortunately, we have provided the required information in this review. Once you have a good understanding of this information, then picking the model for you is simply a case of considering and balancing the factors considered.
Let's see the factors that should affect your choice.
Cooking capacity
If you cook small quantities of food, then the 14" Weber is best for you. For example, if you are smoking one chicken or 4 slabs of ribs, or a 12-pound turkey, the 14" is just right for you. Using any other model might just be overkill.
One the other hand, if you are looking to satisfy the cravings of a relatively large group of people, then the 18" Weber will be ideal. With the ability to easily handle 2 briskets or 4 pork butts or 4 chickens or 8 rolled racks of baby back ribs, the 18.5″ WSM provides the cooking capacity that most people need at home. It's also very fuel-efficient relative to its cooking capacity.
The 22" Weber Smokey Mountain smoker is an excellent choice if you are cooking large quantities of food for a large crowd. If bigger is always better in your opinion, then you will love this model. If you're feeding 20 people, that's 7 chickens (3 people per chicken) or 7 slabs of spareribs (3 people per slab) or 12 pounds pre-cooked weight of pork butt (6 ounces per person, assuming 70% yield) or 16 pounds pre-cooked weight of brisket, then it would be easy to cook in this smoker. Cooking this amount of food in an 18" would be difficult.
Space requirements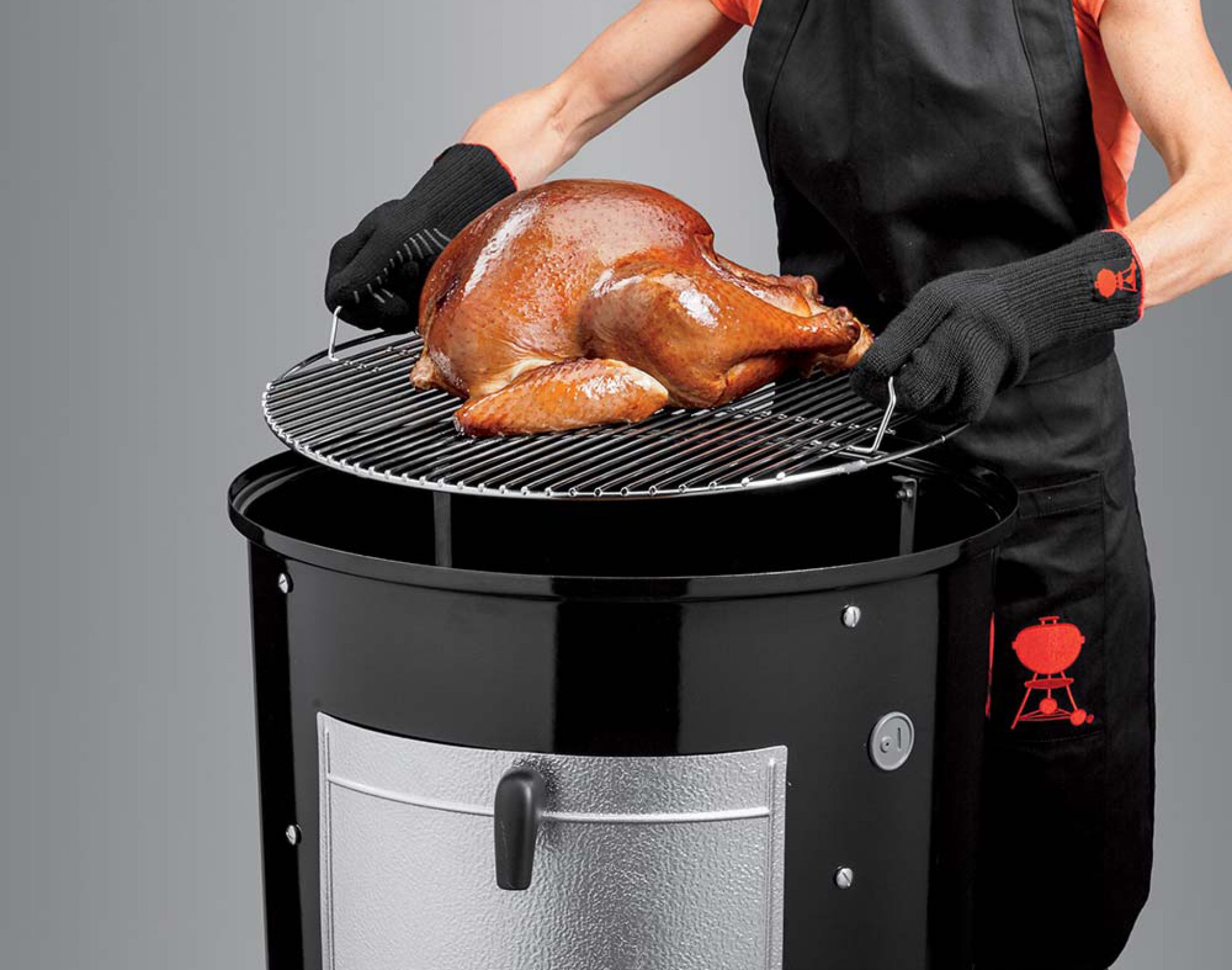 Space requirements refers to accommodating very large cuts of meat like an 18 pound brisket or a 30 pound turkey, or wanting to cook slabs of ribs lying flat instead of rolled or in a rib rack.
The 22.5″ WSM is best for smoking large cuts of meat, but the 18.5″ smoker can also hold its own in this regard, especially if you're creative. People have smoked 25 pound turkeys in the 18.5″ WSM using a vertical roasting rack on the bottom cooking grate, while others have draped large briskets over a chunk of smoke wood, a stainless steel bowl, or a rib rack to make them fit. As for cooking slabs of ribs flat, this can only be done in the 18.5″ cooker when the slabs are on the small side or if you remove a bone or two from one end of the slab.
Portability
All Weber Smokey Mountains are portable in the sense that they come apart into three major sections that can be easily picked up by one person.
However, the 14.5″ WSM is the most portable of the three cookers given its size and weight. Weighing just 22 pounds, the 14.5″ WSM is small and compact enough that it can be picked it up as a single unit and moved a moderate distance. Hence, you can carry it camping, RVing, and other places. In second place is the 18.5″ WSM. It weighs 37 pounds and is moderately sized such that it can be picked up as a single unit and moved it a short distance, e.g. around the backyard. Transporting this cooker is best done with a pickup truck, SUV or minivan.
Lastly, the 22.5″ WSM weighs 52 pounds and is so big that one person would be hard-pressed to pick it up as a single unit. It's best moved in pieces and reassembled at its destination. Some people have added wheels or casters or built platforms or rolling carts to make moving this cooker around the backyard easier.
Warranty
The Weber Smokey Mountain comes with a nicely supportive multi-tier limited warranty. This includes 5 years, no rust through/burn through for the cook box and lid assembly, as well as a 2-year warranty on paint excluding fading or discoloration. All remaining parts carry a 2 year warranty from the date of sale.
Price
As for how price figures into your decision of which brand new Weber Smokey Mountain to buy, it's not really a matter of finding the lowest price because the price is always the same no matter where you shop. Rather, it's how much you're willing to spend and whether you feel the price is a good value based on what you want in a smoker. In our opinion, no matter the WSM that you buy, it usually offers a great value for money.
It is more expensive than the other models, but when the size and performance and features are considered, it is a bargain. It uses more fuel than the other models reviewed due to the larger cooking area.
Conclusion
The Weber line of smokers is one of the best you can find on the market today. As it comes in a range of sizes, you have to consider the size that would best suit your needs. If you are cooking for a small group of people, or if you do not have adequate space in your yard, you will find the 14" Weber Smokey Mountain to be an excellent choice. It is the most portable of the models available. The 18" Weber Smokey Mountain is the middle ground between the three available sizes. It offers enough space for you to small relatively large portions with ease. The largest, and most expensive, the 22" Smokey Mountain gives you plenty of cooking space. It might consume more fuel and might not be as portable as the smaller models, but if you are cooking for a somewhat large crowd of people, you will find it to be an excellent smoking companion.
Use this Weber Smokey Mountain review and guide in selecting the right model for you. We are sure that you will enjoy a delicious time!
Add your review  |  If you have already used this model, please, leave your review