Food is all around us, but what is actually in it? If you're like most people that want to have more control over what they eat, a meat grinder is an essential appliance to have. Ground meat is a staple in so many recipes, and if you have the opportunity to make it yourself, it not only tastes better but contains only what you want it to have.
We've looked into six of the best meat grinders on the market. While each has their merits, our overall Editor's Choice is the STX Turboforce 3000 Series Electric Meat Grinder. This amazing meat grinder has a host of accessories, so whether you're making Grandma's famous meatball recipe, or a new-age sausage recipe, you can really show off your culinary process.
Top 6 Meat Grinders Review 2020
In addition to our Editor's Choice, we will look at five other impressive meat grinders. Each will have a detailed review, including their pros and cons. In our buying guide, all of the essential features of a meat grinder will be discussed, including the dimensions, warranty, and electric wattage. Any questions you have about meat grinders will be answered so you can start crafting your culinary masterpieces.
Features
Type: electric
Wattage: 1,200
Capacity: 180-240 lbs/hour
Dimensions: 19 x 8 x 14 inches
Warranty: 3-year limited
More features: 3 speeds; comes with 3 cutting blades, 3 grinding plates, beaner plate, 3 sausage stiffing tubes, kubbe making attachment, and more
VIEW ON AMAZON
If you like quality, mighty kitchen appliances, you will love the STX Turboforce 3000 Series Electric Meat Grinder. It is a real tour de force in the meat grinder industry.
This meat grinder has an impressive 1,200 wattage of power it uses to grind up to 240 pounds of meat per hour. That is truly top-notch.
In addition to the basic grinder machine, you also get a plethora of accessories. These include three cutting blades, three grinding plates, three sausage stuffing tubes, and a beaner plate. Yes, it doesn't matter what you plan on making with the STX Turboforce 3000 Series Electric Meat Grinder – you can do it all.
The model does have a larger price tag than other meat grinders on our list, but this is because of all the accessories, as well as the quality construction.
If you're not entirely sure of your purchase, there is no need to worry. You have 30 days to decide to keep this meat grinder or not, all hassle-free. And, if you do decide this is the product for you, the impressive three-year warranty will mean you can have complete peace of mind knowing that any breakdowns are covered.
While the STX Turboforce 3000 Series Electric Meat Grinder is amazing, there are a few things it can't do. The manufacturer is very emphatic to not use it on bones, even though it is so solidly built.
Pros
Comes with a lot of accessories
Impressive 3-year warranty
Includes a 30-day money-back guarantee
Cons
Can't be used for meat, vegetables, or tendons
Features
Type: manual
Construction: stainless steel
Dimensions: 10 x 7.4 x 3.2 inches
Warranty: not specified
More features: comes with a steel clip and suction cup for fixing
VIEW ON AMAZON
Why not grind your meat the old-fashioned way? The Huanyu Meat Grinder is our pick for the best hand crank meat grinder. It is made of gorgeous stainless steel, and the handle is molded plastic to make it comfortable while using it.
To operate, simply place your meat in the top receptacle and start churning. The hard, sharp blade will do the rest of the work for you.
For accessories, there are two meat discs, one with 4.5mm holes and the other with 8mm holes. So, depending on what type of meal you plan on cooking with the ground meat, you can adjust your size.
The Huanyu Meat Grinder also comes with a sausage piping tube. Simply remove the meat grinding disc and screw it on the sausage tube. You can then place an empty sausage casing on the end and have the ground mixture squeezed perfectly into it. There's no mess or complications.
To make sure you have no issues while using the Huanyu Meat Grinder, there is a handy suction cup on the bottom of the product. You can place it firmly on a surface and know that it won't be moving anywhere.
The Huanyu Meat Grinder is incredibly versatile. You can use with just about any type of meat or vegetables. It's also one of the best meat grinders for bones as it can be used with chicken bones, although not beef bones.
Pros
Can be used to create sausage
Useful for grinding chicken bones
Very simple to use
Cons
Doesn't come with a lot of accessories
Features
Type: electric
Wattage: 1,000
Capacity: not specified
Dimensions: 17 x 7.8 x 15 inches
Warranty: 1-year limited
More features: ETL certified; oversized hole in the feed tube
VIEW ON AMAZON
There are a lot of electric meat grinders on our list, and one of our absolute favorites is the LEM Products 1158. While it is a bit pricier than we would like, its power and performance make it a product to seriously consider.
The smaller features of the LEM Products 1158 all add up to make it truly unique. For starters, the construction of the feed tube is a bit larger than other similar meat grinders. Having a wider tube means you can have more variety of meat to grind. It also means a smaller chance of food getting stuck which is quite tedious to deal with.
The LEM Products 1158 is also Edison Testing Laboratories (ETL) Certified, which means rigorous testing when into the manufacturing of this product.
One other nice feature of the LEM Products 1158 is the included accessories. There are three stainless steel plates, which is more than the standard two. There are also three plastic stuffing tubes. So, whether you plan on making finely ground beef or your grandmother's famous sausage recipe, there is an attachment that will work for you.
If you don't want to take our word for it, then just know that previous customers all rave about this meat grinder. From beef to chicken to deer, ground meat of any kind can be produced. The quality craftsmanship makes for a stable, reliable machine that you won't have to worry about.
Pros
Includes a good range of accessories
Great customer satisfaction
Solid construction
Features
Type: manual
Construction: plastic
Dimensions: 9.9 x 6.3 x 5.4 inches
Warranty: not specified
More features: comes with a meat pusher and grinding blade and disc
VIEW ON AMAZON
Don't despair if you really want a meat grinder but are on a budget. Just look to the Bellemain Manual Meat Grinder. This product keeps its price manageable by sticking to the basics. There aren't any extra accessories but if all you want to do is grind meat, then it will still work perfectly well.
To work the grinder, simply place your meat in the holder on the top. Place in the meat pusher and start cranking. The meat will grind according to your kinetic energy, so the more muscles you've got, the faster you can go.
There's a really nice safety feature with this unit. It has suction cups on the bottom of the machine, which ensures your meat grinder will stay in place, even with heavy cranking. It might seem not that big of a deal, but this small feature will really help with the experience.
Once you're completely finished using the Bellemain Manual Meat Grinder, it's time to wash it. Thankfully, this step is very simple. Because there are no electrical components, you don't have to worry about what can get wet and what can't. In fact, you can put all the components in the dishwasher. This not only makes your life a lot easier but also ensures everything is cleaned and sanitized. Nobody wants bits of raw meat leftover as it can quickly grow bacteria.
Pros
Very easy to clean
Nice and affordable
Easy to use
Cons
Plastic may not be as strong as intended
Features
Type: electric
Wattage: 800
Capacity: 150 lbs/hour
Dimensions: 17 x 7.8 x 15 inches
Warranty: 1-year limited
More features: die-cast aluminum grinder head
VIEW ON AMAZON
Those on the hunt for the best meat grinder for home use should make serious consideration towards the Sunmile SM-G31. This electric meat grinder is an electric model but prices well below similar competition. It is powerful and affordable, which is a rare combination.
With a wattage of 800 and a capacity of 150 pounds/hour, you won't be able to turn out huge volumes of meat, but it's perfectly enough for a family dinner.
Simplicity may be the Sunmile SM-G31's best feature. With just a press of a button, you can quickly start grinding your meat. It's easy to set up and easy to use, which means you can start preparing your next culinary adventure right away.
Given the affordable price, you might think this model doesn't include any extra accessories with your purchase. However, it actually has a lot of useful add-ons. In addition to the stainless-steel cutting blade, you also get a plastic food pusher and three sausage attachments.
One of the nicest features about this meat grinder is that all of the parts are dishwasher safe. When it comes to raw meat you can never be too careful. So, having this sanitizing option means you don't have to worry about harmful bacteria lurking in crevices.
The most unfortunate part about the Sunmile SM-G31 is that it only has a one-year warranty. It is Edison Testing Laboratories (ETL) Certified, however, so won't break down after normal usage.
Pros
Affordable price
Includes sausage attachments
Parts are dishwasher safe
Cons
Only has a one-year limited warranty
Features
Type: electric
Wattage: 1,100
Capacity: 450 lbs/hour
Dimensions: 17 x 7.8 x 15 inches
Warranty: 2-year limited
More features: uniform heat dissipation
VIEW ON AMAZON
The Happybuy Electric Meat Grinder is so powerful it can be used for both home and commercial use. Its versatility is due to its strong build and powerful motor. With a wattage of 1,100 and an amazing capacity of 450 pounds/hour, there's nothing this meat grinder can't do.
Powered by an electric motor, simply place the meat on the top receptable. It is a very large base, which makes it easier to have non-stop action. Also included are one course grinding plate and one fine grinding plate, so you get to choose what type of meat you create. There are also two replacement blades. This is perfect as it allows you to always have the finest performing machine.
The Happybuy Electric Meat Grinder is meant to last. It comes with a nice two-year warranty, which is proof the manufacturer has faith in its product. As for the construction, this meat grinder has uniform heat dissipation. This means there are no hot spots and no over-heating which often results in a breakdown of parts.
We named the Happybuy Electric Meat Grinder as the best commercial meat grinder because it is just so powerful. In addition to creating standard ground beef, you can also grind deer meat and create mouth-watering sausages. The only issue is that while you can create sausage filling, the Happybuy Electric Meat Grinder does not have an included sausage stuffer. You will have to purchase that separately.
Pros
Nice two-year warranty
Powerful enough for commercial uses
Top receptacle is very wide
Cons
Does not include a sausage stuffer accessory
Buying Guide
Finding the right meat grinder is easy once you know what to look for. Everyone's needs are different, so once you've established how often you expect to use your meat grinder, and for what purposes, narrowing down your list will be a lot easier. Check out our Buying Guide so you know what all the different features mean. They will help you be better able to compare models against each other.
What you can do with a meat grinder
There is quite simply a lot that can be accomplished with a meat grinder. Sure you can make ground beef, but you can also grind just about any type of meat, as well. From sausages to burger patties, the options are endless. And meat grinders can be used for more than just meat. Chopping vegetables, grinding bones, and processing cheese are just some of the more varied uses of a meat grinder.
Features to consider while choosing a meat grinder
Meat grinders come in all different shapes and sizes. Here is our comprehensive list of the features to note and how they pertain to the items on our list.
Manual or electric?
There are two types of meat grinders: manual and electric. A manual meat grinder requires you to be the source of power. There will be a crankshaft, and you need to turn the crank, rather strongly, to force the meat through the grinder. As you can imagine, this can be both rewarding and tiresome.
Electric meat grinders require minimal effort on your part. Simply place the meat in the top, adjust your settings, and let the machine do your work. Electric meat grinders are more efficient, but they also come with heftier price tags. However, if you plan on regularly using your meat grinder, an electric version is probably the most sensible.
Wattage
Electric meat grinders use, well, electricity for power and the wattage determines how powerful the machine is. The Sunmile SM-G31 has a more modest 800 wattage, while the STX Turboforce 3000 Series Electric Meat Grinder has an impressive 1,200 wattage. More wattage means a larger capacity, less time waiting for the meat to grind, and a sturdier performance.
Materials used
When you think of a meat grinder, chances are a model like the Huanyu Meat Grinder will spring to mind. With its stainless steel build and manual crank, this is an old-timey model but with modern construction. However, there are plenty of modern meat grinders that are made of plastic, such as the Bellemain Manual Meat Grinder.
While meat grinders that are constructed from plastic are durable, there's no doubt that stainless steel is a lot heartier. If you plan on regularly using a meat grinder, or even want to try grinding bone or other dense material, then a stainless-steel appliance is preferable.
Capacity
The capacity of a meat grinder is a bit hard to understand at first. It's not about the total amount of meat that can be ground. Afterall, if the bowl you are using to catch the ground meat becomes full, you can simply empty it and continue.
Instead, the capacity of a meat grinder refers to how much meat can be ground in one hour. Factors that are used to determine this measure include how stable the machine is, how powerful the motor is, and how strong the blades are. Capacity can range anywhere from 150 pounds/hour to 450 pounds/hour. If you think you'll be crafting a lot of ground meat, then make sure you find a grinder with a larger capacity. Otherwise, your recipes will take forever to complete.
Dimensions
Meat grinders, like all small accessories, can take up a lot of space. If you're lucky enough to have a spacious kitchen, or even a place to store small appliances, then dimensions aren't as important. If, however, you're short on space, then pay close attention to these numbers.
Meat grinders can be tall, with some towering up to 15 inches tall. But don't forget that you will also have to add meat to the top of the grinder. So, if you're worried about overhanging shelves, factor in both the height and the space needed for meat before purchasing a meat grinder that will live on your kitchen counter.
If you are really short on space, you might want to consider the Bellemain Manual Meat Grinder. With dimensions of 9.9 x 6.3 x 5.4 inches, it's the most compact meat grinder on our list, and perfect for an apartment-sized kitchen.
Warranty
Your meat grinder will have a lot of moving parts. Especially those with extra accessories. Having a warranty means you can play around with your meat grinder and experiment, without worrying about never having a replacement, if something should break.
There are a lot of different types of warranties for the meat grinders on our list. While a one-year warranty is a standard, the STX Turboforce 3000 Series Electric Meat Grinder really stands out with its three-year warranty. This is definitely the machine to go for if you plan on using your meat grinder daily. The fact that it has such a long warranty also shows that the manufacturer has a lot of faith in its product.
Accessories included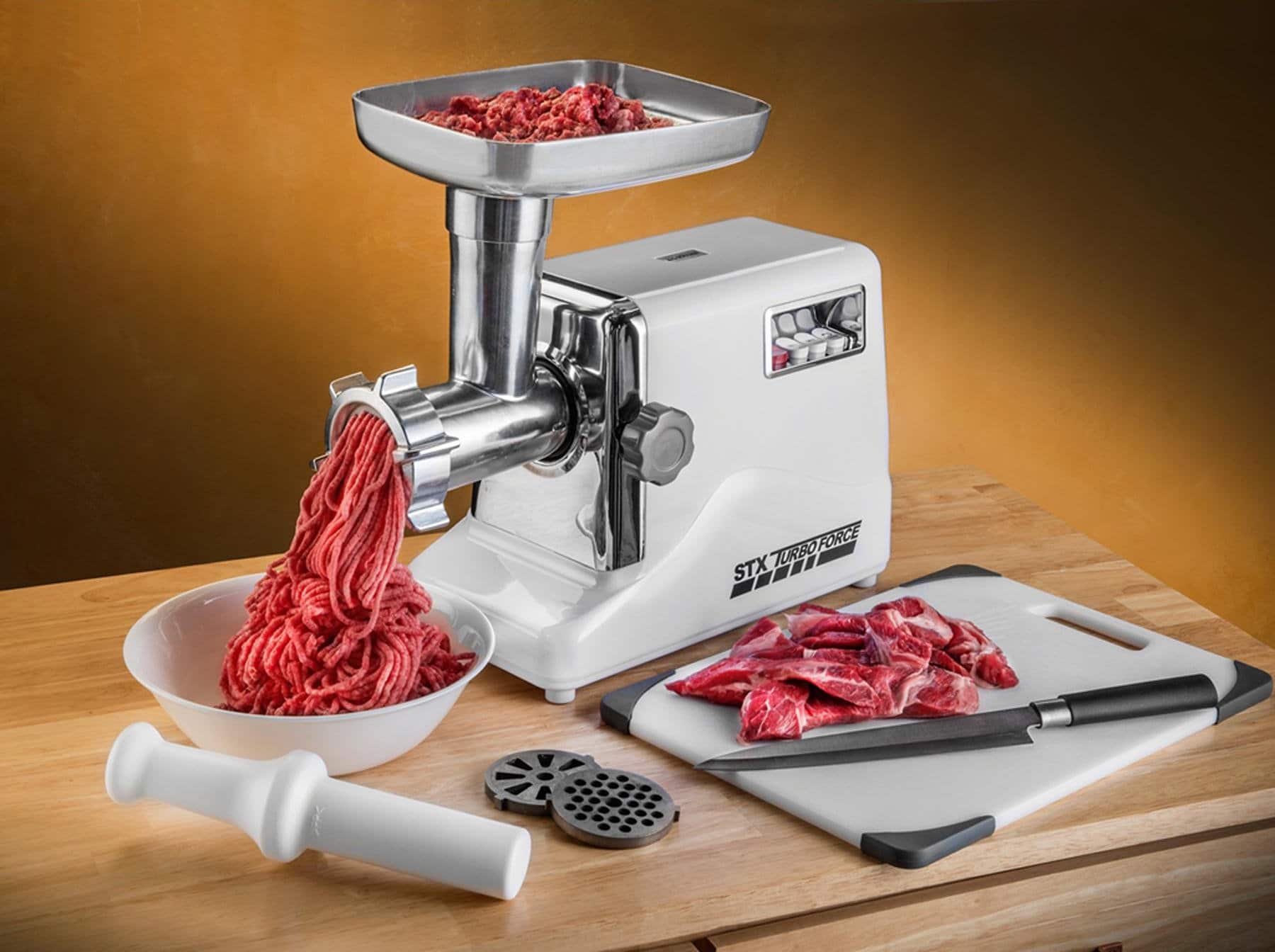 A basic meat grinder is great, but if it comes with more accessories, your recipe options become a lot more varied. Many meat grinders will have both a fine and a coarse grind plate. Some will have extra blades. If you want to make sausage, look for a product that has a sausage stuffer included to make this task much easier.
More features
Other features of the best meat grinder include a sturdy design and being dishwasher safe. For those worried about grinding large amounts of meat, make sure you find a product with suction cups on the bottom. This will make the whole product stick to the counter so you don't have to worry about any sudden movements.
You might see that a meat grinder is ETL certified. This stands for Edison Testing Laboratories. It means that a product went through rigorous testing and has solid construction and performance.
How to clean a meat grinder
There are a few tricks to cleaning a meat grinder. Before taking the entire apparatus apart, you actually want to start with a bit of bread. Feed it through the grinder so that it can soak up any leftover grease. Grease is especially hard to clean off, so this will make the entire process much easier.
Disassemble your entire meat grinder. You do not want to leave any meat particles in any crevices as this can lead to bacteria quickly growing.
Place all your grinder parts in the sink or a large bucket full of warm soapy water.
Leave for 15 minutes before gently washing them down.
Let the parts air dry and then reassemble.

For those that have an electric meat grinder, the main part will need to be wiped down, and not submerged in water, due to its mechanical parts.

The biggest rule for cleaning your meat grinder is to be thorough. And, if you plan on using non-meat ingredients in it, make definitely make sure there is no cross-contamination.
If you choose a manual meat grinder, a surprise bonus is the lack of noise. An electric meat grinder, on the other hand, can get rather loud. Thankfully, most newer-model meat grinders are pretty good at keeping the noise to a background hum. They should be quieter than a food processor but may spike in noise depending on how dense the meat is that you're grinding.
Not many meat grinders are powerful enough to grind bones. However, if you are just looking for a machine that works with chicken bones, the Huanyu Meat Grinder is up to the task.
You will want to either change or sharpen the cutting blade of your meat grinder at least once a year. Sharpening is the preferred method, as it means less waste. However, you can also purchase replacement blades. If you use your meat grinder a lot, consider having the blade sharpened every six months. Alternately, if things are getting caught in your device, or it's taking longer than usual to grind your meat, these may be signs that your blade is too dull and you should sharpen or replace it right away.
Our Verdict
Anyone in the culinary world knows that a meat grinder is not a luxury. It is a necessity. Our Editor's Choice for the best meat grinder is the STX Turboforce 3000 Series Electric Meat Grinder. With its unparalleled number of included accessories and an amazing three-year warranty, this machine is unstoppable.
If you're looking for a return to simpler times, check out our pick for the Best Hand Crank Meat Grinder. The Huanyu Meat Grinder may need a bit of elbow grease to get started, but it produces amazing results. Its included sausage tube makes it a very versatile product.
If, however, you're a modern person, then the Best Electric Meat Grinder is for you. With a number of accessories and impressive certification, the LEM Products 1158 won't let you down. The best meat grinder is waiting for you to create sumptuous dishes for the whole family.