Looking for the best smoker-grill combo can be a lot like smoking meat itself, in that it takes a lot of prep, you have to be mindful of what you're doing at all times, and how much effort and time you put in will determine the quality of your end result – every time. This guide is designed to take some of the harder work out of finding the best BBQ grill smoker combo for you. We're including a handy quick reference table too – in case you're way too pushed for time to read the whole thing.
It's worth taking the time to read on, though, because we're also going to be delving into what makes smoker-grill combos tick, what you can achieve with them and the things you absolutely need to look out for and consider when you're looking to buy a smoker and grill combo for your own personal needs.
Top 9 Smoker Grill Combo Reviews 2020
Anyway, enough talk. We want to be producing fine and talked about pieces of smoked and grilled meat as quickly as possible. We've prepared a brief buying guide for you to ensure you know what to look for. But first, let's take an in-depth look at nine of the best smoker-grill combo examples out there in our detailed product reviews, and let's also take a look at the features available and how they work.
Features
Type: barrel grill and smoker
Power source: wood pellets
Temperature range: 160–450°F
Cooking area: 646 sq. in
Dimensions: 49 x 54 x 22 in
Warranty: 3-year limited
More features: digital elite controller keeping temperature within 20°F, locking caster wheels
VIEW ON AMAZON
This grill-smoker combo is a sensational piece of equipment and it really does do everything you'll ever possibly want it to do – easily. The Traeger Lil Tex Elite 34 is a very well made combo, and it looks great too. You get the classic good looks of a good old fashioned smoker here, but the reality of this appliance is far more up to date and easy to use than that.
The castors on this unit are very heavy duty and will make moving it around a dream if you want to store this inside and preserve its good looks. Once you do get it in place you can cook in six different ways on this smoker and you really can't ask for better than that. There's also a large cooking area of 646 square inches – great if you're very hungry.
The controls on this are exceptional and there's enough automation going on here to assure a great finish without the need for you to constantly keep a watch on what's going on with it. The grill temperature will automatically be monitored and stay within plus or minus twenty degrees of your setting – whatever happens. Total peace of mind is yours. An auto-feed auger and a large hopper make a system that will constantly feed the flames on this combo to perfection, ensuring that you just need to keep it topped up on the hopper to get great results.
One of the nicest features here is the extremely high quality porcelain grates, which will be very easy to keep clean and will last a very long time. This is just a great all-round smoker and a very versatile unit.
Pros
Great controls

Auto-feed pellets

Porcelain grates

Very portable

Cons
Some users find it hard to switch pellets
Features
Type: barrel grill and smoker with sear box
Power source: wood pellets
Temperature range: 160–500°F
Cooking area: 811 in
Dimensions: 50(W) x 42 (H) in
Warranty: 3-year limited
More features: Smart Smoke Technology, patented ash cleanout, 11.5 x 16 in searing area
VIEW ON AMAZON
Up next, and also a very, very nice example of a great grill-smoker combo is the Camp Chef Woodwind SG 24. This unit is not only great to look at, it packs a pretty mean punch too.
You get a great temperature range with this smoker and it has all of the same features of our top pick in terms of automation. You can set and forget this unit and get perfect results every time you use it. The auto-feed auger will keep everything at exactly the right temperature range to achieve nicely smoked food – over and over again.
This smoker borrows more in looks from the modern breed of barbeques, but it still retains the overall shape of a more traditional smoker. There's lots of stainless steel if you like that look and transport is also easy with the Woodwind because it has a very good set of castors underneath it.
This combo has an absolutely gargantuan cooking area of over 800 square inches so you'll be able to cook for a long guest list without breaking into a sweat and for between cooks, it's got a patented ash clean out system that makes maintenance a breeze.
The sear box on this bad boy will reach a very impressive 900 degrees Fahrenheit – enough to blast anything, and it's an all-in-all great unit that will make cooking outdoors a pleasure. Good looks and great features are combined here, and you definitely won't go far wrong with the Woodwind SG24.
Pros
Huge cooking area

Brilliant controls

Auto-feed

Easy ash removal

Features
Type: barrel grill and smoker
Power source: wood pellets
Temperature range: 180–475°F
Cooking area: 700 in
Dimensions: 48.5 x 22.5 x 51.2 in
Warranty: 3-year limited
More features: internal temperature sensor with digital controls
VIEW ON AMAZON
The Z Grills ZPG-7002B comes with a free cover for keeping it protected from the weather and rain, which is a pretty thoughtful move by the manufacturer. They also go as far as providing a very nice three-year warranty and that says a lot with regard to their confidence in what is a product with all the bells and whistles supplied.
You get the full range of automation again here with the Z Grills effort, and it's a breeze to use because it has a really nice 20-pound capacity hopper for wood pellets and a great little auto-feed auger so that you can enjoy the party while the food is smoked to perfection – all 700 square inches of it.
This is portable, same as our first two units on the list, but the castors here aren't anywhere as sturdy as the top two smokers. You'll need to be careful moving it around them but I guess that's maybe why they supplied the free cover – which gives you the option of leaving this combo outside most all of the time.
This is a more traditional looking offset smoker if that's more your thing, even though under the bonnet it's got everything going for it. This unit is US made and it's got a great temperature range that will cover everything you need to do and it's heavy at 127-pounds – which suggests they put enough heavy metal into this to make it distribute heat evenly enough to get great smoking results. All-in-all, this is a very nice smoker with a lot of features, and you'll get great low-maintenance fun out of using it.
Pros
Ample cooking area

Good temperature range

Great controls

Auto-feed

Features
Type: barrel grill and smoker
Power source: charcoal
Temperature range: not specified
Cooking area: 900 in
Dimensions: 33.5 x 53 x 57 in
Warranty: 2-year limited
More features: reverse flow for even heat and smoke, cool-touch handles
VIEW ON AMAZON
Now, I don't know if Oklahoma Joe really is from Oklahoma, but if you go there and meet him, make sure to tell him that he forgot a few things when he made the Oklahoma Joe's Highland Reverse Flow Smoker!
I'm kidding of course, but this is actually a grill-smoker combo that needs a little bit of modifying straight out of the box. Once you've done that however, this thing will probably keep up with appliances that cost double or more what it costs, so it's well worth the effort – and well worth considering if you are good with your hands.
There's no fancy bells and whistles on this unit, and it relies on careful monitoring of the charcoal basket to achieve even temperatures and great results – which will definitely suit the harder core enthusiasts and fiddlers out there. The modifications needed on the unit amount to getting some better thermostats and sealing the gaps here and there to make it smoke tight, and once you do, boy ill this thing perform well.
As far as looks go, this combo looks the bee's knees and goes back to the days of the old school offset smokers. It wouldn't look out of place in some historical situation and you get a massive 900 square inches to cook on. You can also move the baffle on the Oklahoma Joe, which means that you can set it up as a straight through smoker – which will suit many people down to the ground.
For the traditionalists, this is a great option and although you might need to spend a few dollars modifying it, this unit won't cost the earth either. Great once you get the hang of it.
Pros
Simple and effective

Nice traditional looks

Sturdy and heavy

Features
Type: barrel grill and smoker
Power source: wood pellets
Temperature range: 170–600°F
Cooking area: 700 in
Dimensions: 44 x 44 x 28 in
Warranty: 1-year limited
More features: porcelain-coated wire, additional upper cooking rack space, innovative flame broiler
VIEW ON AMAZON
The Pit Boss 700FB Pellet Grill gives you a very respectable 700 square inches of cooking area and it's a semi-traditional looking grill-smoker combo that will be an asset to any yard or entertainment area.
You get a really good range of controls and features on this unit that make for very easy and carefree operation for when you want to mingle with and entertain your guests and not be looking at the BBQ all day.
The auto-feed works well and you get a decently sized hopper in which to keep enough pellets to get any smoking job done without the need for a refill, so it really is a beautiful little smoker to use and will suit everyone from the hardcore smoker to those of us that just want a quiet life and good food.
It has a very handy rack at the bottom for storing pots, trays, pans and extra grates, and the wheels on this model are very sturdy so it'll be fairly easy to move this grill-smoker combo into the garage during bad weather or when you need more space in the yard – if you're that way inclined.
When it comes to outdoor entertaining, and if you're looking for a reasonably priced grill-smoker combo that has a traditional look about it but still features great controls and automation, then the Pit Boss 700FB Pellet Grill just might be the one for you, and you certainly could do a lot worse.
Pros
Simple but automated
Auto-feed
Traditional looks
Features
Type: combo grill and smoker
Power source: infrared, charcoal, gas
Temperature range: 100–800°F
Cooking area: 1,100 in
Dimensions: 82 x 23 x 53.5 in
Warranty: 1-year limited
More features: 4 grilling options, porcelain-coated cast iron cooking grid, commercial-grade temperature gauges
VIEW ON AMAZON
The Smoke Hollow PS9900 is a hybrid effort and it features infra-red, gas and charcoal operations all in one grill-smoker combo, so it's not just your usual run of the mill unit.
This combo definitely won't be one for the traditionalists and it'll probably baffle a few of the people that attempt to assemble it also, so be very aware before you buy the Smoke Hollow PS9900 that you may well experience a great amount of mental and physical trauma whilst you're slaving over trying to put it together.
This is also a very, very heavy piece of equipment, so it's not for the faint hearted and it's certainly also not for one person to attempt to assemble. Expect to need a hand in getting it all out of the box and put together, before you can even start to think about getting anything cooked.
You get really heavy duty cast iron grates, that have a very nice porcelain coating to aid with the keeping clean of this appliance. This is really one where you'll need to decide whether or not you want to read a lot of instructions and invest the time into learning all of the different controls and options that it presents. If you do, then you'll end up with something that will very probably perform very well for you. Definitely one for the gadget loving types out there, and one to avoid if you just like fire and smoking stuff.
Pros
Lots of grilling and fuel options

Large cooking space

Good grates

Cons
Might be too complicated for some
Features
Type: barrel grill and smoker
Power source: wood pellets
Temperature range: 200–500°F
Cooking area: 702 sq. in, extendable to 1,054 sq. in
Dimensions: not specified
Warranty: 6-year limited
More features: Smart Grill Technology Controller, Wi-Pellet WiFi Technology, HotFlash Ceramic Ignition System, comes with 2 meat probes
VIEW ON AMAZON
Ok, so with the excellent REC TEC Grills Bull RT-700 you're looking at a mighty fine piece of equipment and possibly one of the best grill-smoker combos on this list. But for a hefty price tag.
This unit is extremely well made and uses quality materials all around to produce what is one of the finest BBQ smoker set ups out there. You get everything in the way of controls that you get ever wish for and this piece of kit really will give you stunning results if smoking is your thing. You can absolutely leave this one running and go and do other stuff – in fact, you can absolutely leave this one running and go to another state if you want to because it comes equipped with full Wi-Fi technology that means you can download an app (iOS or Android) and control this grill from anywhere that you can get a good phone reception.
Also included in this package are two individual heat probes that afford the ability to perform two different smoke jobs at once, while sitting in the comfort of a reclining chair, and sipping a cold beer – if that floats your boat.
You get a 700 square inch cooking area with the REC TEC Grills Bull RT-700, and you can upgrade that by nearly another 50% if you buy the optional second rack that is available.
They even give you 160 pounds of premium chips with this unit, and if that wasn't enough, they throw in a t-shirt too.
Pros
All the controls
All the automation
Remote app control
Features
Type: hybrid
Power source: electricity, propane
Temperature range: up to 550°F
Cooking area: 160 in
Dimensions: 13.7 x 25.5 x 14.4 in
Warranty: 1-year
More features: Piezo igniter, connects to any quick connect LP connection
VIEW ON AMAZON
The next grill-smoker combo on our list is the Camco Olympian Hybrid Grill. We're into slightly different territory here because this grill-smoker combo is designed specifically to be used on an RV or for camping.
What you get with the Camco model is a unit that's really good at what it's designed for and not trying to be anything other than what it is. What it is, is a really nice option if you take off regularly in an RV and you want a grill-smoker combo that you can either mount directly on the side of the vehicle, or set up on a stand or table (it has built-in folding legs) when either you're at home or you want to use the tables at the campsite.
This piece of equipment is also powered by both gas and electric. Staying with the made for RV use theme, you can hook up directly to camp power if you want to save your RV propane, or you can opt to connect easily to the vehicle gas supply.
Stainless steel construction makes this unit extremely rust retardant and you'll not get laughed at because for an RV option, this looks really great. You get 160 square inches of cooking area which is obviously smaller than our home use smokers here, but that's to be expected and it also means that this great little grill-smoker combo is small enough to move around and store for when you're on the move to the next camp site.
Great option for those of you who RV.
Pros
Perfect size for RV use

Stainless steel

Use either gas or the site power

Cons
Perfect size for RV use

Stainless steel

Use either gas or the site power

Features
Type: barrel grill and smoker
Power source: charcoal
Temperature range: 100–500°F
Cooking area: 1,238 in
Dimensions: 65 x 26 x 50 in
Warranty: 5-year limited
More features: adjustable fire grate, dual damper control
VIEW ON AMAZON
Coming up the rear on our epic list of the nine best grill-smoker combos, is the Char-Griller 1624 Smokin' Champ. This is a budget option and in that category it fully deserves its place on this account of the best grill-smoker combos out there. This is a possible good choice for those of you that are new to the smoking scene and still trying to figure out if you'll do this long term, it's a good option to get started on a budget and a great place to try out your skills.
This is also another unit that you may well benefit from adjusting the engineering of, to be honest. It'll leak a fair amount of smoke unless you buy and fit some aftermarket BBQ sealer to it – which is relatively easy to do, and that effort will be very worthwhile when it comes to getting good cooking results.
For the money, and we're really not talking a about a great deal of money here at all – this grill-smoker combo is great. It'll get you smoking and grilling a lot of stuff and it won't cost the earth either. It does everything you'll need but you'll just need to replace dollars with a little effort. This makes it a great unit to learn on and you'll soon develop a good understanding of the smoking process using this model.
Best budget option here by a country mile, and able to do a job for you.
Pros
Cheap

Good learning model

Cons
Flimsier construction

Will need DIY

Buying Guide
Picking out the best smoker and grill combo for you might be challenging if you don't have any idea what things to consider. We hope that this guide will help you out! Here, we're discussing the primary features that impact the performance of your grill and smoker and the results you'll eventually get. We also answer some of the questions you might have and give some tips on how to use and maintain your smoker-grill combo.
Advantages of having a grill and smoker combo
Having both a grill feature and a smoker facility is always going to be nothing but advantageous when it comes to producing quality cooking for guests and family outdoors. You can smoke with just a vertical smoker and you can theoretically use a grill to do smoked meats but it's fiddly and there's no substitute for having exactly the right equipment that's specialized for each task. Having all that capability within the one unit is even easier and it's an economical measure too. Having standalone items for grilling and smoking uses more fuel and means you have to prep and maintain each process separately. If you're entertaining, you want to enjoy the process of preparing the food and although it's an activity in itself, you don't want to overcomplicate it. Neither do you want lots of appliances around cluttering up your entertaining space, so a great way to go is a combo. You get the ability to cook in lots of different ways, without having to run lots of different units.
Features to consider while choosing a grill-smoker combo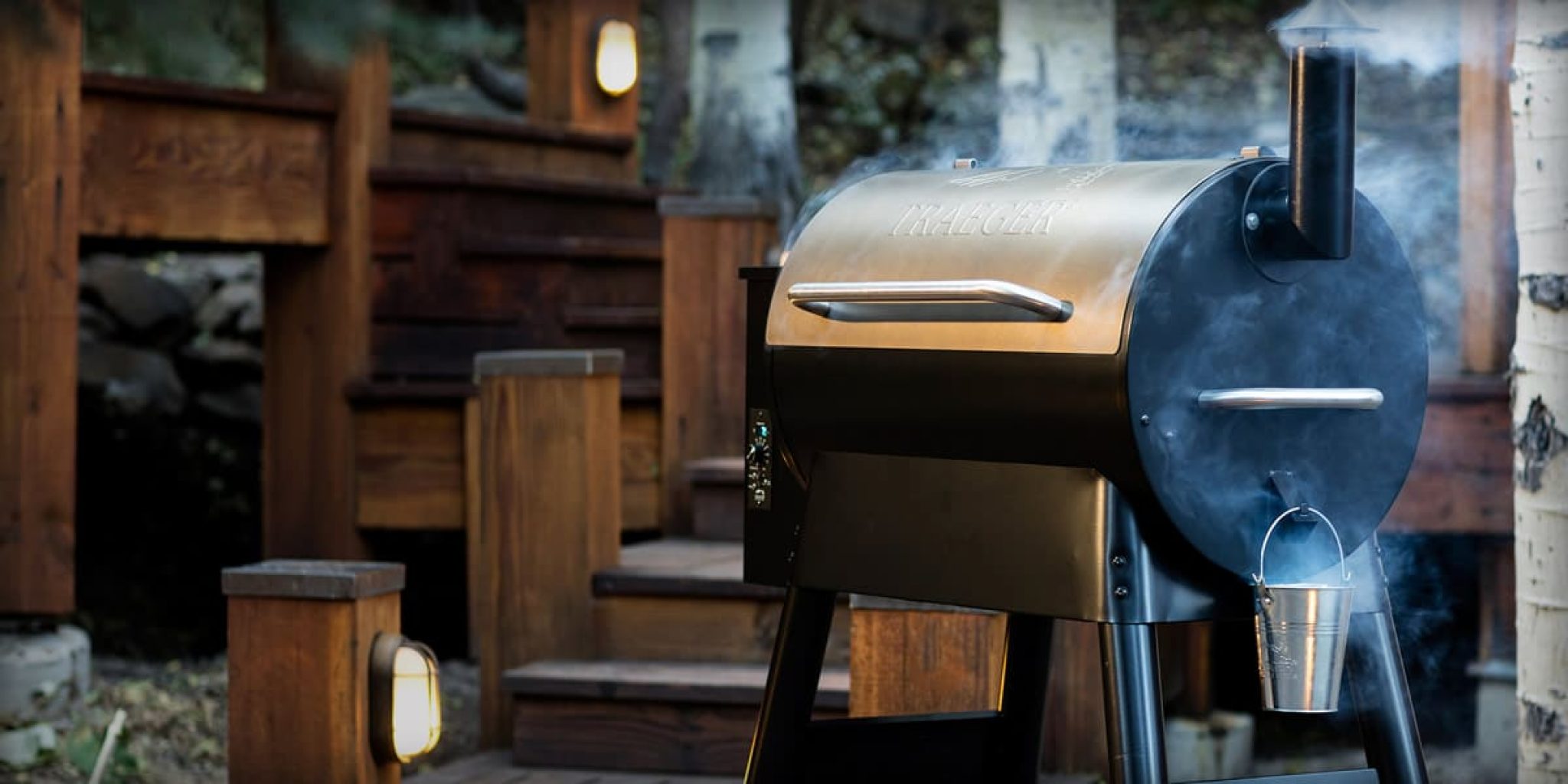 Quality, as with most things in life, is an absolute key consideration. Smoking food demands great build quality and the difference between a badly built smoker and a well built one will be massive in terms of the quality of the food you serve up and the consistency with which you can do that. Better quality machines, as a rule of thumb, also take less effort to run once you've started the cooking process, and that'll make the whole experience more relaxing and give you more time to do other things while your food cooks perfectly.
Look for great seals when you assess build quality, because that dictates how well the thing will perform. You do not want leaks anywhere. Gauge of steel is also a big thing to consider because a thicker steel, although heavier, will retain and distribute heat far better than something that is flimsy.
Good ventilation and options for controlling that is a very important thing to look at too. This is essentially the way you're going to be regulating temperature during cooking, and temperature regulation is an extremely vital part of turning out good results. Cheaper smoker-grills will have fewer number of, and less effective operation in terms of vents and options for controlling heat. Be very aware of this when choosing and spend a little more cash on this feature if you can afford to, because you'll be lost without it.
Other things to look at are how accessible different areas and compartments of the appliance are, for maintaining heat and adjusting food during cooking. Size can be a consideration too, if you're pushed for space in the garden, and remember that you'll need adequate clearance around the smoker-grill too. Things like the durability of hinges and handles are a thing to keep an eye on and look at how you're intending to keep the appliance clean too.
Type and power source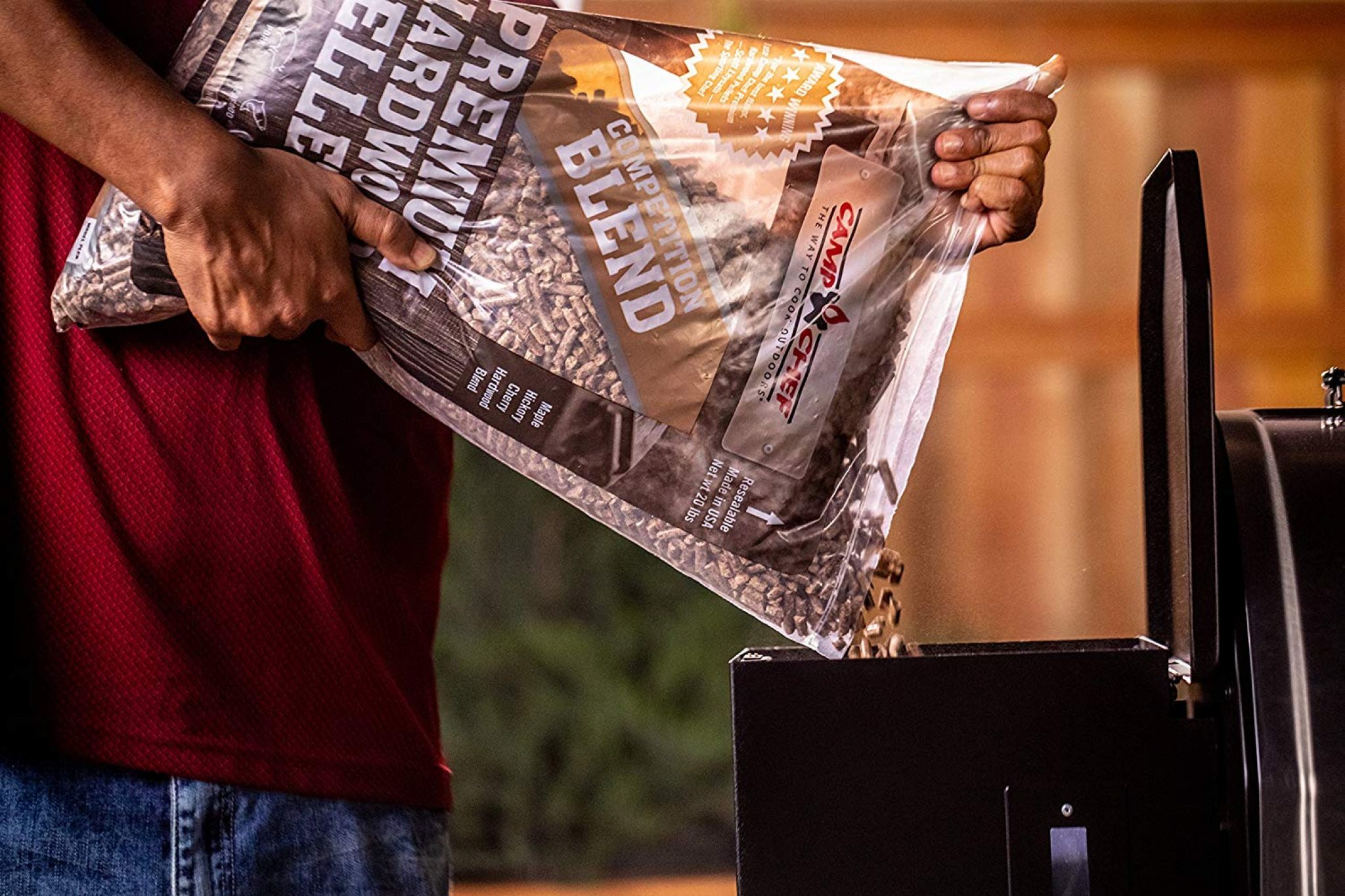 In terms of types of smokers, you're mainly looking at vertical or barrel smokers and they can be a 2-in-1 type or a grill-combo which is offset. We're concentrating on the latter in this guide and so we'll concentrate on that here too. The offset part just means that the smoke box, which generates the smoke is off to the side of the compartment where you'll be smoking your food. This is the way that an offset unit maintains separation in terms of heat from the meat and gives you a nice slow cook without any danger of burning or charring the food. The way to look at it is that a more direct form of cooking, which is faster, is grilling. That's more like modern day BBQ, whereas the process of smoking has been around a lot longer. Hunter gatherers would have done this in a hole in the ground because it was a better way to preserve meat for longer, before refrigeration. We do it because it tastes great.
Fuel type can be charcoal, wood pellets – which are generally compressed sawdust, propane gas, or electric. Charcoal is widely considered by most sane people to be best, because it imparts an extra element of flavor that even the best gas smoker grill combo or best electric smoker grill combo just can't. Wood pellets also do this. The best wood pellet smoker grill combo Will give you great results if you put the effort in, same as the best charcoal grill smoker combo will.
An exception would be if you want smoked home cooked food, but you hate mess and cleaning up charcoal. Then you may just be better looking for the best propane grill smoker combo out there and adjusting your methods to suit.
Temperature range
You'll do most of your smoking somewhere between 225 and 275 degrees Fahrenheit. You'll need more like 400°F for cooking poultry in the form of large turkeys and the like. If you're looking to blast steaks, you'll need to be getting up even higher than that.
Cooking area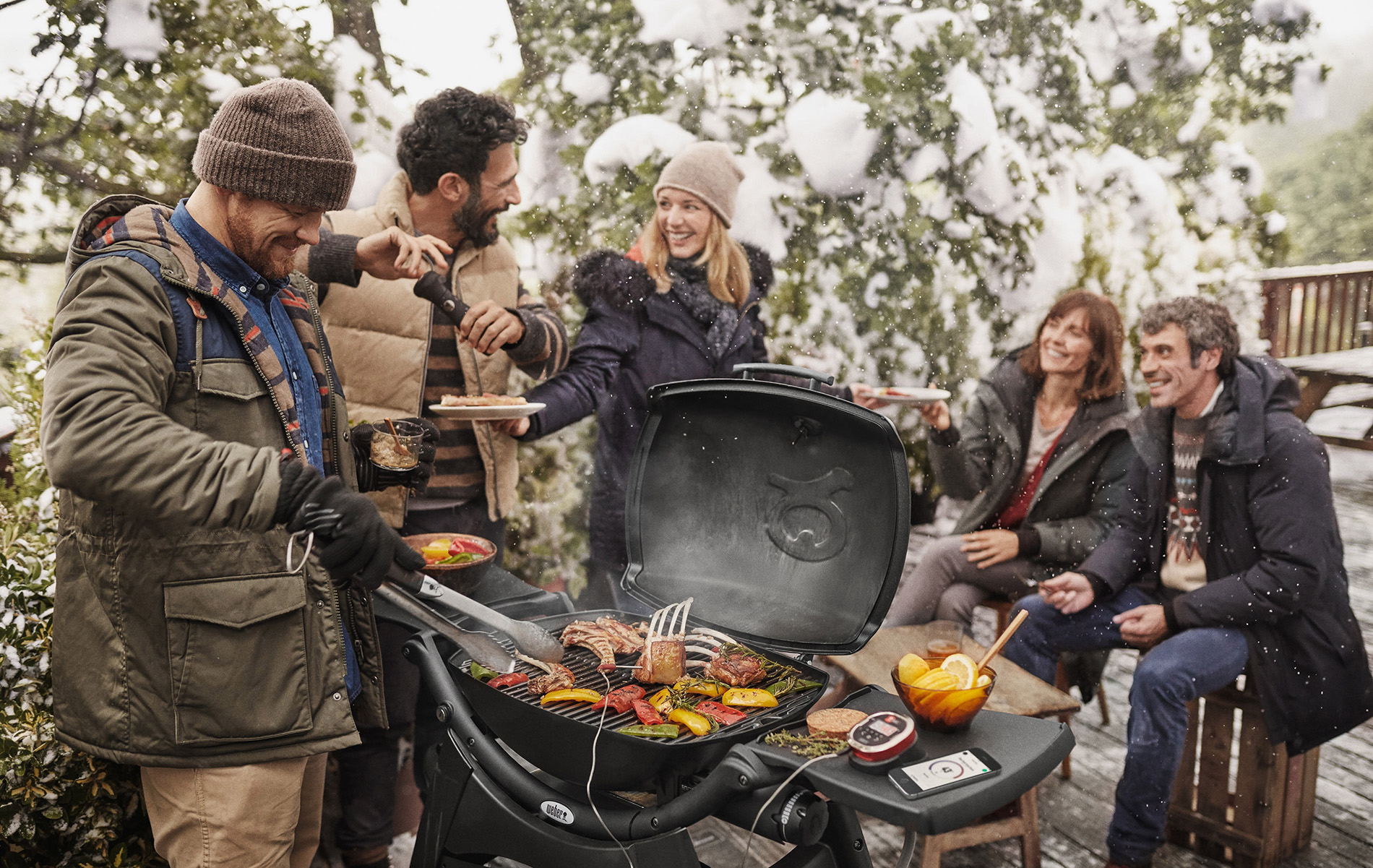 You might want to just cook occasionally for close family and friends, or you may be a party animal and serial entertainer that regularly hosts bigger bashes out back. Depending where you fall along this scale of extremes is going to have a significant effect on the sort of unit you choose with regard to the cooking area available to you. Don't overbuy for cooking space, but also, keep in mind that you're better off with a little too much room than not enough. Other considerations would be if you cook massive racks of ribs, or huge turkeys, you'll need enough space to do so easily. Be sensible and realistic and know your habits and you won't go too far wrong here.
Materials and durability
Hinges are an important part of the hardware aspect of your grill-smoker combo. Assess how long they will last when you're assessing the appliance, because if a door or lid falls off, you're done.
Handles and other parts like that are a great indicator of overall quality. Handles are also very important for everyday use and robustness of the overall unit. Keep a keen eye open.
As always, thickness and quality of the main build material is vital and will dictate the best possible result you'll be able to achieve with your combo. Thinner metals will never do as good a job as something that will soak up and retain lots of heat – and then distribute the heat evenly around the whole smoking chamber. It really is an important factor and can't be overstated.
Number and quality of grates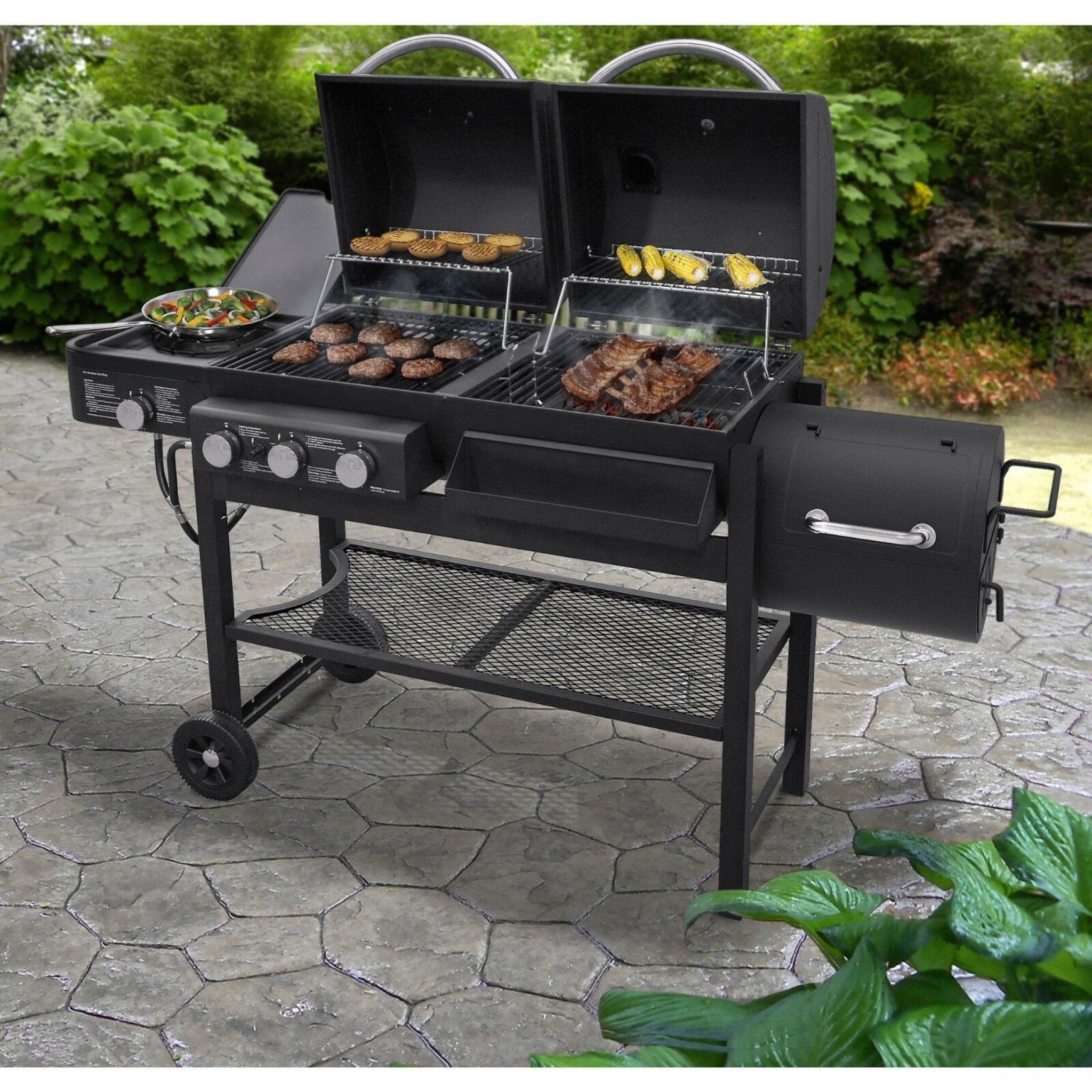 The more grates, the more scope you have to smoke and cook more meats. You can't go wrong with the ability to fit more grates in your appliance. Also look at the construction and materials of the grates. Are they flimsy and too bendy? Because that's not good and they won't last very long in what's a harsh environment. Are the grates chromed or are they stainless steel?
Chrome on grates will eventually disappear through wear and tear and then they absolutely will get rusty and become unusable. Stainless steel is superior to chrome and will outlast it every time, so choose carefully.
Dimensions and weight
Keep in mind that your new grill-smoker combo will need to fit in the space you have available to site it. It'll also need to do that with at least the recommended clearances that the manufacturer specifies and enough extra room to make sure that you can operate it both safely and comfortably. Don't buy something that's way too big if you only have a small yard or outdoor area to safely site it.
Weight is generally a great thing with smokers because it suggests that the construction is of heavier gauge steel and that's a great thing for getting brilliant cooking results. However, if your combo weighs a lot, then make sure that you're either never going to want to move it, or that it's on wheels. Consider whether or not you're going to store the appliance inside a garage or outbuilding either seasonally – to avoid the worst of the weather, or every night. If this is the case for you, then it just has to be on some good sturdy wheels that are well designed for the task of moving a weighty grill-combo around regularly or semi regularly. Be sure to pay attention to this concern when you're choosing the right unit.
Ease of use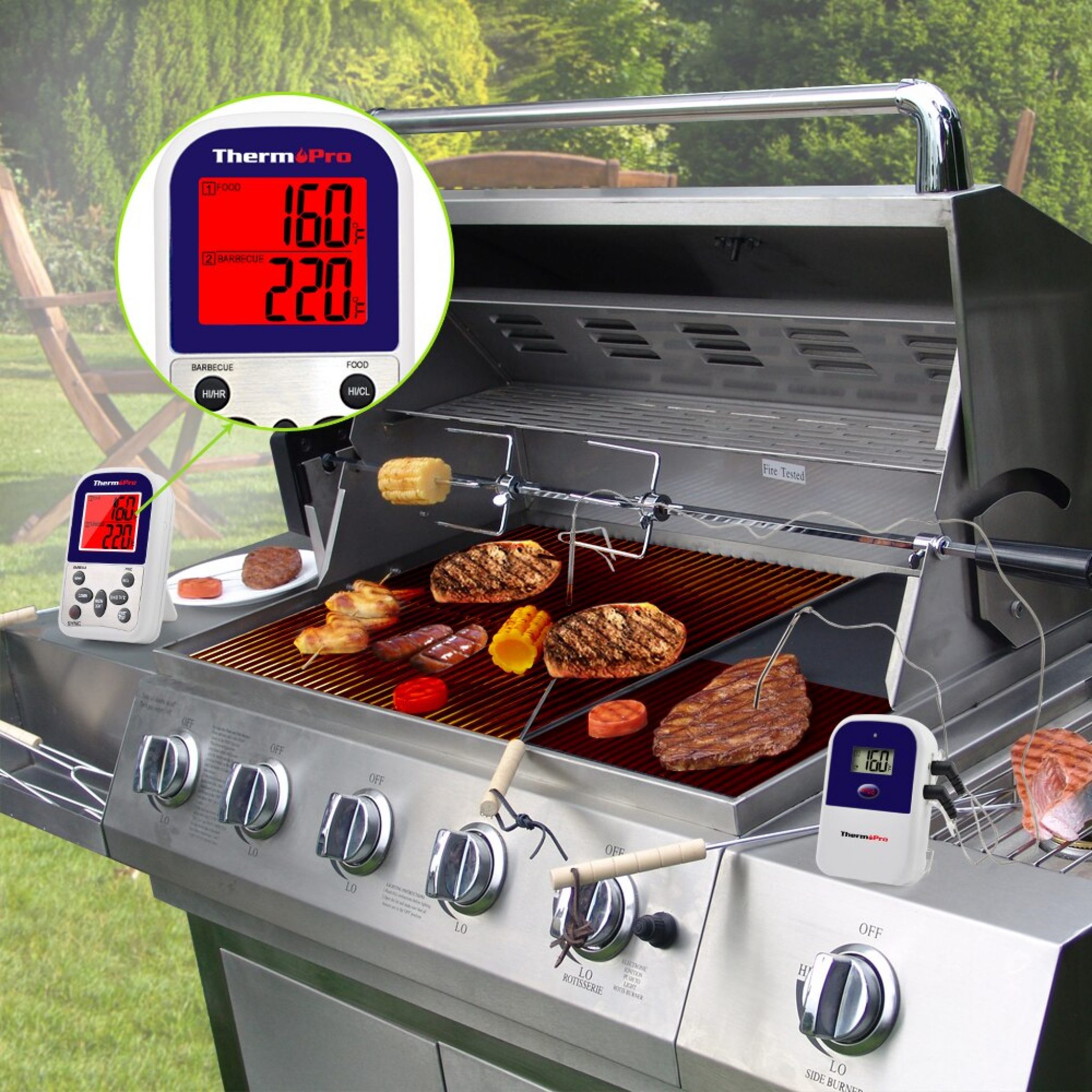 Remember that, the more controls and gadgets on your grill-smoker combo, the harder it may be to master and to use. It's a real balancing act because more controls and sensors will also give you a better experience and often, if done well, can make for a simpler and more hands-off day-to-day use of the appliance. Pay close attention to the controls and try to only go as complicated as you feel comfortable with. Also don't buy a really control-complicated unit if you are obsessive about learning the basics and keeping it fun and organic. Buy to your own expectations and you'll have more fun with it. The best gas grill smoker combo with temperature controls, for instance, will cost you more.
Warranty
A warranty, although not the most seemingly attractive or fun part of a grill-smoker combo, may be a very important thing to examine when it comes to buying one. Future proof your purchase and check it's got a decent warranty with it. This might well save you many dollars later down the line, and things can sometimes fail or break.
A good warranty is a signal of quality quite often and it sends a message that the maker has a lot of confidence in the way the product has been made and in their own quality control and after sales service processes. You may pay less for fewer months of warranty at the outset but think where that might leave you thirteen months down the line if something becomes unserviceable.
Tips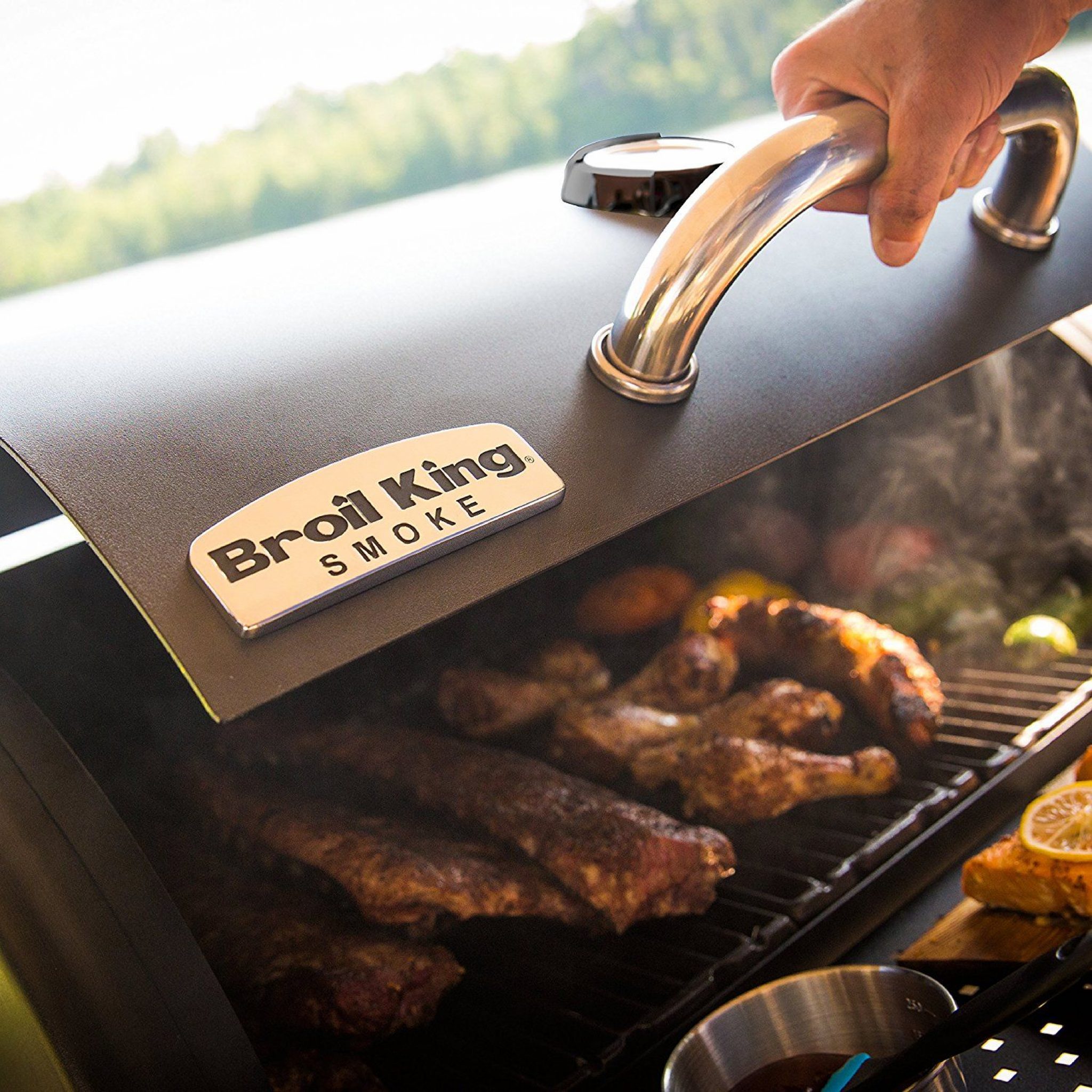 Choosing the right cut of meat to smoke doesn't necessarily mean choosing the most expensive one. BBQ smoking is thought to have originated in the Caribbean years ago, as a way of using cheaper cuts of meat that nobody wanted to buy, because they were tough and not very good (or impossible) to eat. Cooking slow is all about converting the collagen in the meat slowly so that it doesn't become hard and tough. BBQ smoking will make the cheapest cuts of meat as delicate and melt-in-your-mouth delicious as even the most expensive cut of beef.
Experiment with different types and even blends of wood chips, because this will make a big difference to the final product.
Don't let the meat get acidic from too much smoke. That's not the goal. The amount of smoke you're producing should either be almost clear or white. If you get big bellows of smoke, then you're not doing something right.
Always take your meats out of the fridge a few hours before cooking. Getting meat up to room temperature is a sure fire way to start off on the right foot, especially when smoking. Much as the same way that you would never introduce cold water to a water tray when smoking meat, the actual meat should be as close to the target temperature as possible when you get it to the smoker.
Prices
Grill-smoker combos are sophisticated appliances capable of performing a lot of different tasks and although there are budget options out there, you'll ultimately be able to achieve better results with costlier options. That's just a fact. If you're new to BBQ smoking, then maybe it's justifiable to not go too mad in terms of up the price range and see if this smoking lark is for you. You can always upgrade later.
Price will dictate how set-and-forget the appliance you buy is. If you want something that will do most of the work for you, cook really well, and let you go about your business, then you will have pay for that. If you're prepared to do some extra work and have the cleaning and maintenance be a bit more time consuming, you'll save some dollars there
Our Verdict
So, we've had a really long look at the features that make up a good grill-smoker combo here today, and we've explored different options that might suit different people. There's a big choice out there and I'm hoping the time and effort we've taken to assess and examine all of the different options and elements will have helped you choose the best appliance for you and your situation.
Our clear winner was the Traeger Lil Tex Elite 34, which is a great grill-smoker combo and will give you great results when you're entertaining. It'll be a very fun unit to use.
Second place on or list went to Camp Chef Woodwind SG 24, and that was also a very nice combo, capable of doing many things well. There really wasn't much daylight between our two top choices.
In at third, and definitely worth its place on this list was the Z Grills ZPG-7002B, which had some great features and will put out great food every time with a little effort and patience.
Whichever grill-smoker combo you choose, and whenever you get the urge to smoke something – just make sure you have a lot of fun doing it!