GrillGuru is reader-supported. We may earn a commission through products purchased using links on this page. Learn more about our process
here
With so many different grill brands and types on the market, it can be hard to know which one is the right one to spend your hard-earned money on. This is because different brands focus on different aspects, including the type of fuel to use, the controls, the size of the cooking area, and so much more. That's why comparing different brands, like Weber vs Traeger, can help make this decision easier.
For this review, we're going to be looking at what both Weber and Traeger have to offer in the grill market. While Weber creates several types of grills, including propane, natural gas, charcoal, and electric, Traeger focuses on wood pellet grills. The grills also vary in size, weight, cooking area, and extras, depending on which grill you buy from each brand. If you're interested in what these brands have to offer and how well their products perform, check out our Weber vs Traeger comparisons below.
Brands comparison
Weber was founded by George Stephen, who was an inventor and a grill master. These two passions came together in 1952 when he created his unique kettle grill. Stephen used his expertise from working in the Weber Brothers Metal Works, designing his grill to look like the buoys this company manufactured. Believing that the rounded bowl and a lid were the perfect design, he cut the buoys in half, added legs and a handle, and the first Weber grill was born.
Weber has expanded its list of grills since those early days, though their attention to detail has remained the same. They also use a variety of mediums to meet the needs of their customers, which we've listed here.
Wood Pellet – Smokefire series
Gas Barbecues – Spirit series, Spirit II series, Genesis II series, Summit series, Q series
Charcoal – Original Kettle series, Performer series, Master-Touch series, Summit Charcoal series, Ranch series, Smokey Mountain Cooker series
Electric – Q Electric series
Portable – Smokey Joe series, Jumbo Joe series, Go-Anywhere series
As you can see, Weber has almost anything you need when it comes to grills. The warranties on these products can vary, depending on which series of grill you buy. For instance, the Spirit II, Genesis II, and Summit series all have a 10-year warranty on all parts. Other models may have different warranties for each part, like the charcoal grills, which have 10-year warranties on the bowl and lid, 5 years for the cleaning system and plastic components, and 2 years for all the remaining parts.
After becoming frustrated with the outdoor grills being produced, Joe Traeger decided to try his hand at creating his own pellet-burning furnace. He started this process in 1982 and 3 years later, he had completed his first wood pellet grill. This model contained a traditional smoker body, only it included a chimney stack and a side hopper that stored the pellets. This style was more energy-efficient than previous pellet grills, plus burned much cleaner, for a better-tasting meal.
Though they have several different grills for sale, Traeger focuses on only one type of fuel, which is the wood pellets. They sell a variety of these pellets, made from food-grade hardwood that is 100% natural, each of which will burn clean and add the perfect flavor to whatever is on the grill.
For their pellet grills, Traeger has a few series to choose from. These include the Timberline series, Ironwood Series, and Pro Series. They also have a few solo items, like the Tailgater, Ranger, Junior Elite 20, Bronson 20, and Select Pro pellet grills. These all come in a variety of sizes, with varying features, though the main areas of the grill, hopper, and auger, remain the same. Traeger even has some commercial models for those who need to make a lot of food all at once. These include the Large Commercial Pellet Grill Trailer and the Double Commercial Pellet Grill Trailer, both of which can be hooked onto the back of your truck to take wherever your grilling skills are needed. If you are interested in best commercial smokers, there are some excellent options too.
When it comes to the warranty on Traeger grills, it is a bit more simplistic than with Weber. All of the residential grills Traeger sells have a 3-year limited warranty, while their commercial grills have a 1-year limited warranty. So, as long as you know what grill you have, you know how long it's covered for.
Weber vs Traeger: Comparing popular models
It would take quite a while to compare all of the grills these two brands have to offer, especially when you consider just how many different types and series that Weber has to offer. Instead, we're going to compare the best of these two brands. This will help you decide which one is the top contender in the Weber vs Traeger debate.
Weber Genesis II E-335 vs Traeger Pro Series 22
| | | |
| --- | --- | --- |
| | Weber Genesis II E-335 | Traeger Pro Series 22 |
| Cooking area | 513 sq. in. | 572 sq. in. |
| Fuel | liquid propane (natural gas model available) | pellets |
| Hopper capacity | – | 18 lbs. |
| Burners | 3 + side burner | – |
| Grates | porcelain-enameled, cast-iron | porcelain |
| Dimensions | 59 x 47 x 29 inches | 49 x 41 x 27 inches |
| Weight | 186 lbs. | 103 lbs. |
| Warranty | 10-year limited | 3-year limited |
| | VIEW ON AMAZON | VIEW ON AMAZON |
Our first product comparison is going to be the Weber Genesis II E-335 vs the Traeger Pro Series 22. Both of these models have great performance and versatility, though they excel in different areas.
The Weber model has 2 main burners with a rating of 39,000 BTU, plus an extra 9000 BTU sear station burner. It also includes a side burner for your sauces or sides. The cooking area is quite large, with 513 sq. inches of space for cooking your burgers, steaks, chicken, or some tasty skewers. The Genesis II E-335 also comes with a tuck-away warming rack that adds another 156 sq. inches of space.
The Traeger Pro Series 22 has a durable steel construction with a powder-coated finish to keep it rust-free and looking great. This pellet model can be used to grill, barbecue, smoke, roast, braise, and bake, so you can use it for every meal, no matter what you're hungry for. This model has a cooking area of 572 sq. inches, which is larger than the main area on the Weber model, though smaller if the warming rack and side burner are added to the mix. The Traeger still gives you a huge amount of space for 24 burgers, 5 rib racks, or 4 whole chickens.
The Weber Genesis model uses an Infinity Ignition system to make lighting your grill easy. The burner controls are easy to use, plus it includes a built-in lid thermometer. This grill is also IGrill 3 compatible, though the app-connected thermometer is sold separately. This monitors the cooking food and notifies you when it's at the perfect temperature.
The Pro Series 22 comes with a Digital Pro Controller that includes Advanced Grilling Logic technology that keeps your temperature within 15 degrees of the one you've set on the controls for precise grilling. The controls are easy to use, with a dial and a digital display.
Weber's grill uses porcelain-enameled cast-iron cooking grates and a porcelain-enameled lid. This coating makes these areas easy to clean. Traeger's grill grates are also porcelain for the same reason, so you won't struggle to clean them after the meal is done.
Weber Spirit II E-210 vs Traeger Lil Tex Elite 22
| | | |
| --- | --- | --- |
| | Weber Spirit II E-210 | Traeger Lil Tex Elite 22 |
| Cooking area | 450 sq. in. | 418 sq. in. |
| Fuel | liquid propane | pellets |
| Hopper capacity | – | 18 lbs. |
| Burners | 2 | – |
| Grates | porcelain-enameled, cast-iron | porcelain |
| Dimensions | 44.5 x 48 x 27 inches | 49 x 42 x 22 inches |
| Weight | 103 lbs. | 98 lbs. |
| Warranty | 10-year limited | 3-year limited |
| | VIEW ON AMAZON | VIEW ON AMAZON |
Our next comparison is the Weber Spirit II E-210 vs the Traeger Lil Tex Elite 22. These are medium-sized units that won't take up a huge amount of space in your yard but can still produce enough meat to feed a small army.
The Weber Spirit II E-210 is a natural gas grill with 2 burners, which have a rating of 26,500 BTU. This grill has a main cooking area of 360 sq. inches, plus has an extra warming rack that adds another 90 sq. inches of space when needed. The burners are stainless steel, so they should last for several years of grilling.
The Traeger Lil Tex Elite 22 uses 100% pure hardwood pellets for that delicious smoky flavor. You can use it for grilling, barbecuing, baking, braising, roasting, or smoking. This all depends on the amount of heat and smoke you set the unit to produce. It has a decent-sized cooking area of 418 sq. inches, so you can cook up to 16 burgers or 24 hot dogs, all at the same time.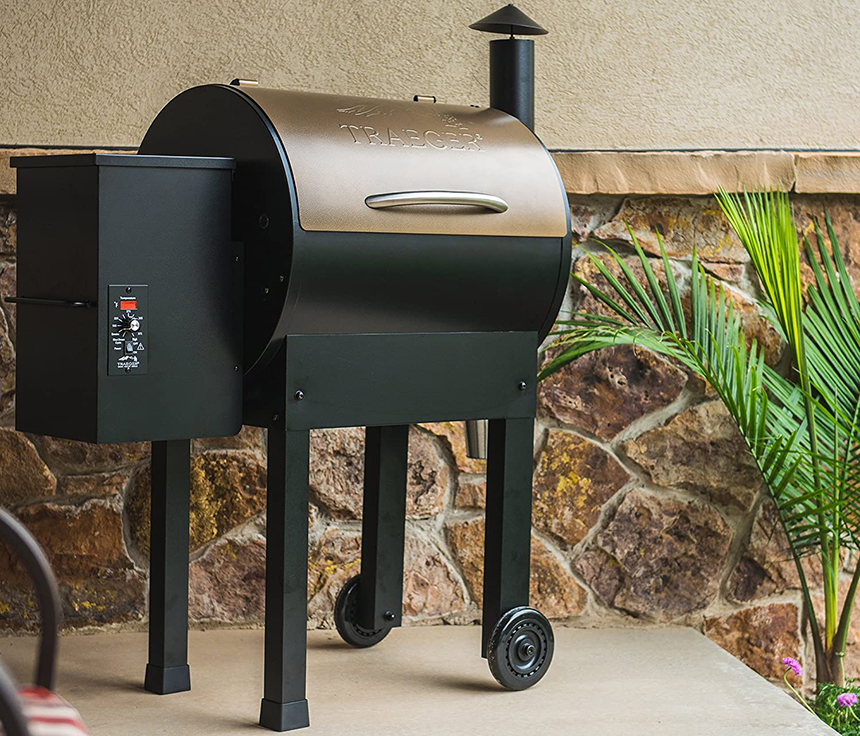 The controls on both units are simple to use. The Weber model has the Infinity Ignition that lights every time you press it. The burners maintain a consistent flow of gas for even cooking. The burner controls are also easy to use and the lid thermometer allows you to monitor the temperature at all times.
The Lil Tex Elite 22 uses a Digital Elite Controller, which has an electronic auto-start ignition for easy lighting and a temperature dial to control the heat, plus it has an LED display that shows the internal temperature of the unit at all times.
Both units have easy to clean grates, with porcelain-enameled cast iron on the Weber model and porcelain grates on the Traeger grill. The Weber model has an internal removable drip tray while the Traeger model has a slanted internal drip tray that funnels grease into a bucket hanging on the side of the unit.
Weber Performer Deluxe vs Traeger Bronson 20
| | | |
| --- | --- | --- |
| | Weber Performer Deluxe | Traeger Bronson 20 |
| Cooking area | 363 sq. in. | 300 sq. in. |
| Fuel | charcoal | pellets |
| Controls | LCD cook timer; lid thermometer | Digital Elite Controller |
| Portability | 2 large rubberized wheels; 2 small wheels | 2 large rubberized wheels |
| Dimensions | 43.5 x 48 x 30 inches | 38 x 35 x 22 inches |
| Weight | 96 lbs. | 76 lbs. |
| Warranty | 10-year limited | 3-year limited |
| | VIEW ON AMAZON | VIEW ON AMAZON |
Our last comparison will be the Weber Performer Deluxe vs the Traeger Bronson 20. These units have smaller cooking areas and are a bit more portable than the larger models reviewed above.
The Weber Performer Deluxe is a charcoal grill, with a porcelain-enameled bowl that measures 22 inches in diameter. There is a heavy-gauge steel charcoal grate that allows you to place the charcoal where you want it for direct or indirect heating while you cook.
The plated steel cooking grate is hinged to make it easy to lift it and adjust the position of the charcoal or add some more when needed. The porcelain-enameled bowl and lid are easy to clean, so you have more time to enjoy yourself.
The Touch-N-Go ignition system is electronic, so you can light the charcoal quickly and easily without fussing with matches or lighters. There are also rust-resistant aluminum dampers that allow you to adjust the temperature as needed. A removable LCD timer and a built-in lid thermometer add to its ease of use. The cooking area measures 363 sq. inches, so you have plenty of room to grill your family's favorite meals.
The Weber grill has an open-cart design, with extra workspace on top and storage space on the bottom. There are 2 large wheels and 2 small wheels for easy maneuvering when you need to move it around.
The Traeger Bronson 20 has a pellet hopper on the side, similar to the other Traeger grill models, which holds your favorite wood pellets. These are fed into the unit as needed to grill, smoke, barbecue, roast, braise, or bake your favorite meals, sides, and desserts.
This unit has a smaller cooking area than the Weber model at 300 sq. inches, but can still fit up to 12 burgers, a few racks of ribs, or 2 chickens. Like the other Trager units, this one includes the Digital Elite Controller and this brand's Advanced Grilling Logic to give you precise temperature control. It also has a simple ignition switch for easy lighting of those pellets.
The Traeger grill is well-built, with a sawhorse design that adds stability. It also includes 2 all-terrain wheels that allow you to lift and roll this unit wherever you need it.
Final thoughts
When comparing Weber vs Traeger grills, some people may prefer one brand over the other. Each of these units has unique benefits to make them a great choice, depending on how you like to cook.
The Weber grills that we've reviewed here are all durable, modern pieces of equipment that use a variety of mediums, including natural gas, propane, or charcoal. These units are easy to use, with push-button ignition systems, simple temperature controls, built-in lid thermometers, and even IGrill 3 compatibility on some of the units. They are also as easy to clean as they are to use. For these reasons, the Weber grills are our preferred models.
Of course, the Traeger grills are still worth trying out. They all use wood pellets, so you don't have any other option for your fuel. This does add a bit of versatility to the unit, though, allowing you to turn up the heat for grilling and barbecuing or you can lower it for some roasting or slow cooking. You can even make some tasty desserts. These units are all well-built, with stable designs. The hopper and auger system, combined with the simple ignition and temperature controls, make these units easy to use, even for beginners.