A quality grill is essential for impressing your friends and family with your barbecuing skills, and the Weber Spirit E 310 packs all the essential features you might want to look for into a quality grill. It is also a grill with a very spacious grilling area, which means. That you can easily cook a turkey of up to 20 pounds. This is one of the most popular grills produced by Weber Spirit, a brand that is well-regarded in the grilling world. This Weber Spirit E 310 review showcases the reasons this in an excellent family grill.
Manufactured by a brand with a history of producing durable and reliable grill, the Weber Spirit E 310 comes with features that will make the grilling experience a very pleasant one. These include a gas safety system and optional integration with a temperature probe. We chose to do a Weber Spirit E 310 review because it's currently one of the best grills on the market when it comes to the features and build quality you get for the money.
SPECIFICATIONS
| | |
| --- | --- |
| Primary function | Grill |
| Primary cooking area | 424 sq in |
| Warming rack area | 105 sq in |
| Temperature | Up to 550°F |
| Number of burners | 3 |
| Fuel | Natural gas (gas supply hose included) |
| Grids | Porcelain –enameled, cast-iron |
| BTUs | 32.000 |
| Ignition type | Electrical |
| Dimensions | 63 x 52 x 32 inches |
| Weight | 124.8 lbs |
| Warranty | 10 yr/ 5yr/ 2 yr limited |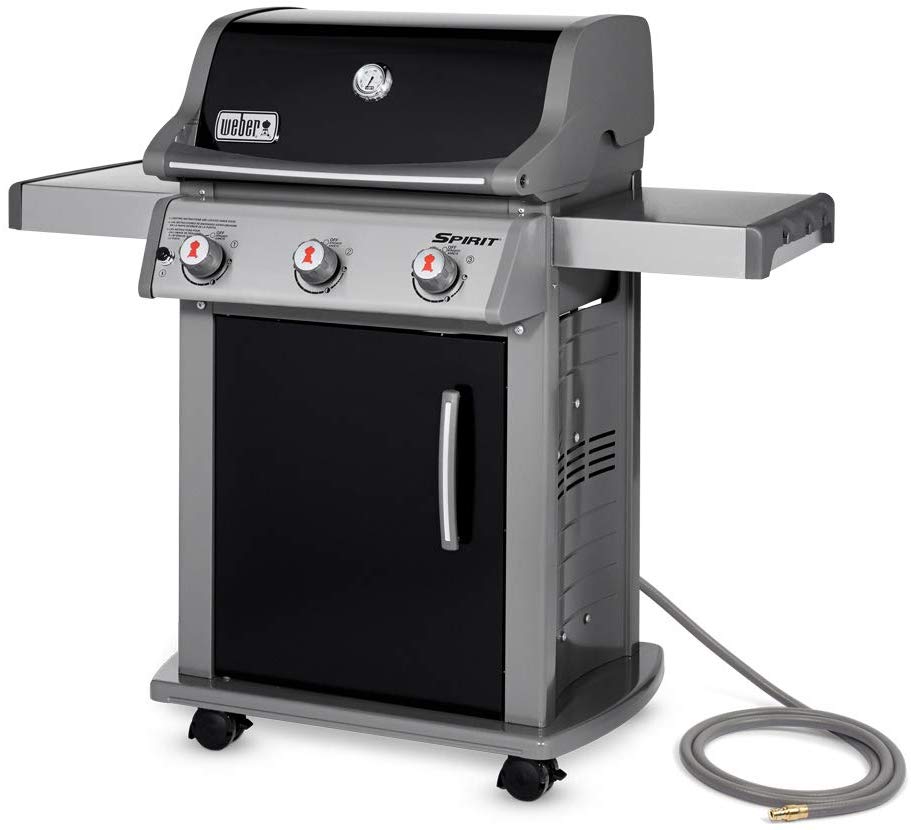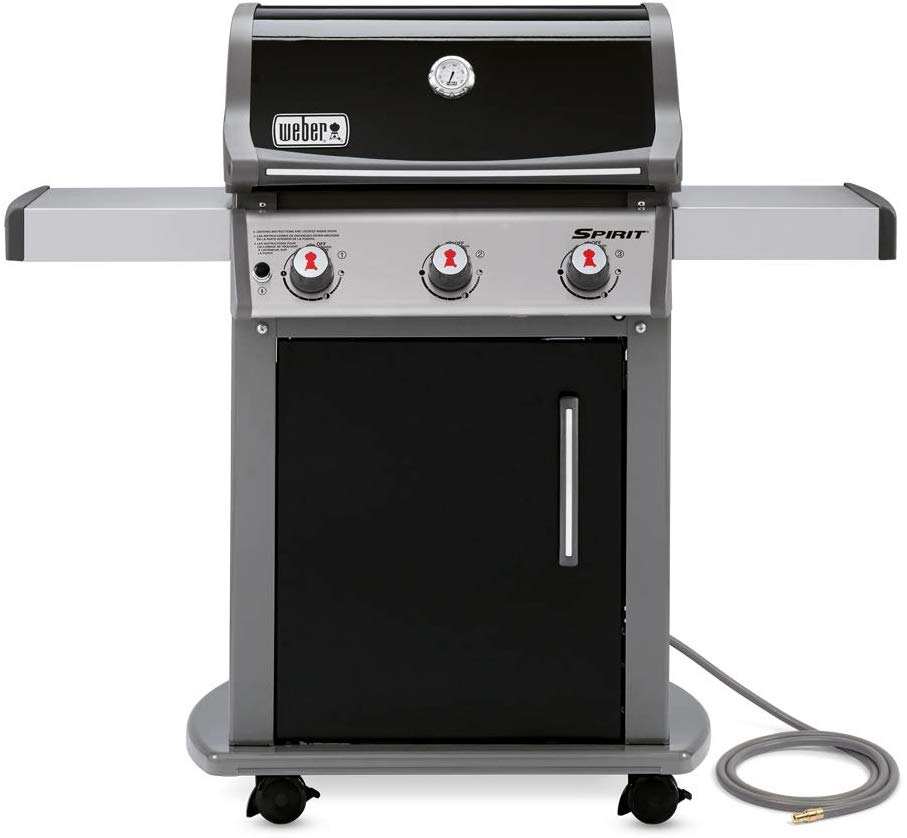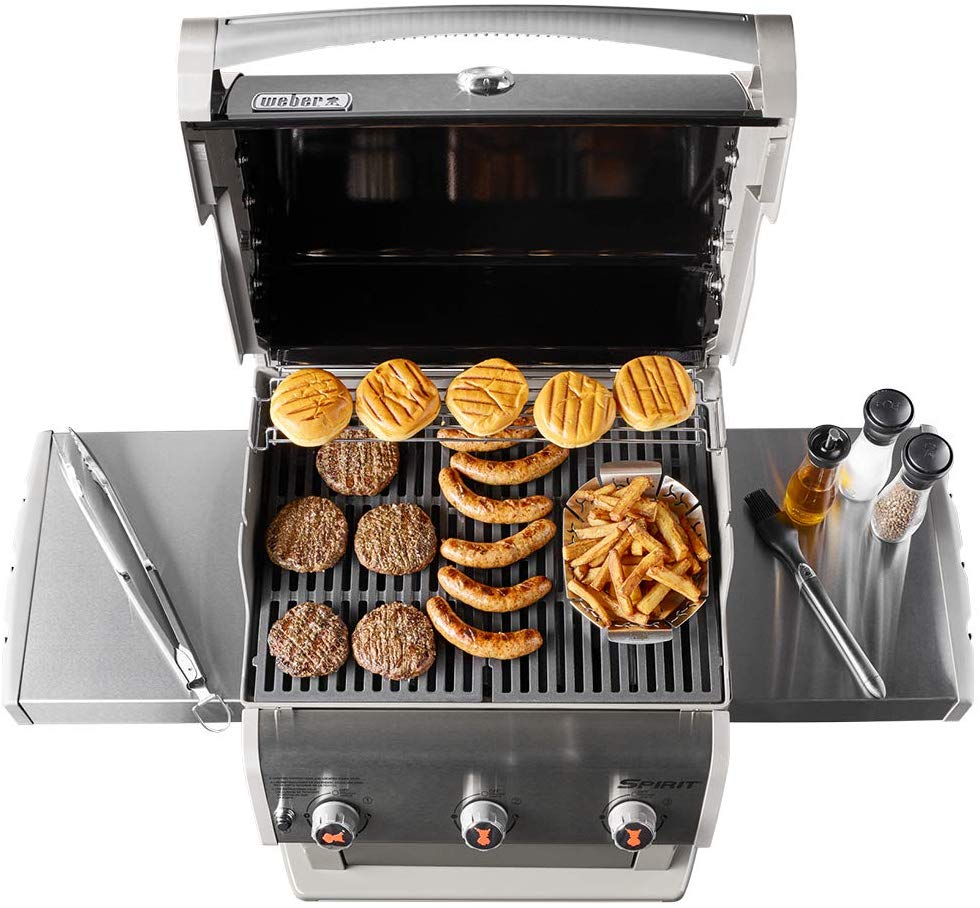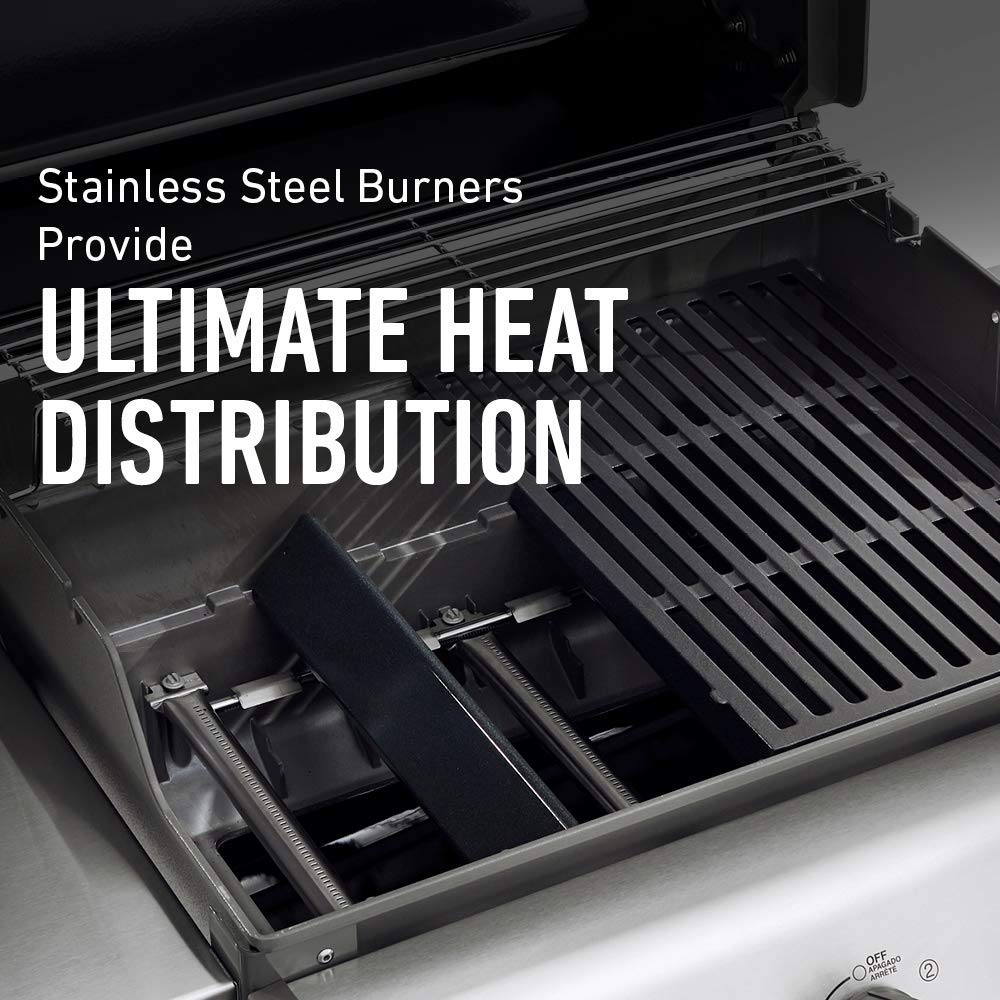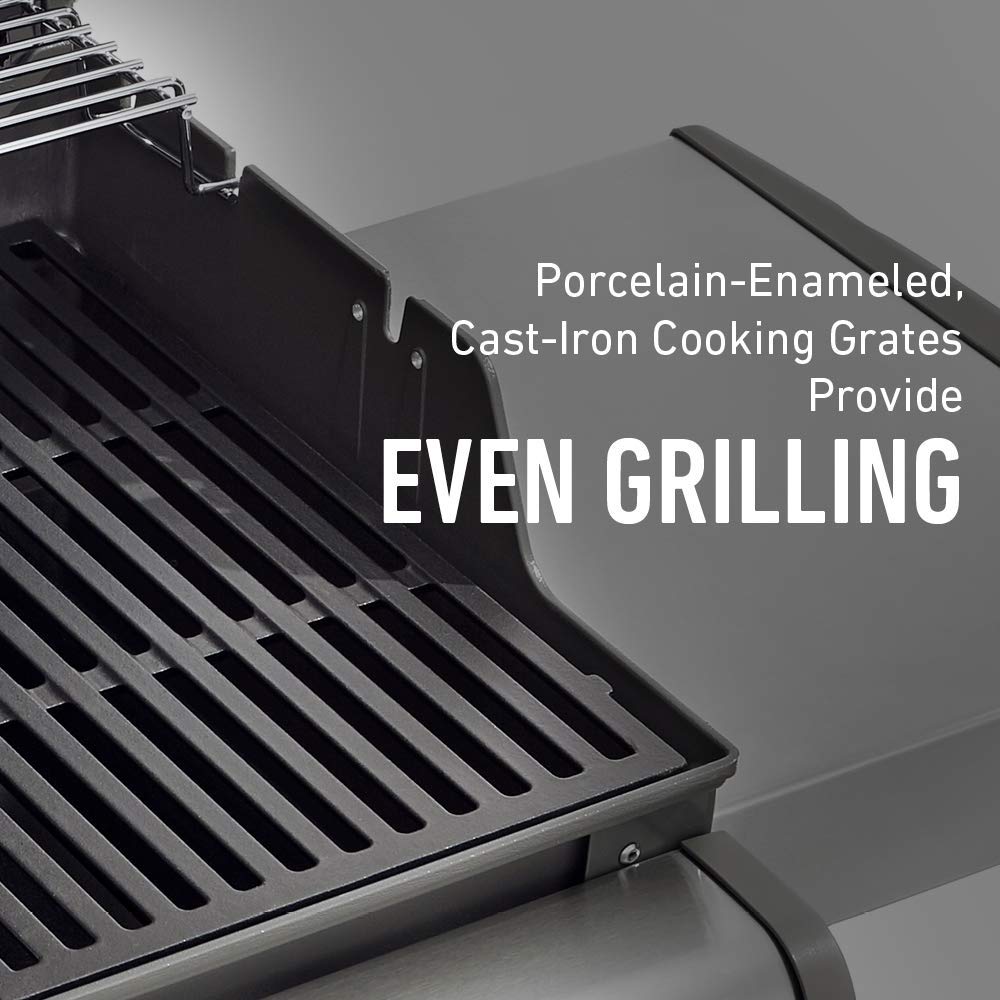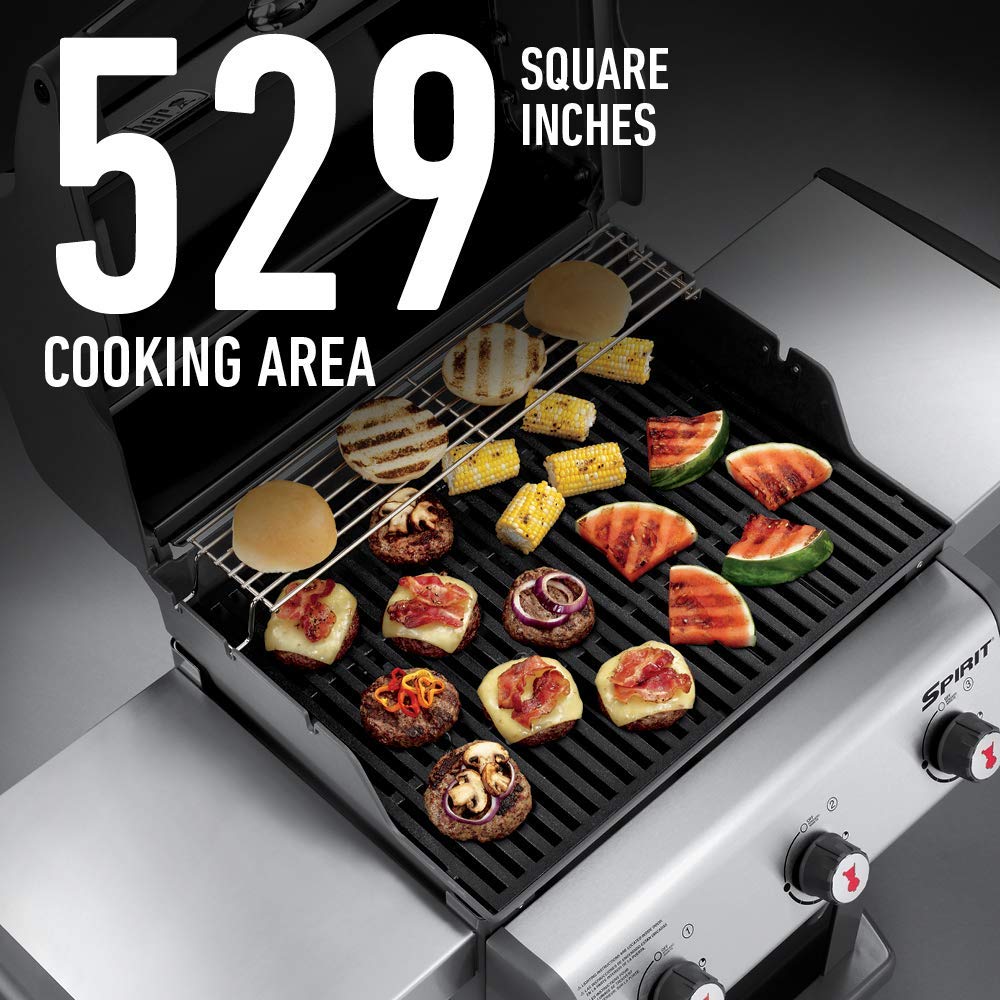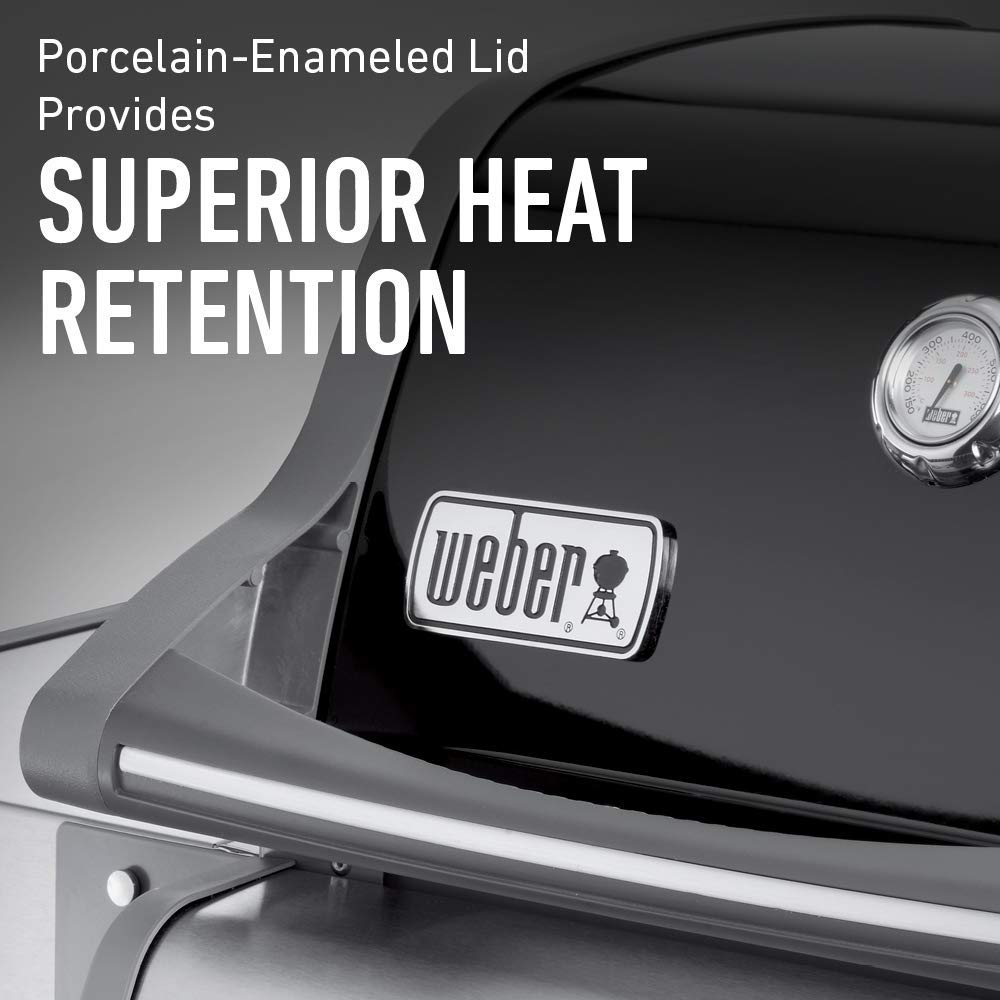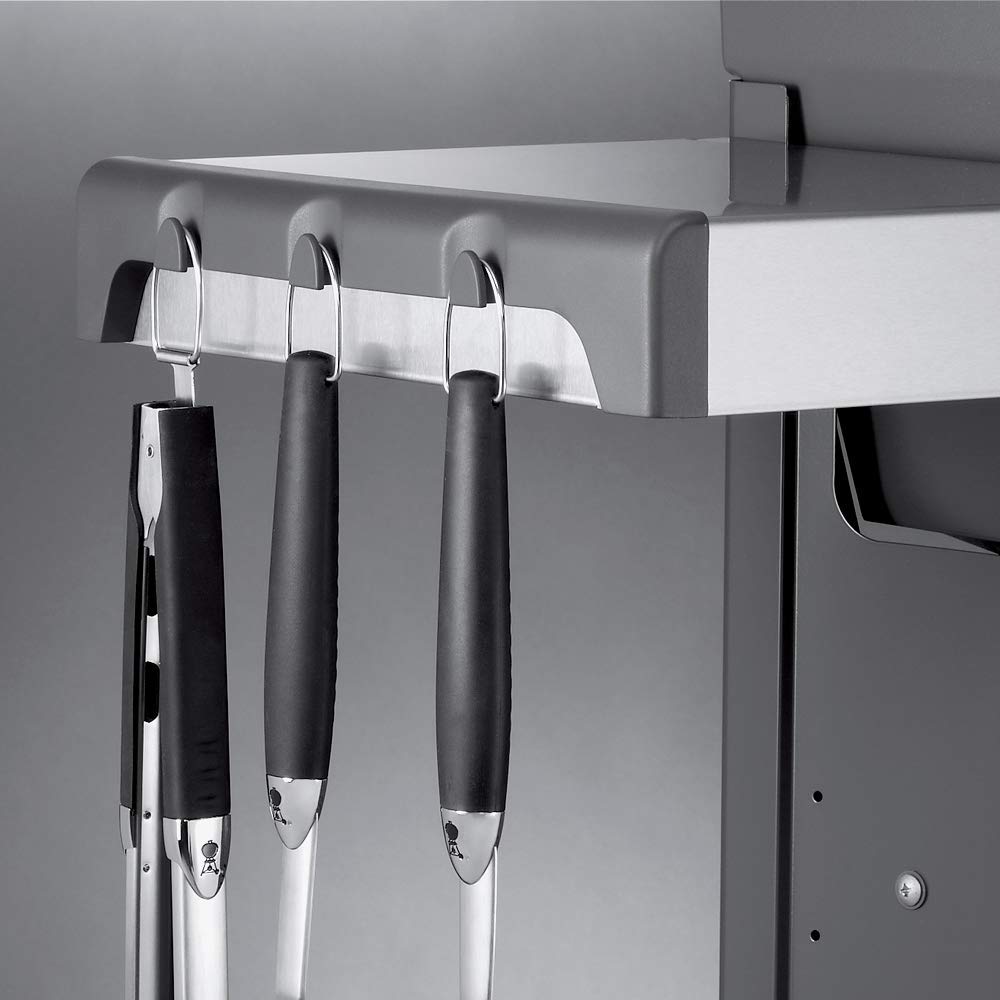 Weber Spirit E 310 Review
Introduced in 2018, the Weber Spirit E 310 is an excellent choice not only for those who are looking to buy their first quality grill, but also for those who are looking to upgrade to a grill that brings almost professional results. The grill comes with three stainless steel burners and packs 32,000 BTU-per-hour. The cooking surface is impressive, clocking in at 424 square inch plus a 105 square inch warming rack Other features that you will find on this grill include porcelain enameled flavorizer bars and a center-mounted thermometer so you can easily glance at the cooking temperature.
This grill is the perfect size for a family meeting or for entertaining a small crowd. Because it has a large cooking surface and allows you to place serving trays on the side tables, this is a grill that suits the needs of most cooks, no matter what you decide to prepare on it. Because it features a cook box that won't peel or rust over time, this grill is built to last. It is also very easy to maintain and most of the users who tested it concluded that the easy to clean grease management system makes cooking truly hassle free.
Overall performance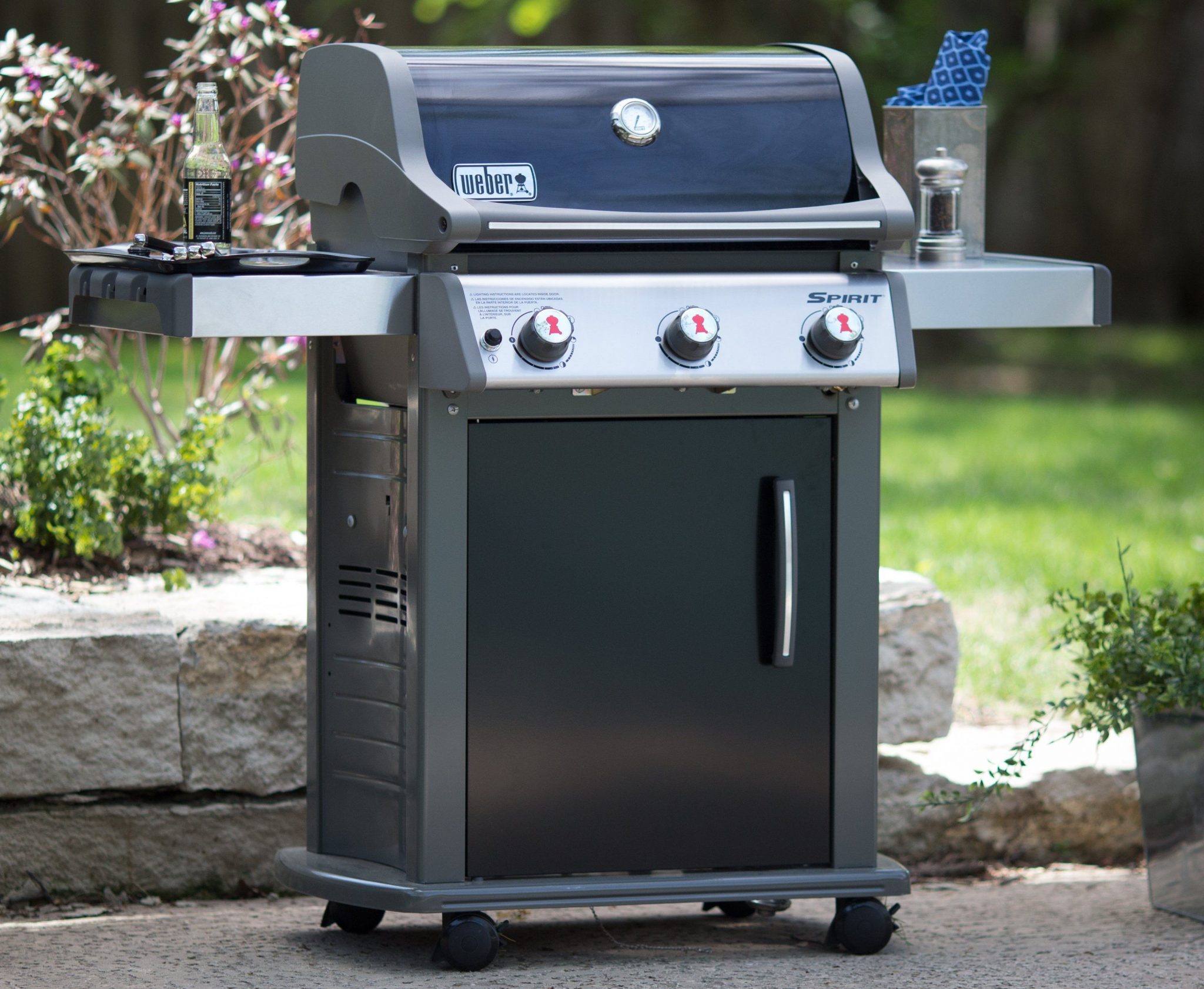 The overall performance of the Weber Spirit E 310 is impressive, and most of it comes from the fact that you get full control over the heat, which is one of the most important features or quality grilling. It is very easy to create direct and indirect heat zones, simply by using the burner controls. Moreover, the flavorizer bar system is highly innovative and has the ability of returning flavor to the food while also catching the sizzling drippings during the cooking process.
The three stainless-steel burner design of the grill offers 32,000 BTU-per-hour, and operating the burners is very easy thanks to the Electronic Crossover ignition system, which allows you to ignite the burners with just a touch of a button.
One of the most praised features of the Weber Spirit E 310 is the signature flavor of grilled food you can obtain thanks to the porcelain enameled flavorizer bars. These are placed in a convenient way to catch the juices and drippings from the food and make them sizzle and smoke, in order to infuse the food with an unmistakable flavour.
The inbuilt thermometer of this grill is essential for those who want to keep a close eye on the temperature during use. Because it is mounted centrally, the thermometer of this grill allows you to tell the temperature at a glance.
Surface cooking area, number of burners and temperature
The size and space you get with the Weber Spirit E 310 makes it one of the most spacious three-burners you can currently find on the market. The grilling area is spacious and can handle a turkey of up to 20 pounds, which is a feat that not many grills can boast about. The grill comes with 424 square inch cooking space and a 105 square inch warming rack, totaling 529 square inches of grilling space. This is a grill that is suitable for the entire family, and can also accommodate those situations when you have people over.
Fuel and ignition type
The Weber Spirit E 310 is a natural gas grill, which means that you need to have natural gas plumbed out on the deck or the patio you intend to use the grill on. Unlike propane models, you cannot take the grill with you, but the main advantage is the fact that you don't have to deal with filing and replacing a propane gas tank.
There are multiple advantage of using natural gas grills over propane models. These include the convenience of having gas
Grids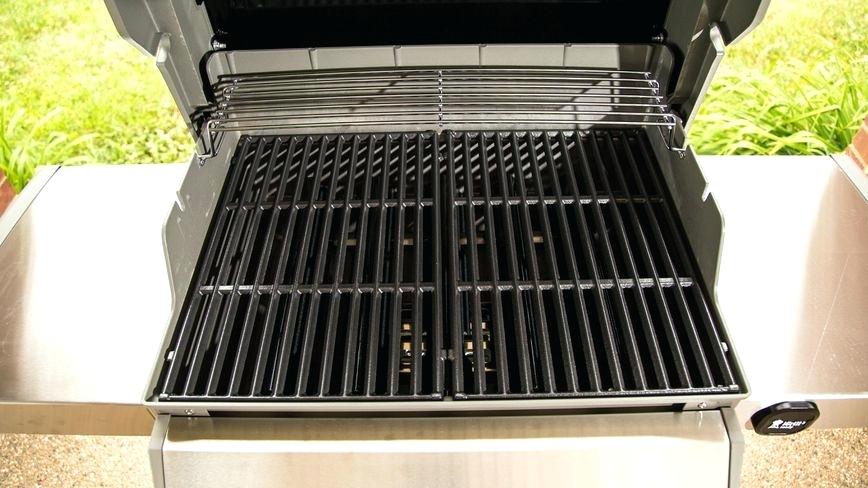 The grids of the Weber Spirit E 310 are durable and made from a combination enameled porcelain and cast iron. They are had was only, and have a texture that suits most foods you might one to grill. You can also purchase extra compatible grids with a flat surface that work well for foods with a delicate texture, such as prawns and scallops.
Cast iron and porcelain enameled cooking grates are preferred by most chefs because they do a great job of searing food and give a great color to the finished product. However, you need to keep in mind that cast iron requires seasoning before you can cooking in it smoothly, so that's something to remember when choosing a grill with this type of grates. If you don't season the cast iron enough, the food may tend to remain stuck and it will require a lot of scrubbing to get the remnants off.
BTUs
The powerful BTU of this grill might put beginners off, but it offers incredible opportunities for quality grilling. The total grilling power is 32,000 BTU, which comes at 10,000 BTUs per burner. Even though that is a considerable amount of heat for a grill, you should not expect too many flare-ups. This may be due to the flavorizer bars, which prevent foods from getting accidentally charred.
Ease of use
The setup process for the Weber Spirit E 310 is not the most straightforward, but the grill comes with a comprehensive instructions book, so you don't get lost when installing it. The box comes with all the parts needed for installation, but you need to pay close attention to the instructions, as they contain information for multiple Weber Spirit grills. The packaging the grill comes in a well-built, but keep in mind that you might need two people to transport it.
According to users, it takes somewhere between two and three hours to put the grill together. The good news is that the pieces fit in perfectly, and video instructions are also available if you happen to get confused about which part goes where.
The grill is very intuitive when it comes to doing the actual grilling, and it gets hot very quickly. It is also easy to clean thanks to the innovative grease management system.
The grease control feature of this grill is another excellent feature we have found on the Weber Spirit E310 grill. Sometimes when you cook certain foods such as pork, for example, a lot of grease will be released and this can be incredibly inconvenient not only during the cooking process but also when it comes to cleaning the grill. Thanks to the innovative grease management system, the grease is guided away from the burner tubes and collected into the catch pan automatically, which means that you can easily remove it when you're done cooking.
Safety features
All Weber Spirit grills come with a federally mandated safety device with the purpose of detecting gas leaks. This means that if the grill is not lit correctly, the safety device will reduce the gas flow from the mains. Thanks to this safety system, gas leaks are avoided. Moreover, the catch pan is located at a safe distance away from the burner for increased safety.
Portability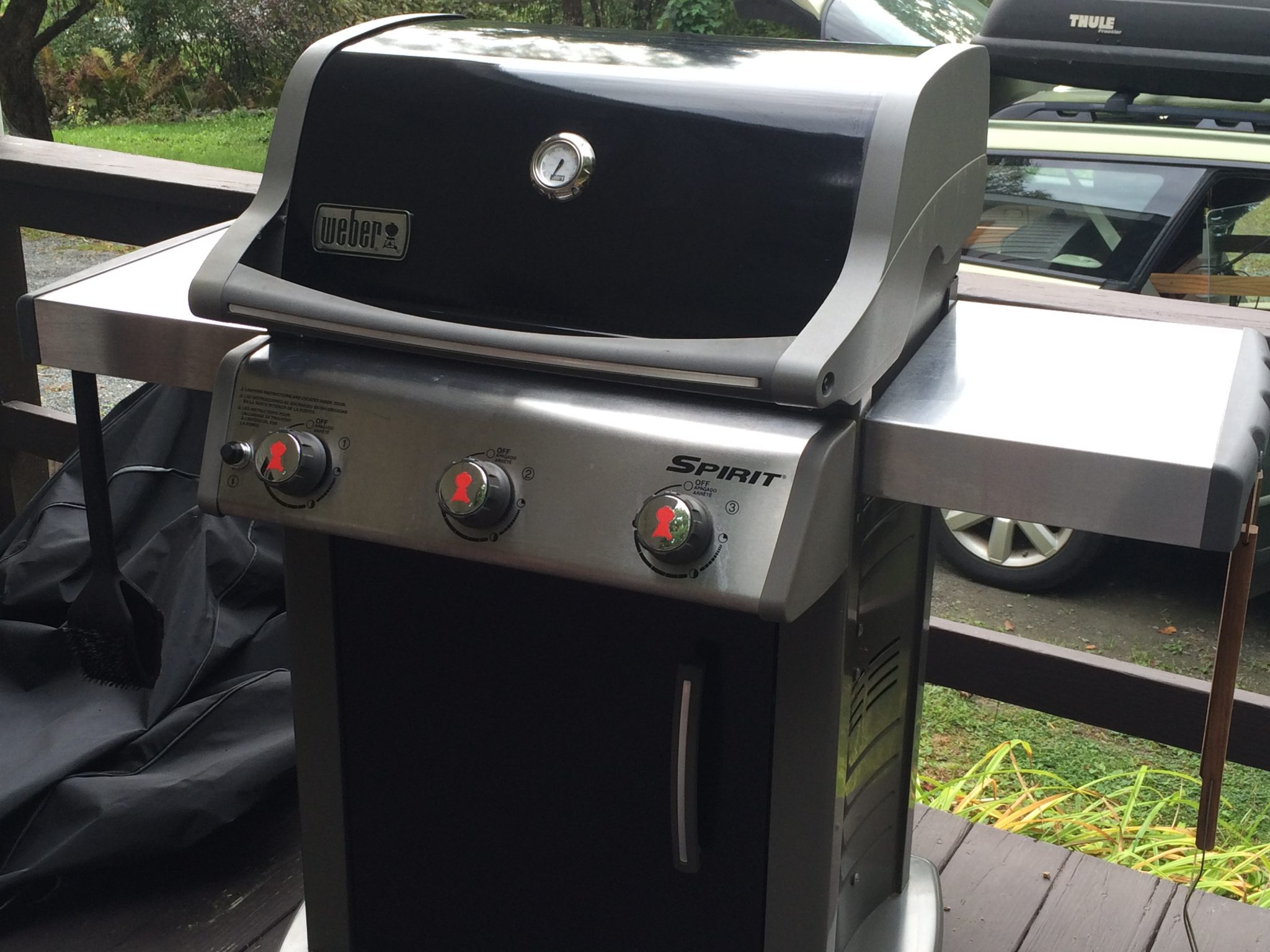 This grill is not highly portable, and it may require the help of another person if you want to move it around. You also need the help of a friend to install this grill, which weighs 124.8 lbs. The dimensions of the grill are 63 x 52 x 32 inches, so make sure you have enough room for it in the space you intend to place it in.
Maintenance and warranty
Weber offers a 10-year warranty for all its gas grills, and a five-year warranty for the plastic components. The 10-year warranty includes the cook box and lid assembly, but does not cover parts that show signs of rust or burn through. All remaining parts are covered by a two-year warranty. The manufacturer recommends registering the product when you buy it, and you should also keep the receipt or other valid proof of purchase.
Key features
Total 529 square inches of cooking space over three burners
GS4 grilling system with upgraded infinity ignition
Porcelain Glamorizer Bars with enamel coating
Three 10,000 BTU stainless steel burners
Porcelain-enameled, cast iron cooking grates
Heavy duty caster wheels for easily moving
PROS:
Sizeable cooking surface – this grill can cook a turkey of up to 20 pounds. The grill also has additional stainless-steel tables on the sides for extra space.
Easy to clean – the grease management system of this grill is highly performant and the catch pan is disposable and placed a safe distance away from the burner.
High performance – the grill has full control over the heat and can create direct and indirect heat zones.
CONS:
Difficult installation – this grill is rather complicated to put together, even though it comes with detailed instructions. Setting it up takes more than two hours.
The hood is not as deep of other models in the same price range.
Exceptionally heavy – even though it delivers great results, the grill is very heavy, and requires two people to install and handle.
Conclusion
The Weber Spirit E 310 is a gas grill that certainly lives to the reputation for quality the manufacturing brand has. The even heating surface and superior temperature control result in food that is cooked to perfection. While the grill may be a bit difficult to setup and move, it is a great cookout companion. Having enough space to meet the needs of a small party, the grill is perfect full-size gas grill for the price.
Add your review  |  If you have already used this model, please, leave your review